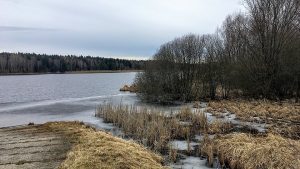 Je těsně před Velikonocemi a nově volný pátek je vcelku nezvyklým počinem v seznamu volných dnů tohoto roku. My se mu ale nebráníme a v plánu je vrátit se tam, kde jsme naši jarní brdskou výletní pouť k rybníkům před pár dny začali ale museli operativně ukončit, neboť osud nám poslal tehdy do cesty zaběhnutého psa. Padrťské rybníky jsou nejkrásnější částí této oblasti Brd a ujít si ji určitě nenecháme.Doufaje v páteční úspěch a s příslibem mnohem pozitivnějšího počasí než před 14 dny jsme vyrazili. Padaly sice takové vtipné poznámky, že našeho starého psího známého z posledně tady určitě znovu potkáme a budeme muset opět zasáhnout, ale jak se říká "nevstoupíš dvakráte do stejné řeky" jsme je utli hned v zárodku. To se nám přeci nemůže stát. Tímto výletem tak dokončíme naši zimně-jarní brdskou anabázi čítající výlety kolem Aglaii, do Haloun, okolím Toku a také zatím poslední výlet od Kytína ke Klondajku.
|
|
km
|
|
/km
|
+m -m (čisté: m)
|
stáhnout soubor GPX
Cesta do Míšova uběhla rychle, zaparkovaných aut na parkovišti před grilem v Míšově sice notně přibylo stejně tak pěších a cyklistů občerstvujících se venku na zahrádce. Přeci jenom, jarní sluníčko se už slušně snažilo a proč toho nevyužít.  Vesnicí tentokrát probíháme rychle. Hyena sice na vodítku zpočátku vyvádí a natěšená na výlet načuhuje do polí kdy už jí konečně vypustíme. Poslední dům, poslední zahrada a před námi už pouze pole a les. Za zády nám ještě doznívá štěkot dvou velkých chlupatých psů u posledního domu, kteří si evidentně s Hyenou chtěli trochu popovídat respektive poštěkat a okamžik O konečně nastává. Hyenu vypouštíme a ta radostí udělá několik okruhů polem, lesem, křovím, příkopem a bahnem jak je jejím dobrým zvykem na úvod. Pak se ale trochu uklidní a můžeme pokračovat v cestě.
Za značkou zákazu vjezdu na začátku lesa nás vítá naše stará známá cesta. Už jsme tu šli minimálně 2x a nikdy jsme nedošli dále než ke hromadě dřeva asi 300 m před námi na kopci. Tak snad se konečně zadaří a posuneme se dále. Hyena vesele pobíhá okolo, opět házíme klacky a trochu trénujeme. Do lesa nezdrhá a drží s námi, takže zatím pohoda. Mineme naší starou známou hromadu dřeva, kde jsme se posledně otáčeli a koukáme se okolo, zdali na našeho tuláka z posledně nenarazíme. To by bylo opravdu vtipné.
Asi 150 m za hromadou vidíme na horizontu na kopci skupinu lidí. Vypadá to, že mají psy a tak Hyenu pomalu přivolávám a na posledních 50 m než k nám dojdou jí dávám na vodítko. Vypadá to, že mají 2 psy. Skupinka přichází k nám a co to nevidíme? Na konci průvodu je náš starý známý bígl, kterého jsme posledně zachraňovali z míst jenom pár metrů pod námi a vyklusává spokojeně na konci skupinky. Tak to je opravdu vtipné. Skupinka vidí že pozorujeme psa a tak se zastavuje ptá se nás, jestli ho neznáme. Prý se k nim přidal a jde kus cesty již s nimi. S úsměvem pravíme že ano a že to je náš starý známý z posledního výletu. Opravdu klika. Bíglí veterán bude asi velký tulák. Z domova to má sem něco kolem 3,5 km. Lidem říkáme, že je ze sousední vesnice a cestu domů nejspíše zná dokonale. Je teplo, takže ani zmrznutí v lese mu tentokrát nehrozí. S úsměvem se s námi loučí a pokračují cestou dolů k Míšovu. Nejspíše s nimi dojde k vesnici nebo se odpojí na další odbočce. Prostě klasika, vesnický tulák. Opravdu vtipné ?
Jsme na kopci na křižovatce cest. Kdybychom šli rovně došli bychom také do cíle naší cesty k rybníkům, ale zbytečně bychom náš výlet zkrátili.  Odbočíme tedy vpravo. Cesta jde chvilku po rovince a pomalu z koce dolů. Čerstvě pokácené klády u cesty voní smůlou a stromy prosvítá jarní sluníčko. Čím jsme hlouběji v lese, tím více na bahna na cestě je. Je to ale jenom kousek rozježděné cesty.
Hyenu v lese něco zaujalo. S čumákem u země bere dráhu do houštiny. Musela to být asi sakra dobrá a zajímavá stopa, na zavolání zatím nereaguje. Chvilku čekáme a opět voláme. Nic. Fajn. Tak jsou dvě možnosti – buď přijde sama nebo tentokrát do našeho známého útulku pojedeme pro změnu pro Hyenu. Vypadá to, že má letošní asi nejdelší únik. Opět voláme a dojdeme kousek dolů na další křižovatku. No konečně, Hyena vybíhá z lesa. Odchytávám ji a dostává čočku. Tak tohle holka nee, jinak budeš s námi chodit už jenom na vodítku a to bude opruz jak pro tebe tak pro nás. Za trest jí cvakám na vodítko a dalších 200 m musí klusat u nohy.
Míjíme další pěší, kteří míří od rybníků zpátky do civilizace. Po levé straně u cesty jsou dvě malá jezírka a malá informační cedule. Kdysi tu stával kláštěr Teslíny. Teď tu ale krom malé hromádky kamení u cesty nic jiného není. Kdo ví, jestli je to dílo vojáků nebo zanikl už dříve. Cesta po které jdeme se jmenuje U kostelíka. Bůh ví proč, žádný kostelík tu ale není. Mezi stromy prosvítá už hladina hořejšího Padrťského rybníka a za chvilku jsme na jeho hrázi.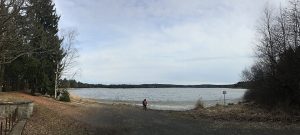 Nebýt to v Brdech řekl bych že jsme někde v Jižních Čechách u Třeboně. Rybník je vcelku velký a po hladině děla vítr spoustu vlnek. Rákosí se vlní a po hladině se honí několik velkých listů. Vítr je žene jak plachetnice a dělá si s nimi co se mu zamane. Fouká a tak zapínáme bundy.  Mohli bychom odbočit doprava a po hrázi jít dále po modré ke studánkám, ale volíme cestu přímou. Je to jedna z mála značených turistických cest v této oblasti. Je tu ale nová informační tabule a malá asi lovecká chata vlevo u cesty také svítí novotou.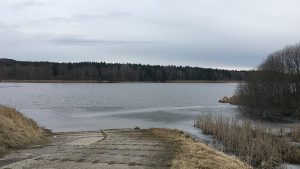 Brdy ještě nejsou úplně turisticky zmapované, ale lepší se to.  Je škoda, že oficiální značené cesty končí u dolejšího Padrťského rybníka před námi a nepokračují dále. Respektive ony pokračují, ale není to již úplně legální cesta. Vstoupili bychom do zóny trvale nepřístupné, která sousedí s centrem zdejšího bývalého vojenského prostoru. Bývalou střelnici s řízeným provozem máme nyní po levé straně.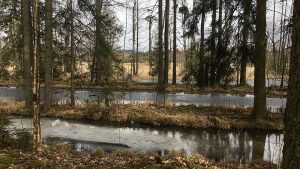 V lese směrem k rybníkům míjíme meandrující koryto slepého ramena potoka se spoustou tůněk. Vše dokonale zamrzlé, jako by sem jaro ještě ani nedorazilo. Korunami stromů si sem cestu razí pár drobných slunečních paprsků a vytváří krásnou scenérii vody, ledu a mechem lemovaných zamrzlých tůněk. Vytahuji foťák a dělám několik snímků. Nádhera. Hyena si hraje na bruslaře a tak zkouší sílu ledu na zamrzlé hladině tůňky. Led jí ale pořád klouže pod tlapama a tak dává přednost raději pevné zemi. Přemýšlí, proč sakra nepokračujeme dále a fascinovaně zíráme na hru světla stínů u tohoto mokřadu.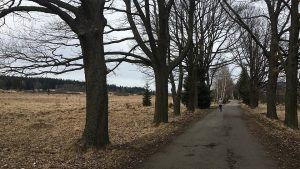 Tůňky ale opouštíme a u dalšího rozcestí které se jmenuje V aleji přicházíme na nečekaně krásnou dlážděnou cestu s velkými žulovými kočičími hlavami uzamčenou ve vysoké aleji. Jak trefné.  Takovou cestu jsem tu opravdu nečekal. Skoro by člověk vyhlížel za chvilku nějaké domy ve vesnici nebo náves ale tahle cesta vede od někud nikam v krajině nikoho.  Nevím, zdali tu dříve jezdili tanky nebo je to pozůstatek původních vesnic které zmizeli v 50.letech po uzavření oblasti a zřízení vojenského prostoru. Kdo ví.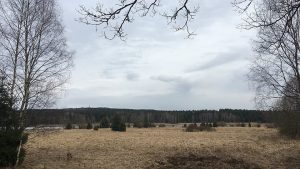 Za křižovatkou je veliká louka táhnoucí se daleko k lesu. Kdybychom popošli trochu dále přes louku a les viděli bychom zónu bývalé střelnice Kolvín.  Hned za loukou u cesty a úzkým pruhem lesa byl konec střelnice. Vlevo u lesa se krčí několik budov spojených silnicemi a vyšší věž řízení střelby.  Střelnice byla elektrifikovaná a terče se pohybovaly na lanech zavěšených na několika příhradových konstrukcích a nebo byly statické a zasazené v terénu. Pozůstatky rozstřílených terčů tu stále jsou rozesety po ploše střelnice stejně jako zbytky podpůrných konstrukcí. Na této střelnici se testovaly všechny pěchotní zbraně včetně protitankových.  Nějaké info je ještě tady nebo tady.
Trochu mě zlobí foťák a nastavení clony. Pořád se zablokovává. Táhnu se celou cestu se zrcadlovkou a teleobjektivem, abych si odnesl pár opravdu povedených akčních fotek s Hyenou. Až doma pak ale zjišťuji, že karta ve foťáku je špatná a že ze 100 vycvakaných fotek se mi podaří stáhnout s odřenýma ušima tak maximálně 3-4. Škoda.
Alejí přicházíme na křižovatku cest u dolejšího Padrťského rybníka. Cesta do leva do kopce směřuje ke střelnici, rovně bychom mohli pokračovat ale jenom za cenu vstupu do nepřístupné části. Dalo by se ještě jít kousek po hrázi rybníka vlevo a napojit se na modrou značku a tím okruh uzavřít. My ale děláme otočku o 180° a vracíme se pomalu zpět stejnou cestou. Přeci jenom, máme před sebou ještě 6,5 km zpáteční cesty a je už relativně hodně hodin.  Klacko-házení Hyenu opět trochu zaměstnává a tak nemá na lumpárny čas.  Drží se nás jako klíště. Přesto, že je cesta zpátky do kopce ubíhá nám rychle. Míjíme hráz velkého rybníka, lesními serpentýnami kolem bývalého kláštera zpět na rozcestí Míšovské cesty a cesty U rozhledny.  Pak už jenom z kopečka dolů starou ale udusanou lesní cestou k Míšovu. K autu dorážíme v rekordním čase. Parkoviště u grilu je zcela plné. Vracíme se.
Petr  – smečkočlen  🙂