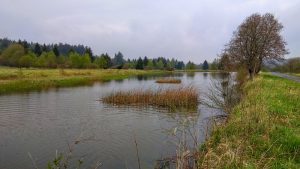 Brdy, to je nekonečná studnice výletů a krásné zatím lidmi nedotčené přírody. Série našich výletů od severu navazující na naše staré výlety od jihu do této části Čech pokračuje dále. Myslím, že ani dnešním dlouhým výletem nejsou naše možnosti poznávat nepoznané v této části Brd u konce. Byť jsme již ty nejkrásnější části bývalých vojenských prostorů již naší návštěvou poctili, zdaleka jsme ještě neviděli vše, co stojí za zhlédnutí. Naším dnešním cílem je Kolvín.
Když jsme na jaře 2018 končili náš mrazivý výlet k Padrťským rybníkům a na hrázi Dolejšího rybníka se pak otáčeli zpět, závistivě jsme koukali směrem k severu k planině před námi a říkali si kam pak to asi tak vede. Jestli pak je tahle cesta už bezpečná. Tehdy tahle dnes červená trasa ještě ani nebyla značená. O to víc nás tehdy jako magnet přitahovala. Stará asfaltka mizící kdesi v dáli na dlouhé holé planině. Dnes už to ale víme ? .
|
|
km
|
|
/km
|
+m -m (čisté: m)
|
stáhnout soubor GPX
Náš dnešní výlet začínáme na konci světa, tedy pardon, na konci vesnice Strašice. Popravdě, ten konec světa by se sem vcelku hodil, neboť jsme ve vesnici, respektive malém městečku lehce bloudili a ne a ne najít tu správnou ulici. Nicméně pak jsme ji našli. Oproti předposlednímu výletu do Dolní Kvaně a na bunkry, kde si místní turistů neváží a jediný pěkný plácek k parkování je opatřený zákazovou značkou, tak tady bylo všechno jinak.
Krásné nové, byť štěrkové parkoviště asi pro 50 aut na konci vesnice je přímo připraveno pro turisty lačnící po krásách Brd. Ještě svítí novotou a nezapomnělo se ani na informační ceduli s mapou, odpadkové koše dokonce ani na stolek s dvěma lavicemi na posezení. Chválíme a obdivujeme nevítaný přístup. Jen tak dále. Jedni z mála, co pochopili, že turisté směřující do Brd to jsou i budoucí peníze. Určitě si pak mnozí unavení z výletu skočí ve vesnici na jídlo nebo na pivko, či nakoupí v nějakém marketu.
Na parkovišti jsme jedni ze čtyř, co tu parkují. Je vidět, že se toto místo ještě nedostalo pořádně do povědomí. Nám to ale vůbec nevadí, naopak. Počasí nám přeje, je sice lehce zataženo ale zatím neprší a občas i to sluníčko vystrčí nesmělý paprsek, aby nás ohřálo. Teplo tedy není, ale 11°C je na výlet dobrých. Cestou plánujeme Hyenu u rybníků vypustit ať se vyběhá a zaplave si.
První část naší dnešní cesty vede kolem Padrťského potoka. Je to cesta sice po asfaltce ale žádná auta zde nejezdí, u parkoviště za námi je zákaz vjezdu. Cesta je příjemná a rovná a míjí nás i několik cyklistů. Asi po 900 m přicházíme k oplocenému objektu a už na první pohled je zřejmé, že tu sídlila armáda. Vysoký plot je zakončený žiletkovým drátem a perimetr kolem plotu střeží několik kamer. Vrátnice u vjezdu je ale pustá a budovy uvnitř budí spíše dojem ubytovny než vojenského objektu. Uvnitř areálu mezi budovami jsou zaparkované dva traktory. Před hlavní budovou stojí skupinka lidí a vůbec nevypadají na vojáky, ale spíše na dělníky.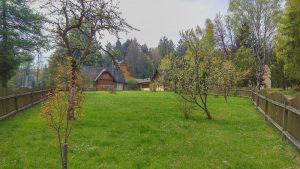 Míjíme rozcestí U zlámané lávky a po pár krocích přicházíme k zámečku Tři Trubky. V 80. letech 19. století jej nechal vystavět kníže Jeroným Colloredo-Mansfeld, jenž vlastnil tuto část Brd spolu s panstvími Dobříš a Zbiroh. Autorem návrhu je vídeňský architekt Camillo Sita, původem z Itálie, a stavba byla vystavěna v duchu pozdního romantismu. Po vytvoření vojenského prostoru a střelnice došlo k přemístění sbírek na zámek Dobříš, ovšem zámeček nadále sloužil k reprezentačním účelům. Zámek je bohužel soukromý a nepřístupný.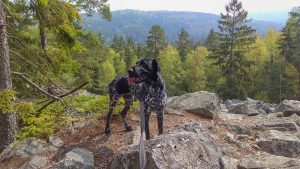 Nás žlutá značka vede kolem loveckého zámečku nahoru do kopce. Vlevo u cesty stojí památný strom a to douglaska tisolistá. Je stará asi 140 let a je to opravdu mohutný kousek. Cesta stoupá čím dál ím více do kopce a po asi 100 m odbočujme na Třítrubeckou vyhlídku. Je těsně pod vrcholem bezejmenného kopce a jedná se o jakési kamenné moře. Na vrcholu je stará bříza s cedulkou.  Mezi roky 1941-45 byl na třítrubeckém zámečku internován jeden německý polní maršál a vyhlídka se tak jmenuje i po něm. Výhled je bohužel omezen vzrostlými smrky a je v omezené míře vidět přes zámeček pouze kamsi k vojenskému sektoru pod Vrchem. Škoda.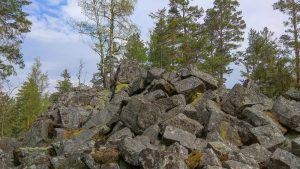 Lesem pokračujeme dále stezkou do kopce až ke Skládaným skálám. Cesta se pomalu lomí a konečně míříme opět lehce z kopce dolů. Zjišťujeme jeden důležitý fakt, nově značená žlutá trasa je zde chybně vyznačená a neodpovídá stavu v mapě. Přesto, že jdeme správně po značkách dle mapy bychom měli být asi o 150 m výše na úplně jiné cestě. Nu stane se, trasy v Brdech jsou vyznačeny čerstvě, mnohé teprve v loňském roce a tak se chybka mohla stát. Doma pak tuto chybu avizuji správci map, snad ji opraví.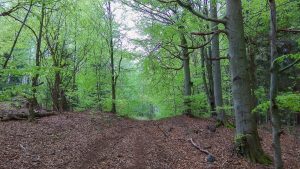 Lesní cestička náhle končí. Křížíme širokou cestu u rozcestí Josefka. Opouštíme žlutou trasu a dále půjdeme po modré. Smrkové lesy střídá mnohem příjemnější buko-dubový les. Mohutné koruny stromů se naklánějí nad cestu vysoko nad námi a cesta zeleným tunelem je víc než příjemná. Les najednou končí a následně se opět otevírá jakási planina před námi. Dle mapy máme mít po pravé ruce jezírko. To se ale jaksi nekoná.
Stojíme na vysokém svahu nad dlouhou a hlubokou jámou na kraji lesa, dole je louka občas přerušená hromadou kamení, ale jezírko žádné. Zvláštní.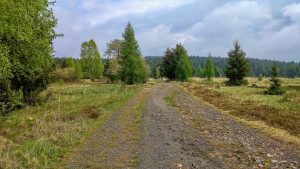 Za jezírkem začíná bývalá pěchotní střelnice Kolvín. Jak už je v Brdech zvykem, jedná se o mírně svažitou obrovskou planinu, občas přerušenou keři nebo nějakým osamělým stromem. Cesta vede dolů a tak se po ní dáváme. Kolem cesty jsou všude roztroušené betonové pilíře zapuštěné hluboko v zemi a na nich je jakýsi zbytek kovové konstrukce s kloubem. Co to kdysi bylo identifikujeme záhy.
Jsou to podstavce terčů na střelbu. Na kovové konstrukci s kloubem bývala kdysi ocelová deska, jenž sloužila jako terč. Ten se náhodně zvedal a opět skládal a na tento se pak vedla palba. Zajímavé. Opět jdeme po dopadové ploše střelnice. Betonové fundamenty jsou všude kolem, kdoví co všechno je dále na planině. Vstup není bohužel možný, plocha za keři a stromy je skrytá a od vstupu na ní odrazují všudypřítomné cedule se zákazem vstupu. Prostor není pyrotechnicky sanován a tedy nepřístupný. Klasika.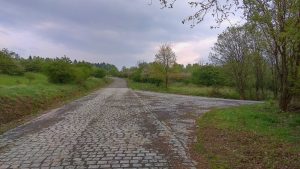 Na křižovatce narážíme na vcelku pěknou asfaltovou cestu, která kříží celý prostor střelnice. Asfalt se v pravidelných intervalech střídá s žulovou dlažbou z masivních kostek. Vždy jsou takto upravené odbočky ze silnice směrem k dopadové ploše. Odhaduji, že zde musela jezdit pásová technika a dlažba je mnohem odolnější při otáčení a manipulaci vozidel než asfalt. Odbočky jsou každých 30 m. Nahoru do svahu tak muselo původně vést mnoho dalších cest.
Otevřená planina najednou končí a vcházíme do malé džungle tvořené starými ovocnými stromy, keři šeříků a kolem cesty tu a tam rostou i nějaké narcisky a tulipány. Opravdu zvláštní místo. Mezi stromy u cesty probleskne co chvilku nějaké ruina nebo hromada kamenů, na kusu cesty ještě zůstala u krajnice i jakási kamenná podezdívka. V zatáčce je pod cestou i zbytek staré kruhové kamenné zítky a kdysi to mohl být obecní rybníček či nějaká nádržka. Toto místo má jakýsi podivný a tajemný genius loci.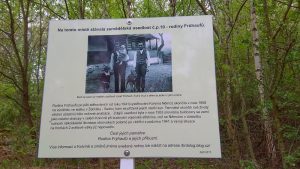 A aby ne, ještě do roku 1941 zde stávala vesnice Kolvín. Mnoho usedlostí a statků, kde po mnoho generací žili a pracovali lidé. Pak přišla německá armáda a s vidinou rozšíření zdejšího vojenského cvičiště všechny obyvatele vystěhovala. Němci ale svoje plány nestihli uskutečnit. Velký lesní polom a také zvrat v průběhu války je donutil směřovat svoje zájmy jiným směrem. Co nezrealizovali němci dokončila v roce 1953 československá armáda. Všechny domy v Kolvíně srovnaly buldozery se zemí a na místě vesnice vznikla záhy vojenská střelnice.
Osudy několika usedlíků a polohu jejich domů nyní již připomínají pouze dvě cedule umístěné u cesty. Staré fotky šťastných rodin tak silně kontrastují s travnatou džunglí kolem a nikdo již není schopen rozeznat, kde stály domy, chlévy pro dobytek, kde byla hospoda, kostel a nebo psí bouda na dvorku statku. Vše je pryč. Pouze jako takovési memento slouží staré ovocné stromy kolem cesty, jenž pořád plodí ovoce, okrasné keře o které se nikdo nestará a jenž byly na zahradách domů, občas i nějaký ten barevný ostrůvek narcisů jenž tu přes 60 let divoce rostou a dávají tak tušit kde by mohla být kdysi nějaká zahrádka ztraceného domu.  Kdo ví, kam se všichni lidé poděli. Třešně v sadu na kopci už dávno odkvetly a nikdo je za pár týdnů již nesklidí. Opravdu smutné a depresivní místo.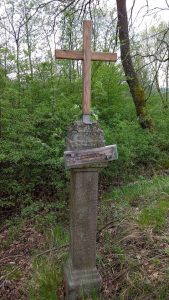 Na křižovatce cest je starý křížek. Připomíná zrušení roboty v roce 1848. U křížku se dáváme vpravo a přes cíp střelnice Kolvín míříme pomalu ale jistě k Padrťským rybníkům. Opět dlážděná široká křižovatka Cesta kříží konec střelnice, ale kdesi daleko pod námi jsou ještě zbytky pal-postů spojené komunikačními cestami a také budova s pozorovatelnou, ze které se řídily střelby. Jistě by se tam dalo dojít po asfaltce jenž utíká před námi vpravo z naší cesty. Nemáme bohužel tolik času a před námi je ještě dlooouuuhý kus cesty. Snad se sem ještě někdy vrátíme vše prozkoumat.
Cesta lesem od střelnice se hadovitě kroutí, míjíme skálu Marie Terezie, ale nikdo by ji dnes již nepoznal. Hromada kamení v kopřivách u cesty. Cesta lesem se narovnává a za pár chvil jsme na hrázi Hořejšího rybníka. Tady je vše pro turisty již připravené. Nové dva turistické přístřešky se stolem a lavicemi, info cedule s mapou a také budova hájovny nebo lovecké chaty. Rybník se dá po břehu v klidu obejít nebo je možno pokračovat dále po staré asfaltce.
Ke hrázi míří spousta lidí a cyklistů, neboť se jedná o nejznámější část této oblasti Brd.  Hyenu necháme vyšplouchat v rybníku, za pár klacky i plave na hloubku. Popijeme čaj z termosky a sledujeme, jak se začíná měnit počasí. Po lidech netoužíme a tak raději balíme. Začíná nepříjemně foukat a poprchávat. Hyenu vypouštíme na volno a sami se balíme do bund. Je s podivem že jí není taky zima, je mokrá a ochladilo se.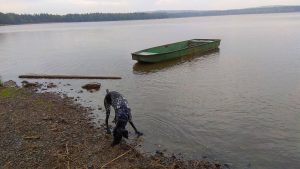 Déšť je čím dál tím vydatnější. Hyena běhá starou alejí vysokých stromů u rybníka a loví klacky. Je spokojená. My také, protože se sama vrací a neutíká. Necháme jí běhat a šlapeme dále. Voda stéká po bundách a promáčí nám kalhoty. Posledně jsme se hrázi Dolejšího rybníka otáčeli, dnes pokračujeme dále. Co pak nás ještě čeká?
Hned za křižovatkou cest objevujeme moc pěkný rybníček s ostrůvkem vysoké ostřice. Posledně jsme tak daleko již nedošli a na křižovatce se obraceli zpět. Hyena neodolá a koupe se. Brr v takové zimě by se mi opravdu chtělo. Tak tohle místo nám posledně zůstalo skryto. Moc pěkné. Rybníček vypadá opuštěně.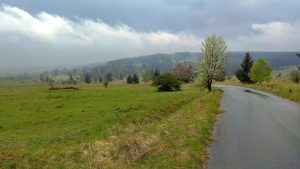 Cestou po mokrém asfaltu jdeme sami. Vpravo od rybníku se ozývají hlasy. Většina turistů míří po hrázi rybníka a naše cesta po červené je tak příjemně osamocená. Další jezírko s ruinami jakési budovy, nejspíše mlýna. Cesta se lomí vpravo do kopce přes širokou pláň. Prší, ale už to není tak horké. Hyena je opět na vodítku, kolem je spousta keřů a v dáli se ozývá nějaký bažant. Jistota je jistota.
Pak najednou přestalo pršet. Jako když utne. Sluníčko pomalu a nejistě vykukuje zpoza mraků a rybníky dole pod námi se noří do mlžného oparu. Z mokrého asfaltu se kouří. Oteplilo se. Před chvílí mě zábli ruce a choulil jsem se do mokré studené bundy, ale teď dál pokračuji jenom v tričku. Obrovský zvrat v počasí.
Opět se noříme do lesa. Štěrková lesní cesta stoupá nahoru do kopce a my si cestu lehce krátíme průsekem v lese. Oblouk cesty si tak zkrátíme asi o 100 m. U smrčku na pasece objevuji zbytek jakéhosi hliníkového válečku s okem a chuchvalcem padákových šňůr. Padák už tady dávno není, prostě zetlel. Tipuji to na zbytek světlice a později zjišťuji, že jsem se moc nemýlil. Jedná se o zbytek osvětlovací rakety Flg.5000. Metr dlouhá raketa s průměrem 106 mm se vystřelovala podobně jako minometné střely z trubky. Takových věcí se tu původně museli válet stovky. Než jsme zapadli do lesa byla tu značka zakazující vstup na planinu, neboť zde byla jáma na likvidaci munice.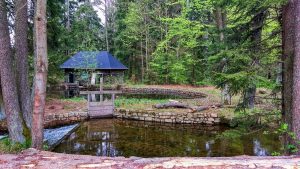 Dlouhá cesta lesem je únavná a cesta chvilku stoupá, aby po pár stovkách metrů opět klesala dolů. Na rozcestí u Tří Trubek se opět občerstvujeme. Míjí nás pár cyklistů, ale jinak je tu pusto a prázdno. Máme před sebou posledních asi 6 km a v nohách už 18. Je to opravdu znát a ani se nám nechce vstávat. Asfaltkou kde žádná auta nejezdí po asi 20 minutách přicházíme opět k loveckému zámečku. Tentokráte ale z druhé strany. Kruh se uzavírá.
Čeká nás poslední úsek cesty kolem potoka zpět na parkoviště. Před zámečkem ještě po pravé straně míjíme jakýsi vojenský prostor poctivě oplocený a označený cedulemi. Do lesa vede krátká asfaltka a končí automatickou závorou s kamerou a pustou vrátnicí. Kdo ví, co zde vojáci ještě mají.
Kolem bývalého vojenského objektu pod Amerikou rychle proběhneme. Hyena je už unavená a netahá a ostatně my už také. Poslední metry k autu již počítáme každý krok. Pak se za zatáčkou objevuje parkoviště a naše dnešní brdská anabáze pomalu končí. Unavení ale spokojení nasedáme a vracíme se zpět.
Je to už náš pátý výlet do Brd, ale pořád máme co objevovat.  Prochozeno vše určitě nemáme a dlouho ještě mít nebudeme. A to je dobře.
Petr – smečkočlen ?
P.S.: prosím jedna poslední ale důležitá poznámka na závěr. Až se sem vypravíte, buďte opatrní. Byť je spousta turistických cest již značena a bezpečná, pořád je více než 90% oblasti ještě neasanováno a nevyčištěno. Chcete-li se jako my podívat na ty nejzajímavější místa nikdo vám jistě nebude bránit. Cesta k nim je bezpečná.  Pohybujte se ale výhradně po lesních a polních cestách. Určitě nechoďte do blízkých lesů. Pořád tu může být a skutečně i je spousta nevybuchlé munice.