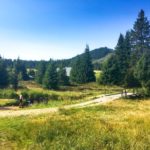 Krásné sobotní ráno. Předpověď slibuje oblohu bez mráčku a je tedy čas na plánovaný celodenní výlet. Rychle snídáme a balíme. Přemýšlím, jestli vzít stopovačku až bude mít Hyena potřebu opět plavat v potoce, ale pak to zamítám. Přeci jenom budeme se pohybovat více v lese a kolem Horské Kvildy asi nebude ani potřeba. Vše je rychle nachystáno a tak vyrážíme. Od pensionu opět šlapeme kousek dolů směrem na Modravu po silnici. Je to ale jenom pár desítek metrů k první odbočce na žlutou. Cesta nás vede do kopce nad Filipovu huť kolem restaurace Hájenka. Kocháme se výhledem zpátky k Filipce a také novými, kameny obloženými domy u cesty.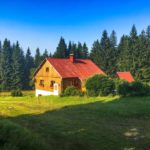 Tenhle štěrkový a kamenný kousek cesty je přesně ten, před kterým nás varoval v pensionu recepční. Zmijím se prý konkrétně tady extra daří. Postupujeme opatrně nahoru, žádný pohyb nikde nevidíme, což nás uklidní. Pod odbočkou u rozcestníku hlásajícím info o Korýtku je malá samota. Malý opravený dům s teráskou z vyskládaných kamenů a sezením z hrubě otesaných klád. Už vidím tu parádu se tady večer posadit, otevřít láhev vína a pozorovat západ slunce v údolí na Filipkou a pustit myšlenky dolů po vodě. Dům stojí na samotě, pod lesem je tu tedy absolutně božský klid. Turisti jako my sem zabloudí sporadicky (možná i omylem) a od ruchu u hlavní silnice je to na hony vzdáleno.  Za rozcestníkem vstupujme lesní pěšinou dále do lesa. Snažím se dávat větší pozor, ale ani tady žádný pohyb kolem cesty nevidím.  Hyena vyklusává u nohy. Po včerejším dvoudílném treku bych řekl, že bude unavená ale to se hluboce mýlím. Stačilo pár hodin spánku a včerejší kilometry jsou definitivně zapomenuty. Sil má zase na rozdávání. Mám takový pocit, že jí ty ušlé kilometry naopak dobíjejí baterky.
|
|
km
|
|
/km
|
+m -m (čisté: m)
|
stáhnout soubor GPX
Pěšina po nějakých 300 m končí a napojuje se na lesní asfaltku. Takových, co je jich tady na Šumavě hromada. Starý vydrolený a flekatý asfalt, rozpraskaný po jarních táních a vyšisovaný letním sluncem a po kterém jezdí maximálně lesníci nebo hajný dávat zvěři do krmelců. Zdálo by se, že tyto cesty na Šumavu a do Národního parku jaksi nepatří, ale já si myslím že nyní už dotvářejí dokonale místní kolorit a možná by mě tu i chyběly. Jako pavučina se roztahují celým parkem a zabíhají i do prvních zón. Cesta z kopce hezky ubíhá. Kolem cesty je spousta hub. Stačí opustit pohodu cesty a zabrousit kousíček do lesa a je to radost se podívat. Nic na sbírání hub sebou nemáme tak se alespoň kocháme.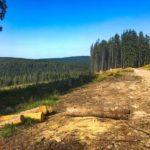 Malá paseka s průsekem v lese nám otevírá pohled na silnici mezi Modravou a Antýglem dole hluboko pod námi. Stačí ještě pár kroků a vidíme pod sebou i Hotel Antýgl, kde jsme včera byli na polévce při návratu z výletu. Z téhle strany ho takto vidíme poprvé. Proti nám jdou v dáli osamoceni dva lidé. Vidím, že mají sebou také psa. Zdravíme se, Hyenu přítomnost dalšího psa sice nevyvádí z rovnováhy i když kamarádit by se asi chtěla. Zkoušíme malý trik, který se nám již osvědčil.  Vyndáváme pamlsek a Hyena poslušně následuje ruku s pamlskem a psa naproti nám si nevšímá. Zatím to funguje na vodítku vcelku spolehlivě, otázka je, jak by to proběhlo bez vodítka. No až bude příležitost tak to někde vyzkoušíme. Pěkná udusané lesní cesta končí a posledních pár metrů se brodíme rozježděnou hlínou, která tu zůstala od traktoru po těžbě dřeva. Jsme u dalšího rozcestníku. Do leva je to k Antýglu kde jsme byli včera, ale my půjdeme vpravo do kopce. Hamerský potok který teče až z Horské Kvildy tady kopíruje v podstatě celý úsek cesty kudy půjdeme. Starost o osvěžení Hyeny tedy pouštím z hlavy. Jak jí znám, bude se cákat v potoce stejně celou cestu.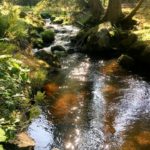 Také že ano, cesta je pěkná a široká a přístupů k vodě je tu opravdu mnoho. Využíváme každou příležitost, kdy může Hyena do vody. Blbka je tak natěšená na vodu, že mám někdy strach, že si na kamenech zlomí nohu. Skáče do tůně, běhá kolem kamenů a přemýšlí, jakou lumpárnou nás zase potěší. Vodu má po břicho. Že je ledová jí vůbec nevyvádí z rovnováhy. Každou tůň na cestě nahoru budeme mít zmapovanou a to naprosto dokonale. Jsme až překvapení, jak je tato cesta příjemná. Je tu sice více lidí něž jinde, ze shora od Horské Kvildy pořád někdo jde proti nám, ale nevadí to.  Potok skáče přes kameny i velké větve a rozlívá se do tůní pod velkými kameny. Kameny jsou místy celé zelené a zarostlé mechem a sem tam je tůňka zarostlé nějakou vodní trávou.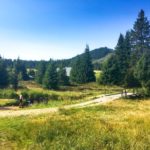 Pak les najednou končí. Před námi se otevírá pohled na sluncem prosvětlenou louku. Těch pár chalup na obzoru je zdánlivě chaoticky rozházeno bez ladu a skladu v krajině. Potok se zde rozšiřuje a překonává ho široký brod. Hned vedle brodu je dřevěná lávka a cesta za ní pokračuje polňačkou. Vede k velké chalupě na konci louky. Kouzelné místo. Pod chalupou u potoka je z kamenů vyskládaná hráz a potok zde tvoří velkou tůň.  Přesně takovou, aby dnes asi po 150-té přitáhla Hyenu k vykoupání. Vody je tam tak akorát, vydrží jí courání s vodou pod břichem opravdu dlouho. Zouvám boty a jdu také do vody. Brod je široký, ale vody je tam maximálně 10 čísel. Hyena to bere jako prima hru a tak křepčí v potoce kolem mne, takže za chvilku jsem stejně mokrý jako ona. Voda je jak žiletky, dá se v ní vydržet maximálně minutu což taky dobrovolně plním. Déle se opravdu nedá. Po cestě nad námi přicházejí dvě holky a mají retrívra a riče. Psi se vrhají do tůně a chtěli by se kamarádit. Hyena má stejnou myšlenku. Vzhledem k tomu že bychom energií nabitou Hyenu po vypuštění asi dlouho naháněli a okolní louky s ohradníky pro krávy také nejsou na psí rodeo vhodné, balíme a pokračujeme dále.  Nohy mě zebou ještě další 2 kilometry.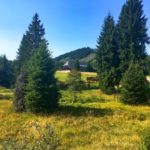 Louky pod Horskou Kvildou se otevírají čím dál tím více. Krátce se ještě zastavujeme na dalším rozcestí u potoka, aby se Hyena namočila, dál už budeme stoupat nahoru a potoků zde už moc nebude. Cesta se vlní vpravo do kopce a z jedné i z druhé strany jsou elektrické ohradníky. Vpravo se pasou ovce a v dáli i chlupaté skotské krávy, vlevo pro změnu celá louka paří koním. U cedule, která informuje právě o skotských kravách se stáčíme vlevo směrem Horské Kvildě. Hyena musí opět uprostřed, zase jsme obklíčeni ohradníky. Pak najednou pastviny končí, míjíme ještě statek po pravé straně a malý mostík přes Hamerský potok je už těsně pod Horskou Kvildou. Na rohu je restaurace u prodejny. Je pomalu čas oběda a tak se zastavujeme na jídlo.  Malá letní teráska je fajn a šumavské kyselo s pivkem je exelentní. Vedle pod slunečníkem je skupinka s několika menšími psi. Dojídají a odcházejí směrem odkud jsme přišli my. Dojídáme a spokojeni odcházíme také.
Další plán cesty je vyhnout se značeným turistickým cestám a zkusit jít po lesní cestě která mizí nad Horskou Kvildou v lese. Na mapě je značená jako pohodová široká lesní cesta a není důvod tomu nevěřit. Potřebujeme se dostat cestu ze Zhůří na Zlatou studnu. V krátkém úseku kříží sice I.zónu parku ale je to opravdu jenom kousek a je to cesta po které jezdí lesníci a dřevaři. Nikde ani živáčka, vypadá to, že tu dlouho již nikdo nešel. Kolem cesty je spousta hub a borůvek. Na chvilku se opět zastavujeme. Radost z pěkné cesty nám vydrží asi kilometr a půl. Dle mapy tu má jít cesta rovně, ale skutečnost je jiná. Lesní cesta se stáčí doprava a rovně nevede absolutně nic. A pak věřte mapám. GPSka potvrzuje naši správnou pozici na mapě. Krátká porada co budeme dělat. Vrátit se zpět znamená zajít si dalších asi 5 km což se nám nechce. Cesta vpravo se odklání od našeho směru a vede souběžně s cestou kam se potřebujeme dostat. No nic, jdeme kousek dále jestli nenajdeme pokračování naší naplánované cesty a nic. Vracíme se zpátky asi o 70 m jestli jsme něco nepřehlédli a absolutně také nic. Pouze támhle zabíhá do lesa taková úzká nezřetelná vyšlapaná úzká pěšinka asi od zvěře a to je jediný náznak cesty v našem původním směru. Radíme se co dál. Riskneme to? Cesta povede skoro kilometr nepřístupnou I.zónou a nemáme jistotu, že až na křížení s naší asfaltkou. No nedá se nic dělat, riskneme to. Snad nepotkáme nějakého lesníka nebo nedej bože strážce parku.
Přeskakujeme kořeny, zapadáme do bahna a větve stromů náš šlehají do tváře.  Cesta je úzká a klikatá. Míjíme dva močály. Ještě že je Hyena poslušná a netáhne a drží se těsně za mnou. Identifikujeme v bahně pár stop od podrážek bot a také tenkou linku jak tu nějaký zoufalec vedl kolo. Takže nejsme jediní loseři, to nám dodává odvahu. V dáli se objevuje na horizontu rovná linie. To je přece naše cesta!!!! Tak to nakonec klaplo a bez úhony.  Skvělé. Padáme do mechu u cesty. Dáváme malou pauzu než se vydáme dále.
Opět naše stará dobrá asfaltka uprostřed nekonečného lesa. Dle mapy tu vede cyklostezka, ale prvního cyklistu potkáváme skoro až za hodinu. Šineme se pomalu cestou lesem. Hyeně necháváme relativní volnost, není důvod peskovat ani spěchat. Příkopy kolem cesty jí hodně zajímají, co kdyby tam bylo něco zajímavého. Cestu asi křižují stopy od zvěře. Hyena jako správný ohař stopy větří a křižuje od jednoho konce cesty ke druhému. Ví přesně kam stopy vedou. Hlouběji do lesa. Tam ale nepůjdeme. Spokojí se tedy s klacky a šiškami.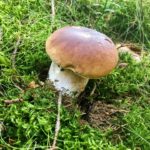 Co to je támhle u cesty v trávě? Ty v…e to jsou hřiby a jaké! A támhle o pár metrů dál další a támhle naproti taky! V protisměru před chvílí jsme minuli několik skupinek turistů a z našeho směru i nějakého toho cyklistu. Nikdo z nich si velkých hřibů co tu všude u cesty rostou nevšiml. Nechce se mi ani věřit, že tu opravdu jsou. Dát je kam nemáme tak se alespoň radujeme z nálezu. Letos to jsou první hřiby co jsme viděli. Vím, že to neklapne, ale je mi líto aby je někdo sebral. Trhám trs trávy a úlovky zakrývám. Kdo ví, třeba se sem zítra vrátíme lépe vybaveni a budou naše. Ne … to je moc najivní myšlenka, určitě je někdo sebere. Kde přesně jsou si vrývám do paměti. Ještě pár vteřin štěstí a musíme jít dále. Hyenu houby absolutně nezajímají, nechápe proč se tak rozplýváme nad tak pitomými věcmi v trávě. K čemu to je, hrát se s tím nedá a divně to smrdí.
Další rozcestí je U tří jedlí. Opravdu velice originální název v lese plném jedlí. U rozcestí se nezastavujeme a pokračujme stále dále. Ranklovská rovina. Cesta dolů jde na Zlatou studnu. Tam my ale nepůjdeme. Držíme se stále rovně. Cesta padá relativně prudce dolů z kopce. Ale pořád je to široká pohodová cesta. Dneska to tu ještě nebylo a tak Hyena vytahuje z příkopu dlouhou větev a vítězně s ní vyklusává před námi. Chce abychom jí větev brali, ona se bude jako tvářit drsně a nic nám nedá. Taková stará obehraná hra co Hyenu baví pořád, nás už méně. No jak chceš! Beru větev za druhý konec a  Hyena poslušně drží ten první. Pustit ho nechce tak s větví cválá jak na dřevěném vodítku. Ani nemusíme držet to druhé. Hra nám vydrží možná tři čtvrtě kilometru cesty.
Vycházíme z lesa. Po naší levici je obrovská nová luxusní chalupa na způsob statku. Luxusní místo i dům. Výhled na louku pod lesem je úžasný. Ve stejném duchu je i psí bouda na dvoře, nedivil bych se, kdyby měla vlastní studnu, solární panely a byla 3+1. Nájemník v ní ale není. Asi zrovna relaxuje někde v soukromé sauně. Cesta padá stále dolů. Na rozcestí U Daniela se dáváme konečně doprava a náš dnešní cíl je už na dohled. Mineme ještě pár chalup na Kraji Filipky a náš pension je už co by kamenem dohodil. Jsme unavení ale spokojení, byl to dlouhý a příjemný den. Škoda že se zítra vracíme domů.  Tak čau … Šumavo !
Jestli vám unikl předchozí den tak vše naleznete zde
Petr – smečkočlen   🙂
P.S.: pro ty houby jsme se druhý den opravdu vrátili. Tentokrát s velkou taškou. Nikdo z nás opravdu nevěřil v zázraky, ale všechny ty naše původně nalezené hřiby u cesty jsme opravdu našli a spoustu dalších, které jsme před tím neviděli. Plná taška jich byla. Jak říkám, zázrak  😉