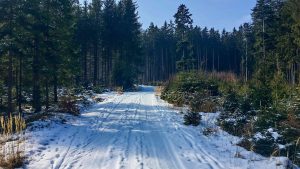 V Praze už po sněhu nebylo v sobotu ani památky. Kam tedy vyrazit, abychom si jeho poslední zbytky přeci jenom trochu užili a Hyena byla spokojená. V lednu a v únoru jsme se pořádně nikam nedostali, neboť o víkendech byly v plánu úplně jiné činnosti než nějaké zimní treky a trajdání po lese. Naposledy jsme s Hyenou byli taky v Brdech, ale to jsme šli z Kytína do Haloun nebo předtím byl také pěkný výlet kolem obory Aglaia. Proč si to nezopakovat znovu. Počasí slibovalo na sobotu slunce a v bývalém brdském vojenském prostoru jsme ještě nebyli.
Po Strakonické jsme autem za chvilku za Prahou, míjíme Příbram a naše cesta směřuje dále do Obecnice, která se nám zdá jako začátek cesty k Toku jako dobrý nápad. Sluníčko se mohutně snaží ale nějak mu to nejde, přeci jenom je začátek března a -4°C pod nulou znamenají že, se budeme muset zahřát pohybem. Anebo teplým čajem, co mi lehce šplouchá v termosce v batohu.
|
|
km
|
|
/km
|
+m -m (čisté: m)
|
stáhnout soubor GPX
Auto necháváme na velkém parkovišti u místního vesnického fotbalového hřiště. Navlékáme čepice a rukavice a spolu s Hyenou, která už je celá natěšená na výlet vyrážíme zmrzlou vesnicí po červené značce dále k lesu. Přeci jenom, leden i únor nám nějak protekl mezi prsty, nikam jsme se pořádně nedostali a na Hyeně je ten chybějící pohyb dost znát. No uvidíme, v plánu je udělat okruh alespoň 12 km.
Všude je klid, zmrzlé zahrady u domů jako by jaro už ani nečekaly a zima je kompletně pohltila. Z několika domů stoupá z komínů dým a maluje nad střechami pokrytými jinovatkou kouřové obrazce. Namrzlá silnice a zmrzlý potok jenom dotváří kulisu ospalé zmrzlé vesnice téměř na konci světa a jakoby tady snad ani nikdo nebydlel. Domy najednou končí. Za zády nám ještě doznívá poslední štěkot prokřehlých psů za plotem zahrad domů na konci cesty a noříme se do lesa. Krásná lesní cesta jakoby přímo zvala dál.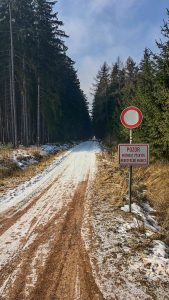 Hyenu cvakám na stopovačku ať má trochu toho volného pohybu a dávám jí volno. Ať se konečně protáhne. Bude-li nejhůř na stopovačce jí snadno odchytíme. Přemýšlím, že to je vlastně hlavní důvod proč tu dneska jsme, unavit Hyenu a užít si ještě trochu toho mrazivého brzkého odpoledne je náš hlavní cíl. Lesní cesta je zmrzlá stejně jako strouha, co se lehce vine kolem z jedné i ze druhé strany silnice. Hyena lítá okolo a dožaduje se házení klacků. Ok, hledám klacky a házím je Hyeně na cestu před námi. Ta lehce stoupá do mírného kopečka. Kloboučecká cesta. Rovná jak pravítko s vysokými stromy kolem nás pořád táhne do mírného kopečka nahoru hlouběji a hlouběji do lesa. Kdybychom se jí drželi dál došli bychom až pod kopec Klobouček se 703 m.n.m.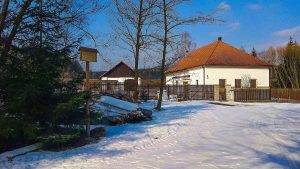 Na první velké křižovatce ale tuto pohodlnou cestu opouštíme a zahýbáme doprava. Sněhu trochu přibylo a nohy se boří do hlubšího sněhu na cestě. Naším prvním cílem je samota Octárna a za ní nádrž Obecnice. Aby se to nepletlo tak nikdo z místních této nádrži neřekne také jinak než Octárna. Zajímavý název. Kdysi tu prý krátce byla továrna na výrobu octa, takže odtud Octárna. Do nádrže ústí mnoho malých, většinou rašelinných potůčků z pramenišť brdských hor. Od Toku, Houpáku a Brda. Místní rašelina je také příčinou kyselejší vody v nádrži proto zde ani nejsou nasazeny ryby. Rybník je zamrzlý a v dálce za hrází na něm bruslí skupina dětí.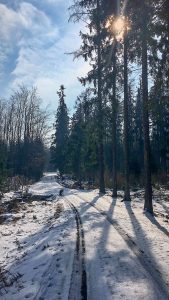 U Octárny děláme pár fotek a dáváme se doleva tentokrát na Rusínskou cestu. Název cesty pochází od Rusínů, dřevařů z daleké Podkarpatské Rusi, kteří káceli lesy na Toku, když se připravoval terén tamní střelnice. Cesta vede od Octárny, kříží Tetřívčí potok a stoupá stále vzhůru jako asfaltka až k požárnímu příkopu pod Tokem, odsud pokračuje už jako lesní cesta právě kolem bývalé Rusínské boudy. Bouda zde už ale dávno nestojí. Dokonce i najít její poslední pozůstatky je nyní už velký problém. My ale nejdeme až na její konec. Po zhruba 1,5 km na rozcestí lehce zmatkujeme. Místo abychom pokračovali doprava k již zmíněné Rusínské boudě jak bylo původně v plánu tak naše kroky míří rovně k Obrázecké cestě tedy respektive k pokračování naší staré známé Kloboučecké cesty, po které jsme před pár desítkami minut šli. Jak jsme házeli klacky Hyeně a ona lítala kolem nás tak jsme si prostě správné odbočky nevšimli. Stane se.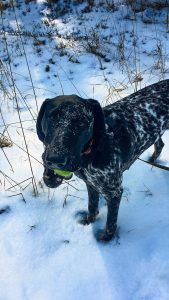 Tady musím trochu odbočit. Klacky jsme u Octárny vyměnili za tenisák což bylo o 1000% zábavnější a Hyena ho pak většinu naší dnešní cesty nosila v tlamě jako svátost. Jistě, občas ho někde v zápalu čenichání zapomněla, ale o to dobrodružnější bylo ho zase hledat. Takový zahrabaný tenisák ve sněhu se pak opravdu skvěle hledá obzvláště, když si na jeho přítomnost vzpomenete až po 20 m a musíte se pak vracet. A není nic skvělejšího, než když ho s velkou slávou pak vylovila ze závěje kde ho předtím zajisté omylem zanechala. Po hrabání a čenichání ve sněhu pak vypadala jako Yeti hrabající se ze závěje.
No co se dá dělat, nic se neděje k Rusínské boudě kam jsme původně mířili se holt dostaneme trochu neplánovanou oklikou. Zajdeme si asi 1,5 km. Napojujeme se opět na červenou značku, po které jsme náš dnešní výlet zahajovali. Lesní cesta najednou končí. Červená značka nás žene tentokrát už úzkou lesní pěšinou nahoru strmě do kopce. Na zasněženou zledovatělou pěšinu, co se klikatí mezi stromy najednou navazují kamenné schody. Schody trochu kloužou, což Hyeně vůbec nevadí a mžiku je nahoře kde pozoruje naše pokusy se vydrápat nahoru. Poslední schod a vylézáme na průseku v lese. Tento vymýcený pás je hranicí bývalé dopadové plochy Tok. Na její přítomnost nás upozorňují cedule co 100 m rozmístěné na hraně lesa před námi, které mají odrazovat případné návštěvníky.
Na Toku už sice částečná sanace proběhla, ale pořád není vyčištěná celá bývalá dopadová plocha. Tok spadal pod leteckou zkušební střelnici Jordán a tato dopadovka byla určena pro bombardování cvičnou municí. O vzniku názvu vrcholu Tok se vedou stále spory. Může to být spojené s točící a kroutící se cestou ale i s tokáním tetřevů jenž se tady v minulosti vyskytovali prý v hojném počtu. Tak si vyberte ?.
Kdybychom nyní vyrazili po modré doleva došli bychom asi po 2,2 km na rozcestí U Carvánku. Odtud je to na vrchol Toku pyšnící se výškou 865 m.n.m co by kamenem dohodil. Na vrcholu je kamenná pyramida ale vzhledem k vrostlým stromům není bohužel do okolí takový výhled jak by bylo očekáváno. Na tomto rozcestí je také studánka s prý výbornou vodou, co obzvláště v létě přijde vhod. My ale z časových důvodů tudy nepůjdeme (i když původně jsme se chtěli na vrchol Toku podívat ale jinou cestou). Průsekem lesa míříme doprava po modré dolů z kopce k rozcestí u Rusínské boudy, kam jsme měli původně zamířeno. Cesta je přes kluzké kameny a klády skryté pod sněhem vcelku náročná a klouže to. Hyenu raději pouštím na stopovačce navolno, jinak bych mohl po zadku dosáňkovat dolů do některé ze zmrzlých tůněk dole u potoka.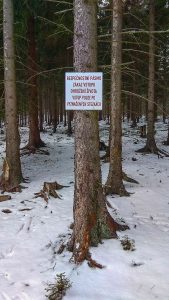 Doklouzáváme pomalu dolů a po lesní pěšince, která vede rovnoběžně s průsekem pokračujeme dále. Na mýtině před námi už nás vítá dřevěný posed se seníkem. Ten je postaven na místě bývalé Rusínské boudy. Sundávám batoh a dáváme pauzu. Horký čas s medem z termosky krásně hřeje. Zvažujeme naše možnosti. Z tohoto rozcestí jsme dle původního plánu měli jít po lesní cestě nahoru na Tok což by mělo být asi 2 km bezpečné cesty po lesní cestě až na vrchol a stejnou cestou bychom jsme se i vrátili zpět. Vzhledem k našemu bloudění a neplánované zacházce ale volíme cestu dále po modré až ke Knížecí studánce.
Hyena už je unavená, přeci jenom máme v nohách už nějakých 6,5km (Hyena asi tak 12) takže se budeme pomalu vracet zpátky. Opouštíme modrou značku a stáčíme se zpátky k Obecnici. Lesní cesta mírně klesá což je vcelku příjemné. Asi po kilometru přicházíme na hranici posádkového cvičiště Jince. Tady se na rozdíl od Toku ještě stále cvičí, takže informační cedulky se zákazem vstupu výrazně zhoustly. Silnice, po které jdeme je asfaltka a vypadá to, že dvě tři auta za den tudy si jistě projedou. Hyena ještě cvičně kontroluje závěje sněhu v příkopu u cesty a už vidíme v dálce naši starou známou nádrž u Octárny, kde jsme před nějakou tou hodinou byli.
Tady je možnost po hrázi nádrže přejít zpátky na červenou a kolem Octárny se vrátit zpět ale my ještě kousek pokračujeme po silnici do vesnice. Je to v závěru cesty přeci jenom příjemnější, než se opět brodit sněhem v lese. U kostela ve vesnici dáváme ostrou pravou a končíme opět na parkovišti kde jsme dnes začínali.
Dopíjíme čaj z termosky a plánujeme, jak sem ještě na jaře nebo v létě opět podíváme. Míst na objevování je tu pořád dost a dost. Možná to vezmeme tentokrát z druhé strany kolem známějších Padrťských rybníků. Uvidíme. Teď ale už domů rozmrznout.
Petr – smečkočlen 🙂