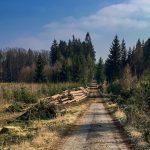 Opakuje se to pomalu každý víkend. Co s načatými dvěma dny? Kam se vypravíme tentokrát Hyenu unavit? Cíl je vždy jediný … vybrat takové cesty a výlety kde se Hyena nejlépe sama unaví běháním na volno a my jí v tom výrazně pomůžeme aportováním všeho co je po cestě k dispozici. A Brdy to je nekonečná studnice krásných výletů tedy přesně to, co potřebujeme. V okolí Kytína jsme už byli a tak vyrážíme pouze o jednu vesnici dále a uděláme tentokráte okruh z Chouzavé směrem na Bílý kámen a hřebenovkou pod bývalým vojenským prostorem Klondajk a přes Kytín následně zpět.  Slabých 13 km.
Minulý velice krátký výlet na Padrťské rybníky si určitě zopakujeme, to si ujít nenecháme, kolem Toku bylo taky krásně a okolí Dobříše a Obecnice za Příbramí bylo také fajn. Tady je úplně jedno kam vyrazit. Klid a divočina je tu prostě všude.
|
|
km
|
|
/km
|
+m -m (čisté: m)
|
stáhnout soubor GPX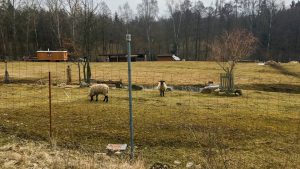 Auto necháváme na konci Chouzavé a civilizace na malém plácku přesně tak pro maximálně dvě auta na začátku lesa. Konec světa avizuje i velká ohrada se spoustou ovcí, nějakou tou kozou a osamělým oslem na druhém konci. Ovce nás pozorují a na Hyenu nespokojeně bečí. Ta si jich ale nevšímá, to je pod její úroveň. Má jediný cíl a to vyrazit směr cesta do lesa v čemž jí důrazně korigujeme. Na drobný zlomek času chápe, aby následně opět táhla jak lokomotiva vpřed. Tak takhle to asi děvče nepůjde, důrazně si opět vysvětlujeme priority našeho výletu, k nimž rozhodně nepatří smýkání se za divočákem bahnem a loužemi na cestě, tohle tedy fááákt ne!
Nezdá se to, ale jak se lehce oteplilo ( ? ) z minulých -6°C na +6°C tak sníh a led na cestě roztál, všude je spoustu bahínka a louží, jen místy kde ještě prosvítá starý asfalt a štěrk jsou suché ostrůvky. Sluníčko se sice snaží ale vysušit i všechny lesní cesty se mu zatím úplně nedaří. Pár kroků a jsme na prvním rozcestí. Vpravo vede žlutá, po které se budeme odpoledne vracet a tak odbočujeme vlevo směr Voznice kam ale nepůjdeme.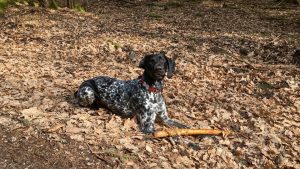 Cesta je ale příjemná a lemovaná lesem, žádné turisty ani cyklisty nepotkáváme a tak Hyena dostává konečně vytoužené volno. Lítá jak raketa před námi a dožaduje se házení klacků. To je teď její nejoblíbenější hra.  Stejně tak nespokojené štěkání, když nedostatečně rychle najdeme potřebný klacek nebo příliš dlouho otálíme s jeho házením. To se může pominout. Teď je ale spokojená, nikam daleko nezdrhá a drží se na cestě, což je fajn.
Míjíme rozcestí s modrou směřující doleva k Voznici a pokračujeme stále rovně. Cesta je o něco širší, pevnější a rovnější. Suchých míst je tady také více, ale přesto všechno původně krásné a čisté bílo-černé hyeniny skvrny pomalu ztrácejí převahu nad žluto-špinavou barvou bahna a vody z louží, kterými tak ráda probíhá. Rousnice jak vystřižená. Vidět jí někde v lese určitě bychom si jí spletli s divočákem. Zapraseným divočákem. Cesta nám příjemně ubíhá.
Procvičuje pár povelů na zklidnění, nějaké to "sedni" "zůstaň" "ke mně" a daří se. Je to až s podivem. To bude asi těmi odměnami, co jsme vzali sebou. Sušené rybičky jsou neodolatelné a tak se až divíme jak to zatím funguje. Nikde nelítá, dává pozor a na zavolání přibíhá. Je to vůbec naše Hyena? Ty rybičky musíme ještě koupit. S piškoty bychom takovou parádu nenadělali ?.
Míjíme skupinku lidí s dětmi a vlčákem. Za malým rybníčkem s příznačným jménem Hladovec odbočujeme z hlavní cesty doprava nahoru. Nic se ale nemění cesta je pořád stejná široká lesňačka. Mohli bychom jít i rovně. Došli bychom na Knížecí studánky, kde jsme už také na podzim byli, ale to bychom si zašli dalších 6,5 km a to už by bylo příliš. Využíváme tedy tuto zkratku.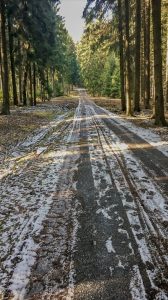 Je to už trochu klišé, ale cesta je opravdu krásně rovná jak pravítko. Stoupáme stále do mírného kopce. V lese se místy ještě válí zbytky sněhu a tam, kam sluníčko ještě nezavítalo je stále krásně nasněženo. Sluncem zalité mýtiny se střídají s lesními úseky, kde jako by teplota vždy klesla o nějaký ten stupínek níže a tak stále bundy rozepínáme abychom je po 50 m opět zapli až ke krku. Bezovka, tak se lesní cesta poeticky jmenuje i když bez abys tu pohledal. Asi uprostřed kopce křížíme evidentně frekventovanější další cestu. Z lesa vyjíždí několik cyklistů a vychází i několik pěších. Cyklistům ani moc nezávidím. Bahna je všude dost a dost.
Pár kroků a jsme na červené. Zdejší hlavní hřebenovka táhnoucí se už od Jíloviště za Prahou přes celé Brdy a končící až někde U Toku. Dobrých 50 km. Škoda se že se celých 50 km nedá ujet na kole, neboť terén to ne všude umožňuje.  Dáváme se doprava.
Po pár desítkách metrů přicházíme k info tabuli na Bílém kameni. Kdysi tu stávala hájenka, která ovšem za podivných okolností vyhořela na konci války. Teď po ní není ale ani památky. Před bývalou hájenkou je studánka. Voda vypadá čerstvě a čistě, ale ochutnat se neodvažuji pouze Hyena zkouší teplotu vody čumákem.  Na kopci na nad námi v podstatě na hraně hřebenu prosvítá vysoký plot. Je to areál bývalého vojenského prostoru Klondajk. Kdysi tu bývala vysoce utajená raketová základna po které zbylo už jen pár bunkrů a budov a také 3 velké betonové šikmé rampy kam vjížděli náklaďáky s radiolokátory. Areál je oplocený a na části funguje výzkumný ústav a je zde také fotovoltaická elektrárna. Nějaké informace jsou k nalezení např. zde  a nebo zde . My ale k areálu nemíříme (i když mě by to určitě i zajímalo ?) a pokračujeme na křižovatku u velkého dubu.
Unavené poutníky tu vítá lavička pod majestátným dubem a další info tabule. Kdybychom za dubem uhnuli do leva přišli bychom přesně k plotu bývalé základny a jedné z bran do areálu. My ale sundáváme batoh a dáváme zasloužený horký čaj s medem z termosky a chvilku odpočíváme. Hyena je už lehce unavená a tak leží a zaobírá se cupováním velké klády. Hřebenovka je už vcelku frekventovanější a tak nás míjí několik cyklistů a pěších.  Dopíjíme a pokračujme. Máme před sebou ještě polovinu cesty.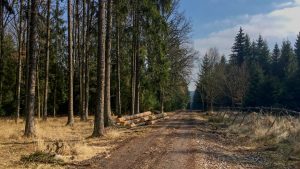 V příkopech po obou stranách cesty leží ještě tající sníh a potok i kaluže jsou ještě zamrzlé. Sníh Hyenu zajímá a tak ve zbytcích řádí. Sníh lítá až na cestu. Že by bylo po únavě? Vyndáváme dnes ověřené sušené rybky a testujeme opět poslušnost. Až na vyjímky do teď Hyena běhala na volno. Asi má dnes dobrý den (a my taky). Jsme překvapeni jak poslouchá. Na začátku cesty to bylo peklo, už jsme mysleli že to bude tradiční vodítkový očistec spojený s přatahovanou kdo z koho a najednou to jde. ONO TO NAJEDNOU JDE! Jaká příjemná změna. Přibíhá na poprvé. Sedá si. Chápete to? NAPOPRVÉ! Mohutně chválíme.
Blížíme se k dalšímu rozcestí. Z dálky slyšíme jak po cestě z boku jede auto a odbočuje směrem k nám. Hyena je asi 40 m před námi a auto směřuje k ní. Voláme a jsme opět mile překvapeni. Žádná trucovačka a pohled jako "trhněte si, co vlastně chcete" . Kdepak. Přibíhá na první dobrou a sedá si abychom jí mohli odchytit. Fakt jsme v šoku. Auto nás bez problémů míjí. Asi jde holka do sebe.
Rozcestí je naše staré známé z výletu do Haloun. Poznáváme směrovky na stromě i lavičku u cesty. Svět je malý. Do Kytína je to tedy už jenom kousek. Na podzim jsme tudy šli opačným směrem. Mířili jsme tehdy z kopce dolů do Haloun. Ostrá pravá a už klesáme z kopce dolů směrem ke Kytínu. Volnosti bylo už dnes celkem dost a tak cvakám Hyenu na vodítko s slaňujeme malým kopečkem po asfaltce dolů. Lehce táhne ale dnešní únava je už znát a tak to není nic tragického. Po nějakých 600m vycházíme z lesa a před námi je už Kytín. U kostela se napojujeme na žlutou značku a pomalu se budeme vracet směrem na Chouzavou.
Příjemná asfaltka vede kolem domků až na konec vesnice a lehce stoupá do kopečka až k hájovně Kytín. Malá nenápadná kamenná budova na kraji lesa. Nikdo by nehádal že má i tu nějakou historii.  Hájenka sloužila jako předloha k románu o školákovi Kájovi Maříkovi od spisovatelky Marie Černé alias Felixe Háje. Román poprvé vyšel v roce 1926.
Žlutá značka nás žene dále hlouběji do lesa. Cesta příjemně ubíhá, Hyena už ani moc netahá takže pohoda. Míjíme ještě malý lesní rybníček a studánku pod hrází a zahýbáme do leva na lesní cestu. Máme do Chouzavé ještě nějakých 1,5 km takže pohodička. Lesní úseky se střídají s pasekami a sluníčko se také trochu snaží hřát i když boj zatím stále prohrává. Posledních pár metrů a z lesa vycházíme na rozcestí u Chouzavé kde jsme na začátku naší dnešní cesty mířili směrem na Voznici. Výlet pomalu končí. Posledních pár metrů, očistit boty od bahna a Hyenu odprasit celou než nám vleze do auta. Nasedáme a míříme domů. Dnešní výlet se povedl.
Petr – smečkočlen 🙂