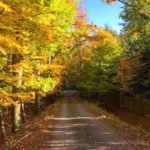 Jeden z posledních víkendů s vidinou zbytků babího léta opět lákal k nějakému výletu v okolí Prahy. Co tedy s načatým odpolednem? Posledně jsme byli kousek pod Dobříší a bylo to fajn co tedy zkusit opět tento směr ale druhou stranu města. Fajn, sedáme do auta a za 40 min vyskakujeme na kraji Dobříše u židovského hřbitova.
Asfaltka tady končí a pokračuje dále směr les už jenom krásnou polňačkou. Průseky v lese otevírají úžasné výhledy na louky sevřené mezi pásy lesa. Les voní, jak do něj praží poslední podzimní sluníčko a vysoké trávy se vlní v rytmu odpoledního vánku. Přemýšlím, že kdyby nebyl říjen a lovecká sezóna v plném proudu tak vypustit Hyenu na louku odhaduji tak 300 x 200 metrů sevřenou a ohraničenou lesem, kde by mohla celé odpoledne lítat jak vrtule za klackama by jí určitě vyčerpalo natolik, že by neměla na blbosti doma už sílu. No nic, musí se smířit s vodítkem.
|
|
km
|
|
/km
|
+m -m (čisté: m)
|
stáhnout soubor GPX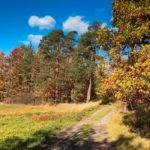 Nádhernej smíšenej les s duby, břízami a občas nějakým tím jehličnatým stromem neustále překvapuje svojí příjemností. Stromy jsou daleko od sebe, mezi stromy je napadané listí a ostrůvky mechu a kapradí svítí svojí skoro letní zelenou do dálky. Před několika dny pršelo, tak na cestě je tu a tam nějaká louže. Všechny musíme samozřejmě zkontrolovat, jestli jsou dost hluboké, jestli je v nich dostatek bahna a taky ochutnat z každé louže je potřeba. Co kdyby Hyena nějakou minula nebo nedej bože jí alespoň neproběhla J. Tlapy má od bahna jak rousnice.
Po pár stovkách metrů poľňačka končí a kříží se se širokou lesní magistrálou. Dáváme se doleva. Asfalt tu sice není ale uválcovaná štěrková cesta, po které se tak pěkně jde. Míjíme několik cyklistů. Na kole to tu musí být exelentní. Nebo v zimě na běžkách. Rovinky střídají mírné kopečky a pořád se vlastně pohybujeme po hřebeni Brd.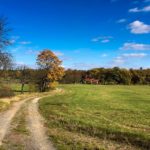 Po 200 m vycházíme z lesa a cesta padá do malého údolíčka. Před námi je hájovna Obora. Samota mezi lesy a oborou Aglaia. Hned za hájovnou zastavujeme u informační cedule. Hyena standardně kontroluje terén a stopy kolem cedule a nakukuje do lesa. Necháme jí čenichat a studujeme co tu vlastně je. Staré přemyslovské hradiště píše se, nyní spíš kruhový val mezi stromy. Legenda o třech obrech, kteří obývali každý jedno hradiště v okolí nás nutí k pousmání. To, před kterým stojíme my bylo údajně toho největšího z nich. Chudák, podle velikosti valu asi moc velký nebyl. Spíš menší. Prcek to byl!
Louku za hájenkou přecházíme podél cesty. Tráva je posekaná a měkká. Hyeně se boří tlapy a chtěla by se po louce rozběhnout. Loveckou střelnici po pravé ruce míjíme bez povšimnutí a míříme dále do lesa. Na dalším rozcestí docházíme k Lipižskému potoku. Divné jméno pro potok. Jít rovně dojdeme do vesnice, ale my opět uhýbáme doprava do mírného kopce, stále kolem obory. Tady už je klasická asfaltka. Je krásný den a tak nás míjí ze shora z kopce spousta cyklistů. Hyenu necháváme dojít (spíš  slanit s námi ve vlajícím závěsu) k potoku. Chvilku řádí ve vodě, které tu moc není a máchá hubu mezi kameny. Když je dostatečně vymáchaná a mokrá (a my taky) jdeme pomalu dále pořád do lehkého kopce k dalšímu rozcestí.
Veliký stoletý dub nás vítá už z dálky. Paprsky slunce vykují tu a tam mezi listy a stromy kolem hrají všemi barvami. Skoro jako by to bylo všechno o měsíc zpožděné. Podzimní sluníčko hřeje příjemně do zad a tak na chvilku zastavujeme pod dubem. Horký čaj s medem v termosce je příjemnou vzpruhou do dalšího dobrodružství.
Taky by jsi chtěla … ptám se Hyeny? Ta chce všechno, co vidí někdy i to co nevidí. Má ale smůlu, musí se spokojit se všema těma kalužema co vypila cestou. Balíme a pokračujeme. Volíme cestu vpravo, ale mohli jsme jít i vlevo. Cesta vlevo je o něco delší ale cesta vpravo by měla jít podle mapy kolem nějakého rybníka. Alespoň podle mapy. Rybník je fajn, ale je za plotem a není z něj mnoho vidět. Pak věřte mapám.
Cesta nás táhne za rybníkem opět hlouběji do lesa. A do kopce. Lesní pěšina je rozrytá od divokých prasat. Je zajímavé, že každý slimák a každá užovka na cestě Hyenu zajímá, ale prasata jí nikdy neberou. Nevím proč. O rozryté hromady u cesty se vůbec a když říkám vůbec tak myslím vůbec-vůbec nezajímá.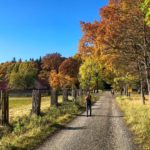 Z lesa vycházíme u Knížecích studánek. Nejspíše statek či stará myslivna, těžko říci. Omítka je otlučená až na cihly a evidentně se bude opravovat. Pod domem je opět krásná louka. Úplně vidím, jak se ráno probudím a z okna ložnice koukám ospalým okem dolů do údolí na louku na pasoucí se srny. Na louce se převalují chomáče mlhy a přetahují se se sluníčkem o to kdo dneska vyhraje. Nádherné místo. Apropo ta studánka tu prý opravdu je, někde za domem v lese. Čas ale na hledání bohužel nemáme. Cesty se, jak jinak, opět pod Knížecími studánkami kříží. Luxusní alej s se stromy kolem cesty padá lehce z kopce dolů. Podzimní sluníčko se opět snaží, jak může a hřeje nás do tváří. I Hyena je spokojená a kilometry v tlapách jsou zapomenuty. Cesta alejí pěkně ubíhá.
Jak pravítko v lese se cesta táhne lesem. Tenká a dlouhá linka. Skoro nekonečná. Chvilku stoupá do mírných kopečků a chvilku nás zase nechá trochu odpočinout klopýtáním z kopce dolů. Podle mapy půjdeme pořád za nosem až kam to půjde. Za každým horizontem nás cesta ubezpečuje, že ještě pořád ne a ne skončit. Pak najednou ostrá pravá a začínáme se vracet pomalu zpět do našeho výchozího směru.
Hustý les je čím dál tím řidší a cesta klikatější. Hyena už ani moc netáhne a vyklusává spokojeně u nohy. Dokonce ani zbytky louží jí nezajímají a mám i pocit jako by se jim i vyhýbala. Kilometry jsou už znát. Z lesa vycházíme pár desítek metrů od místa, kde jsme do něj před několika hodinami vstupovali. Kocháme se ještě výhledem na tu krásnou velkou louku a auto na kopečku u hřbitova už na nás v dáli bliká odrazem posledního sobotního sluníčka.
Petr – smečkočlen 🙂