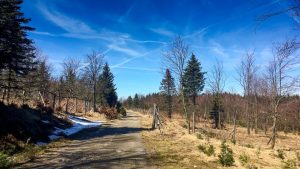 Jaro se konečně snaží, seč mu síly stačí a to nejen tady v Praze. Obligátní otázku na konci týdne, co s blížícím se víkendem jsme tentokrát vyřešili pro jistotu už v pátek. Většinu pozdně zimních či brzce jarních výletů jsme trávili letos v Brdech, čím se nám letošní plán zmapovat tuto krásnou část Čech splnil. Na Toku, u Aglai, okolím Padrťských rybníků nebo kolem Halounů. Takže další výlet tímto směrem bude nejspíše až v létě. Nicméně Krušné hory jsou také naším oblíbeným místem a obzvláště jejich střední část mezi Horním Jiřetínem a Dubí je od Prahy dokonce blíže než Krkonoše. Loni jsme několik krásných dnů trávili na Božím Daru což bylo absolutně fantastické. Tentokrát jsme na jednodenní výlet vyrazili k Oseku.
V plánu bylo udělat alespoň 20 km což je ověřený počet kilometrů na uspokojivé unavení Hyeny. Na den. No dobře, tak na několik hodin určitě ?. Hyena, když je unavená je jak beránek. Sice v rouše vlčím ale i tak. Úplně jiný pes, nějaký takový hodnější, skoro jako vyměněná. Fajn, auto necháváme na konci Oseku u památníku tragédie na dole Nelson III., což je úplně skvělé startovací místo na zahájení plánovaného okruhu.
|
|
km
|
|
/km
|
+m -m (čisté: m)
|
stáhnout soubor GPX
Probíháme lesem kolem skokanských můstků u Oseku a starou rozbitou asfaltkou kolem potoka míříme pomalu do kopce ke zřícenině Rýzmburku. Osecký potok tiše bublá v korytě pod námi, tu z pravé strany tu z levé a na nějaké dovádění přes kameny a divočinu nemá bohužel nárok. Celý je v betonovém korytě a pouze malými krátkými úseky se trošku přes kameny nebo malé jezy trošku rozdivočí. U Kaple Patronů Čech se dáváme doprava. Z levé strany sice jde modrá značka, ale tu si necháváme v záloze, neboť se po ní budeme pak zmoženi odpoledne vracet zpět.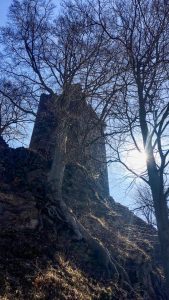 Vysoko nad námi přes vysoké stromy už místy prosvítá silueta Rýzmburku. Celý svah pod hradem je co 20 m poset informačními tabulemi o historií hradu a okolí a trošku mi to připomíná pomyslnou křížovou cestu. Na další křižovatce krátce odbočujme k hradu. Rýzmburk musel být kdysi velkým hradem, ale nyní jsou jeho trosky rozházené široko daleko a zubaté polorozbořené hradby jako by se nám už z dálky vysmívaly. Uděláme malý okruh až k věži a vracíme se zpátky na křižovatku. Hyena stále ještě na vodítku je už trošku divoká. Blízkost potoka a vody je pro ni mohutným magnetem.
Na křižovatce dáváme krátkou pauzu, Hyena vypije půlku potoka, zrekognoskuje bahnitou louži u malé hráze a zmaže se jak čuně. Takže standard. Nyní už konečně můžeme pokračovat dále. S čistým psem by to v žádném případě dále nešlo ?. Dostává konečně volnost, neboť před námi je krásná a dlouhá stará asfaltka, která nás táhne mezi vysokými stromy nahoru do kopce. Může tedy dle libosti řádit. Cestu jsem v pátek plánoval takže vím, že od parkoviště máme v nohách už 150 výškových metrů a dalších minimálně 380 nás ještě čeká. Na hřeben to je hodně přes 500 výškových metrů. Uff.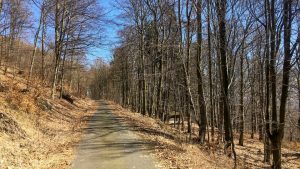 Nedbaje těchto neveselých čísel se hrdě pouštíme do stoupání. Korunami stromů prosvítá jarní ranní sluníčko a hřeje nás chvíli do zad. Cesta nahoru pěkně ubíhá. Zase jsem si na sebe ušil bič a táhnu zrcadlovku s teleobjektivem. Snad se zadaří více než posledně, kdy jsem o 90 % fotek přišel. Hyena lítá po cestě, sbírá klacky a dožaduje se jejich házení. Je zajímavé, že ji to mrchu pořád baví. Vydrží jí to většinou celý výlet. Cvakám pár pěkných fotek v krátkých okamžicích, kdy není zrovna v rozletu a dá se nerozmazaně fotograficky zachytit.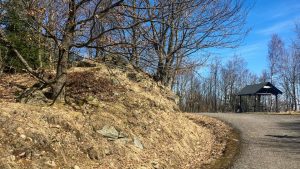 Po cestě míjíme několik studánek a netrvá moc dlouho a jsme u Dušanovy skalní vyhlídky, téměř na vrcholu hřebenu. Pro znavené poutníky tu je přístřešek s několika lavicemi. Horký čaj z termosky osvěží. Je nádherný den, je až s podivem že jsme zatím potkali pouze dva pěší s malým psem, kteří jsou někde daleko pod námi. Červená značka nás žene do leva do lesa a na chvilku nás táhne pryč od naší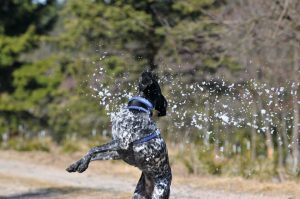 staré známé asfaltky. Jsme už ve výšce kolem 850 m.n.m a tak začínají v lese malé ostrůvky starého sněhu, který ještě nestihl od zimy roztát. Hyena lítá jak šílená. Sníh zbožňuje. Házíme jí pár sněhových koulí a vůbec jí nevadí, že se jí většinou vždy rozprsknou přímo o čumák.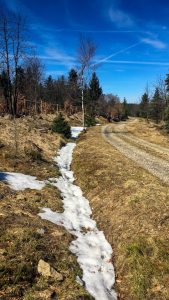 Naše stará asfaltka jakoby se se ne ane od nás odloučit. Lesní cesta končí a my ji opět křížíme na rozcestí u Vysoké mýťě. Slunce už skoro rozehnalo všechny mraky a tak se před námi otevírá krásná hřebenová cesta. Bílé čáry od letadel kreslí na oblohu pavučinu bílých linií, co se různě kříží, prolínají, chvilku na obloze jsou, pak chvilku ne a následně se rozplývají. Jsme skoro na vrcholu hřebenu a tak dále půjdeme už po vrstevnici. V příkopu u cesty leží spousty sněhu. Chvilku s Hyenou dovádíme a hrajeme si na zimu. Chytání nechytatelných sněhových koulí jí jde.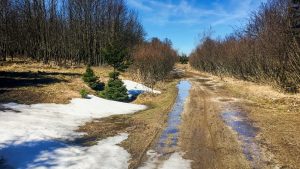 S pokračující cestou sněhu přibývá a chvílemi se musíme brodit ještě starým sněhem a ledem hlubokými vyjetými kolejemi. Klouže to a bahnité kaluže mezi ostrůvky rozbředlého sněhu jsou tím pravým rejdištěm pro Hyenu. Nevím proč nemůže jít jako správný vychovaný pes po relativně čistém sněhu jako my? Na dalším rozcestí Pod vrchem Tří pánů zastavujeme. V původním plánu bylo sice jít dále až pod Liščí hůrku, ale už teď máme v nohách skoro 7 km. Zvažujeme, jestli se nedat do leva a o pár kilometrů cestu zkrátit. Nakonec ale jdeme původní cestou. V plánu bylo 20 km a plány se musí dodržovat a Hyena nevypadá že by byla už unavená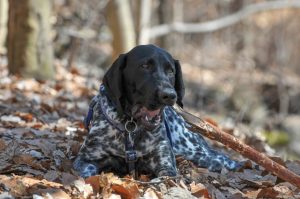 Je to paradox ale Hyena dnes ani snad není naše stará Hyena šílená. Ty kilometry v tlapách dělají zázraky. Pořád se drží s námi, když je od nás víc jak 15-20 m vždy se ohlíží a zastavuje, jestli jdeme za ní a přibíhá na první dobrou. To snad není ani náš pes! Vždycky jsme ji museli přemlouvat, lákat na odměny nebo na klacek ale teď už odměnu ani nechce a dobrovolně dělá co po ní chceme. Asi erupce na slunci, nebo co. Nedokážeme si ten obrat vysvětlit. Všechny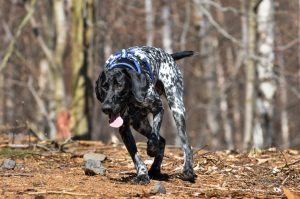 pokusy o přivolání se daří na první pokus a dnes ještě nemáme ani žádný lesní únik. Prostě paráda a hodně si to užíváme. Tento rok asi absolutně nejhodnější a nejposlušnější pes. Za tu hodinu a půl na volno co jde s námi je to fantastický obrat. Doufá, že jí to vydrží. Alespoň chvilku.
Těsně pod Liščí hůrkou nás vítá velká krásná louka s posedem na konci celá zalitá odpoledním sluníčkem. Ještě že jsme šli nakonec tou delší cestou, jinak bychom se o tuhle krásu připravili. Na konci louky na začátku lesa je malá zřícenina. Dle mapy tady kdysi stávala vesnice Vilejšov. Na počátku 20.let našeho století tu žilo přes 200 místních obyvatel. Vesnice byla vysídlena a následně i zlikvidována v roce 1960 kvůli stavbě blízké Flájské přehrady.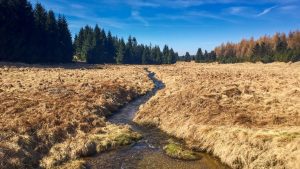 Zahýbáme do leva kousek nyní půjdeme kousek po silnici vedoucí do Dlouhé louky, která je stejně naším dalším cílem. Jsme v polovině cesty. Silnice vede relativně hlubokým lesem a tak ve stínu stromů je tu opět spoustu sněhu a ledu co ještě nestihl po dlouhé zimě roztát. Míjí nás několik motorkářů s pobavením koukám, jak se poperou s vyježděnými kolejemi uprostřed velkých ledových ploten na silnici.
U přístřešku u Malého radního rybníka to rázujme dále po modré rovně opět do lesa. Je to lepší, Hyena může být ještě chvilku na volno než klusat u nohy po silnici. Cesta vede lesem, chvílemi je tu opět sníh nebo alespoň zbytky bahna. Kolem cesty je rozrýpáno od divokých prasat a vypadá to čerstvě tak asi po kilometru cvakám Hyenu na stopovačku a konec si připínám k pásku. Bude mít pocit volnosti ale budu jí mít přeci jenom pořád pod kontrolou. Z lesa vycházíme pod Vlčí horou a před námi se otevírá malé údolíčko s Dlouhou loukou. Pár domků rozházených jakoby ledabyle na louce promíchaných s pár stromy. Prostě taková krušnohorská klasika. Ale krásná. Z louky je krásný sice dnes trochu zamlžený výhled dolů do údolí pod námi.

Na Vlčí hoře je rozhledna, tak pokračujeme dále po modré a uděláme si takovou malou odbočku. Nezajdeme si ale moc, nějakých 600 m. Určitě to bude za to stát. U rozhledny je náš dnešní nejvyšší bod na tomto krušnohorském hřebenu, nějakých 891 m.n.m. Teď už půjdeme pouze a jenom z kopce dolů.
Rozhledna, tedy spíše telekomunikační věž s malým pásem výhledové terásky je úzká špičatá konstrukce s točitým schodištěm okolo, které vede do výšky cca 15 m nad zemí. Neodolám, Hyenu nechávám dole a klusám nahoru. Opar v údolí dole pod námi sice trošku brzdí výhled, ale snadno se dá rozeznat celá hnědouhelná pánev mezi Bílinou a Litvínovem dole pod námi i vysoké chladící věže elektrárny v Chotějovicích a jsou vidět i domy na kraji Teplic. Při lepším počasí by byl výhled na celé České středohoří.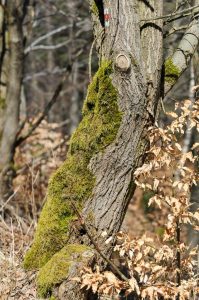 Od rozhledny si krátíme cestu přes pláně pod Dlouhou loukou a za chvilinku již odbočujme na silnici vedoucí dolů do Oseku. Hyenu cvakám opět na krátké vodítko a ten kousek po silnici už musí vyklusávat u nohy. Ani neprotestuje, těch současných našich asi 16 km a jejích možná 25 km je už hoodně znát. Naštěstí po pár metrech opět odbočujeme ze silnice zpět k lesu. Prudká úzká cesta z kopce dolů lesem kombinovaná s potokem tekoucím po cestě se zdá s Hyenou na vodítku ještě náročnější než dopolední výstup nahoru na hřeben.
Netrvá ale dlouho a před námi jsou vidět první domy vesnice kolem Rýzmburku. Poznáváme i naši už starou známou Kapli Patronů Čech kolem které jsme ráno stoupali nahoru po červené. Cesta vesnicí nám dolů ubíhá rychle, nikde se nezastavujeme. Posledních pár desítek metrů se ještě vyhýbáme kalužím a bahnu v lese za skokanskými můstky, přeci jenom zabahněná Hyena v autě není nic po čem bychom toužili a příjemně unaveni smykem brzdíme u zaparkovaného auta u trati.
Krušné hory jsou krásné a dlouhé a konečně jsme poznali i tuto jejich střední část. GPS se nakonec zastavila dnes na čísle 21,69 km. Takže super. Náš cíl byl splněn a překročen. I počasí vyšlo, slunce se dnes hodně snažilo, Hyena byla extrémně hodná, takže pohodový den to byl. Víc takových ?
a konečně i pár "akčnějších" fotek z výletu
Petr – smečkočlen ?