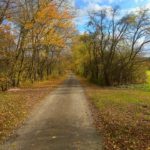 V Brdech je hezky vždycky i když počasí někdy úplně nepřeje. V tomto duchu jsme se rozhodli, že výlet z minulého týdne tímto směrem zopakujeme, pouze se posuneme o kousek dále než posledně. Předpověď nebyla nic moc ale co se dá dělat. Hyena nesnáší cestování autem kamkoli (alespoň když nic tak se uraženě tváří a to jí jde dokonale), ale když dojedeme na místo je vše šmahem zapomenuto. Pak je k neudržení a výstup z auta je spíše útěkem nebo hysterickým úprkem a být otevřené boční okénko (jakékoli v autě ), byl by to čistý průskok skrz.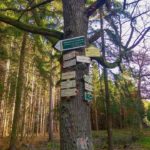 Auto necháváme na kraji Kytína za kostelem. Polňačkou mezi stromy pak pokračujeme dále do mírného kopečka k lesu. Kolem cesty je alej vysokých stromů a chvílema mraky prosvítá i podzimní sluníčko. Míjí nás několik cyklistů i pěších, polňačka je značena jako cyklistická stezka. Střídá se udusaný štěrk s celkem zachovalou asfaltkou a po pár set metrech zastavujeme na rozcestí u Božích vrážek hluboko v lese. Naše cesta je jasná, pokračujeme směr Halouny. Cesta se přehoupla přes horizont a zatím co doteď jsme šlapali do kopce cesta nyní padá z kopce dolů a přidávají se výmoly a štěrk.
|
|
km
|
|
/km
|
+m -m (čisté: m)
|
stáhnout soubor GPX
Hyena kličkuje. Stejně jako na každé procházce. Stopy vpravo, nic, stopy vlevo taky nic co by stálo za řeč a co kdyby vpravo se něco změnilo tak honem šup zpátky doprava … . Lehce schizofrenní cesta lesem. Necháváme jí čmuchat. Stopy jsou už ale nejspíše starší a tak pokračujeme přískoky neustále vpřed. Po pár stovkách metrů konečně "vypadáváme" z lesa na pěknou rovnou lesní asfaltku a po vrstevnici se pohodově suneme dále. Pořád je co objevovat. Klacky kolem cesty, i plazení se vysokou trávou je fajn a co teprve zběsilá chůze rygolem u cesty, který je co chvíli plný vody. To Hyenu pekelně baví. Nás už méně. Probíhá každou louží co u cesty je. Když jí neproběhne tak alespoň ochutnat jaká je v louži voda. Propustky na odbočkách do lesa, kde voda protéká pod cestou velkou betonovou rourou jsou tím pravým, co je potřeba bez vyjímky prozkoumat.  Co kdyby se v rouře někdo schovával. Roura je prázdná, vyšťourat není co.
Tady lehce odbočím. V jaře jsme byli také na procházce tentokrát kolem Sázavy. Pod silnicí byl jak jinak propustek a roura, která vedla do řeky. Když prší asi tady teče hodně vody. Roura o průměru asi tak 35 možná 40 cm. Blbka na volno, to byla ještě menším štěnětem (ale ne zas tak malým) to vzala do roury rovnou, jakýpak přemýšlení. Díra v zemi s rourou je bezva věc na prozkoumání no ne a vyštárat nějakého jezevce z díry (z roury) je super věc … jí v tom malém mozku nejspíše proběhlo a tupě se vrhla do díry. Silnice široká asi 5m a najednou Hyena zmizela pod zemí. Pár vteřin a už jí koukala hlava na druhé straně pod mříží, kde roura ústila do řeky.
No fajn, říkáme si a je to tady …
… budeme volat hasiče ať jí z roury vyndají. To bude paráda! Roura je úzká, jak se asi tak otočí aby vylezla zpátky? Kolik asi tak stojí bagr na rozbití silnice a vyndání blbky z roury blesklo nám okamžitě hlavou.  To bude zase ostuda. Naštěstí se tupohlavka nejspíše na konci roury pod mříží nějak přeci jenom otočila, protože po několika desítkách vteřin vítězoslavně vyběhla na začátku s roury s blaženým výrazem v tváři jako že co? …. děje se něco, nebo jako proč mě rušíte z bezva hry? A už to chtěla krouhat obloukem zpátky. Ještě že jsme jí včas chytli.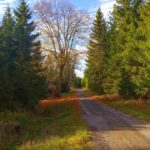 Cesta z kopce dolů pěkně ubíhala. Mezi stromy v dálce už bylo vidět první domky v Halounech. Jsme v polovině cesty. Na kraji vesnice zvažujeme, zdali odbočíme hned a budeme se vracet zpátky nebo skočíme ještě do vyhlášené hospody U zrzavého paviána na čaj nebo nějakou jednohubku. Hospoda je známá hlavně v létě, kde tady končí převážná část cyklistů křižujících Brdy. Když se někoho zeptáte, kam na pivko při treku v Brdech každý vás s přehledem odkáže sem. Bohužel i přes načatou druhou polovinu října a tedy dalece po letní sezóně je terasa před hospodou zcela plná a co stůl to minimálně jeden pes. Naši pěknou myšlenku na zastávku tedy vzdáváme. Škoda. Nedokážu si představit, jak to tady vypadá v létě.
Malým okruhem kolem potoka se vracíme zpět na rozcestí na začátku vesnice, kde jsme před chvilkou již byli. Do kopečka vede pěkný široká cesta, po které se dáváme. To že jdeme špatně, zjišťujeme až po cca 100 m cesty, ale vracet se už nebudeme. Odbočku na modrou jsme minuli o pár metrů.  Před námi jsou lidé s větším psem a proti nám několik dalších také se psy. Asi nějaký hromadný výlet! Tolik psů po hromadě jsme na výletě ještě nezažili. Nejdříve u hospody, pak v každé zahradě ve vesnici a nyní po cestě zpátky. Hyena se s každým vítá jak se starým dobrým kámošem. Když jsme se přivítali asi tak s 385 a půl psem tak jsme konečně zabočili první sotva znatelnou pěšinkou do lesa, směr modrá lajna, kterou jsme před tím bohužel bezhlavě minuli.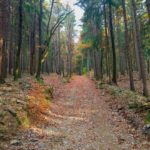 Cesta se pomalu stáčela do lesa, nejdříve to byla široká pěkná lesňačka, pak širší cesta s dvěma kolejemi vyježděnými od traktoru, pokračovala užší cestou s jednou kolejí až se nakonec tenká sotva znatelná pěšinka začala ztrácet kdesi v ostružiní.  Cesta lesem byla vcelku dobrodružná. Tedy ne že by ostružiní nějak vadilo buldozeru zvanému Hyena, to nééé, každý keř byl zajímavý a čím pichlavější tím lepší. Ale, modrá značka na nás přeji jenom za jedním stromem nakonec jukla a my se ve strhujícím hlemýždím tempu nakonec vyškrábali přes kořeny a kameny nahoru na kopec. Jaká radost!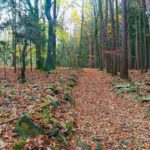 Na další křižovatce to byla už skoro paráda. Opět rovná lesní asfaltka a navíc pěkně z kopce dolů. Co si víc přát. Rozcestí nám bylo nějaké povědomé, aby taky ne. Když jsme jezdívali do Mníšku pod Brdy a dělali okruh nahoře na Skalce na téhle odbočce jsme vždy uhýbali k Jezírku. Po zhruba kilometru svižné cesty, kdy i na Hyeně byla znát již únava vycházíme z lesa.
Cesta se pěkně vlní krajinou a pomalu nás směřuje zpátky do Kytína. Ten už je vidět dole před námi. Sluníčko už směřuje dnes definitivně za mraky a poslední metry cesty už tak svižné jako na začátku vůbec nejsou. První domky na kraji vesnice vítáme skoro nadšeně. Ještě přejít náměstíčko a zaparkované auto je už vidět u cesty na konci vesnice.
Petr – smečkočlen 🙂