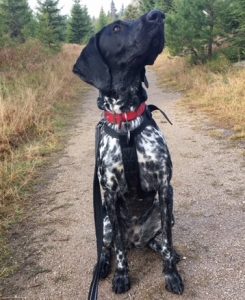 Jak se nám dařilo respektive nedařilo včera v sobotu s naší snahou o ovládnutí vulkánu jménem německý ohař a našem testu netestu půjčeného pípáku již víte.  Nic moc začátek. Ale, tento nehezký den měl pokračování a to v neděli na stejném místě o mírně brzkém skoro poledním času, kdy na louce nad Zlíchovem nebyla ani pověstná noha. Tedy krom našich celkem čtyřech obutých a čtyřech neposedných tlap. Hyena byla po vystoupení z auta stejně divoká jako včera, už se viděla, jak bude zase lítat na louce jak šílenej sprinter lehce skříženej s vystřelenou nukleární raketou a tak jsme kopeček od parkoviště k lesní cestě spíše vyběhli jak vyšli.
Sice jsme na cestě potkali pár lidí ale nešli stejným směrem jako my, ale šli proti nám čímž nám udělali obrovskou radost hned na začátek. Louka byla na rozdíl od včerejšího drakodraní zcela pustá a tím myslím, že krom několika syslů, pár poštolek a holubů v dáli nebylo na louce lautr nic jiného. Byli jsme na louce pouze my a přesto nás tady plno zcela plno. Udržet Hyenu alespoň chvilku v klidu znamenalo že louka kolem nás byla rozrytá jak tankodrom po nácviku bitvy u Kursku a Hyena už se viděla v tryskoletu někam do dáli. Přes to všechno se nám ji podařilo alespoň na chvilku uklidnit. Dala si říci a vcelku poslušně čekala na pamlsek za sezení v klidu a načuhovala divizna, jestli už konečně vyndám ten oranžovej házecí balónek co tak pěkně po louce skáče.
Dočkala se mrcha a tak nejdříve letěl balón a v těsném závěsu za ním Hyena. Stačil chudák spadnout na zem pouze jednou a už ho bestie měla v tlamě a vítězoslavně ho odsprintovávala v dáli. Nu dobrá, necháme ji chvilku vyřádit a pak se do toho pustíme. Není nad to jí trochu hned na začátek unavit, aby neměla ty svoje explozivně energetické myšlenky na ty šílenosti. Děr po myších je tu hafo a je potřeba všechny důkladně prozkoumat. Je-li díra opuštěná je nutno alespoň divoce odsprintovat od díry do dáli aby všichni viděli, že naše tryskomyš na to má!
Jdeme pomalu asi doprostřed louky a stále necháváme Hyenu, aby si nás hlídala a držela se stále kolem nás. Na konci louky měníme směr a testujeme Hyenu, jestli to taky registruje. Registruje mrcha a pořád se nás drží. I další změna směru je úplně v pohodě, pořád lítá kolem nás v okruhu max 20m. no na začátek dobrý.
Zkusíme jinou věc. U pěšiny nalézáme velký klacek. Dobrá, bude aportování a jako bonus jí trochu vyčerpáme. Klacek lítá daleko, Hyena létá také daleko. Na přivolání přibíhá, ale nechce nám klacek dát, klasika, chtěla by se o něj přetahovat. Beru tedy druhý klacek, menší ale stejně atraktivní a přistupujeme na naši oblíbenou hru "ukaž co máš a já se rozhodnu jestli to budu chtít taky". Jakýkoli DRUHÝ klacek je super a tak pouští velký výměnou za malý. Klacky lítají na střídačku do leva i do prava, vždy ten aportovaný aktuální přináší. Dobrá, chválíme jí a zkoušíme změnu.
Když chceš hodit klacek, musíš si s aportovaným sednout a zůstat na místě, dokud neřekneme že můžeš dále. Je napnutá jak struna ale téměř na 100% poslouchá co po ní chceme. Střídáme vzdálenosti, kdy musí zůstat na místě, měníme směry odchodů od Hyeny a také dobu, kdy tam musí bez hnutí vydržet. Super. Tohle jí opravdu jde. Tedy v klidu, když nic neruší okolo nebo není v dohledu jiná atraktivnější zábava. Jsme až překvapeni, jak jí tohle baví. Nakonec, snad to dneska nebude tak horké a na bednu jako včera. Pravda, klacek musím schovávat za zády jinak by se hra změnila na "ukaž co máš a já ti to ukradnu" ale je to určitě posun vpřed.
Přesouváme se po louce, křižujeme trasy a směry a pořád se daří. Přibíhá sama jenom zatím nechce klacky sama pouštět. Zkoušíme i klasiku na posunky bez povelů … sednout, zůstat na místě, přivolat, sednout, zůstat na místě, zůstat a pak za odměnu zase klacek do dáli na aport. Evidentně zajímavá hra pro Hyenu. Nedaří se zatím ovládat na posunky na větší dálku a zastavit na povel v pohybu. Ale to snad taky podá.
V kapse mě tlačí pípák, který musíme zase vrátit a nepodařilo se nám ho zatím vůbec otestovat. Včera to opravdu nešlo a dneska, kdy je tady liduprázdno tak se Hyena chová naprosto vzorně. No nedá se nic dělat, dneska byla extrémně hodná jako už dlouho nebyla a je mi opravdu líto že to musíme zrovna teď a tady testnout. Jinak by ale jsme nezjistili, že to na Hyenu opravdu bude zabírat a jako opravdu poslední věc v záloze si to musíme přeci jenom nechat. V duchu se jí omlouvám a házím klacek opravdu ale opravdu daleko.
Hyena odbíhá, popadne klacek a jako by něco tušila neběží s klackem přímo zpátky k nám. Máme šanci. Přivolávám Hyenu zpět, nereaguje. Hraje si dál s klackem. Volám znovu a zkouším to. Nic. Je jedinečná šance .. tisknu tlačítko nastavené na nejmenší impuls. Tentokrát je obojek nastavený správně, Hyena vykvikne a lekne se co se stalo. Klacek pouští z tlamy. Zmateně se rozhlíží, co se to děje. Využíváme příležitost a do třetice a přivoláme ji k nám. Půl vteřiny váhá a přemýšlí co to bylo, ale nakonec se opatrně rozbíhá k nám. Je to sice takové zpomalené a zmatené, ale evidentně to funguje. Hoodně dlouho chválíme a odměňujeme. Vypadá to, že jako záložní systém při nějakém problému by to mohlo fungovat. Bude-li čas musíme ještě otestovat vrnění a mělo by fungovat i ovládání hlasem na dálku. Uvidíme. Nechci jí zbytečně trápit, ale test byl vcelku úspěšný.
Dnešní den se povedl. Hyena jako by byla vyměněná, co jsme po ní chtěli to udělala. Není to sice dokonalé ani 100% ale je to posun. Alespoň pro dnešní den. Doufám, že jí to v makovici zůstane alespoň do zítřka, ale i to by byl úspěch 🙂
Domů už jde způsobně a bez standardního tahání a snahy nám vyrvat ruce z ramen. Asi už je unavená a ostatně my už taky.
Petr – smečkočlen  🙂
P.S.: běhání je běhání, to žádnej byť dlouhej výlet nenahradí a to ani náhodou. Doma celé odpoledne Hyena spala nebo chovala způsobně zcela mimo běžná ohaří standardní pravidla a včerejší tryskomyš byla na chvíli definitivně zapomenuta. Alespoň pro tento nedělní večer  😉