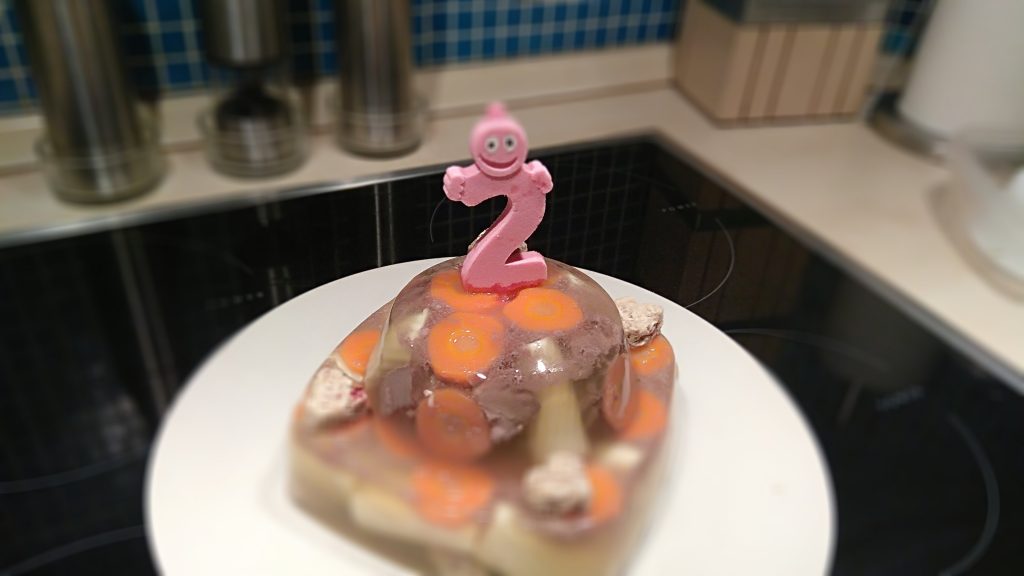 A je to tady! 🙂 Naše milá Hyena slaví své 2. narozeniny. To to uteklo. Není to tak dávno co jsme slavili ty první a už jsou tady druhé. Sice s pár týdenním zpožděním ale to přeci nevadí …
Tak co ti popřejeme?
Zdravíčko chvála bohu slouží. Štěstíčko? Toho máš taky na rozdávání. Rozum? No to by chtělo 😀 . Alespoň trochu. Ať konečně dorosteš do rozumné psí dámy. To tele ve dvou letech už je nedůstojné tvého věku. Jo a poslouchat smečku … to by se také do dalších narozenin určitě šiklo. Moc netahat na procházkách, neskákat po lidech, poslouchat co se po ní chce, nezdrhat do lesa, vracet se na zavolání a obecně … netrdlovat a nenačuhovat jak divizna co se kolem pořád děje. Ono se pořád něco děje a sledovat všechno prostě dost dobře nejde. Nevšímat si lidí a dětí ve výtahu, nevítat cizí lidi, když tě někdo pochválí … nechce mít určitě Hyenu za krkem, čekat když se po ní chce aby chvilku čekala, nevyrážet ze dveří jak torpédo když jsou ještě neotevřené  a na procházkách nelítat na vodítku sem a tam. Všechno se stejně nedá stihnout očuchat. Netahat domů klacky do pelechu, neroztahovat po bytě hračky, ponožky a nepřivlastňovat si cizí věci.  Hlavně ty ze skříní. Nestrkat lidem čumák do talíře, nelítat po bytě jak splašená, nevrážet do lidí a když už, tak si dávat pozor aby se jim nepodrazily nohy,  Víc spát ve svém pelechu a netahat si do něj granule a jiné jídlo, neškrábat po zdech a nebrečet u každého balónu pod sedačkou.  Stejně jich máš na pelechu dalších minimálně pět.  No přání je hodně, to je fakt.
Dortík ti doufám chutnal, byly tam samé dobré věci co máš ráda.
Tak ať se daří !!!!!