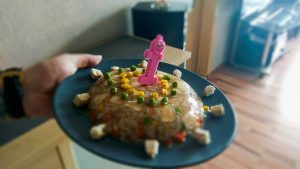 Jo, jo. Utíká to jako voda. Není to tak dávno co jsme se byli několikrát na Hyenu jako maličkaté štěně podívat, když se ještě v chumlu sourozenců jako poloslepé klubko na vratkých nožkách kolíbavě seznamovala se světem okolo a také i později, když už jako větší psí batole již řádila s ostatními jak v kotci, tak potom i na zahradě. Všem nám připadá jako by to bylo včera. Člověk by neřekl, jak se z toho malého bílého klubka s černými skvrnami, co se vešlo v pohodě do dlaně a ještě zbylo místo se stala velká černá divočina s bílými skvrnkami a skoro 30 kily živé váhy.
Čas utíká jak splašený a 28.12. to byl přesně rok, co se Hyena narodila. Za ten rok jsme mnoho zažili, absolvovali jsme fůru cest a dobrodružství a mnoho věcí se i naučili.  Navzájem. Spoustu věcí jsme pochopili my ale i Hyena pochytila mnoho z toho, co jsme jí chtěli předat (tedy doufáme). Něco se opravdu povedlo, něco méně a na něčem musíme ještě hooodně zapracovat. Tak už to v životě ale chodí. Nic není zadarmo a hned. Shrnout všechny ty věci do několika řádek ani nelze. Vydá to určitě na několik dalších článků.
Nicméně, tím že jsme 28.12. shodou okolností hodně cestovali z chalupy zpět do civilizace a nestihli jsme Hyeně udělat ještě ten den ty správné narozeniny se vším všudy byla sláva odložena. Ne však na dlouho. Narozeniny se přesunuly na 31.12. O nic ale nepřišla, spíše naopak. Dárky jsme sice zvládli již o několik dní dříve, ale co by to byly narozeniny bez pořádného dortu že. Nebyl to obyčejný dort ale pořádný psí. Jak jinak.
Okukovat o co vlastně jde vydrželo Hyeně maximálně několik vteřin. Že to nebude na hraní, ale k jídlu pochopila taky velice rychle. Pár rychlých statických póz pro fotografy (???) a už honem zkontrolovat, jestli to bude opravdu chutnat stejně tak dobře jak to vypadá.
Dort zvládla zhltnout asi tak za 2 minuty až jsme měli strach, že se musí zcela určitě udusit. Neudusila. Pár kontrolních pohledů na misku že je už opravdu ale opravdu všechno snědeno, pak kontrolní očko na nás, jestli jsme někde ještě nezapomenuli dvojče toho báječného dortu. Když pochopila že neee a že je opravdu konec tak ještě proběhnout celý byt a zařádit si s těmi všemi novými hračkami co o vánocích dostala.
Tak Hyeno, přejeme ti všeeeechno nejlepšííííí !!!  😉
P.S.: … a nezlob …