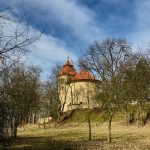 Nedělní slunce se snažilo, jak mohlo a nikdo by nehádal, že jenom pár dní před tím bylo v noci -12°C a přes den mohutně sněžilo. Prostě parádní začátek jara, co si víc přát. Dokonce ani zbytky toho několik dnů starého sněhu se už nikde nepovalují a pomalu to je i na oprášení kraťasů ve skříni. Klasická nedělní otázka tedy zněla, co s načatým dnem, bylo by skoro škoda někam nevyrazit a Hyenu trošku neunavit. Pohled do mapy s okolím Prahy ulpívá na Okoři což by nemusel být zas tak špatný nápad. Je to opravdu z Prahy kousek a dlouho jsme tu nebyli. Rychle balíme a vyrážíme. Naposledy jsme byli v Brdech tak zkusíme i jiný směr. Slabá půlhodinka autem a vystupujeme na parkovišti Pod Okoří. Stejný nápad jako my mělo ten den sice spousta jiných lidí nicméně i když je lehce po obědě je parkoviště paradoxně zatím naplněné asi z 75%. 30 Kč na den za parkování je opravdu směšná částka. To nestojí v Praze ani kafe. Bereme lehké bundy, cvakám Hyenu na krátké vodítko a vyrážíme.
|
|
km
|
|
/km
|
+m -m (čisté: m)
|
stáhnout soubor GPX
Na louce pod Okoří je nějak živo. Houpačky a kolotoče, nejspíše pouť. Nevím, jestli zrovna přijeli nebo už balí ale nás to nijak nebrzdí. Necháváme je za sebou a po malé úzké lávce přes potok pod hradem pokračujeme dále. Lidí, co tu korzuje s dětmi a se psy je sice požehnaně ale odhaduji, že to bude ještě tak maximálně kousek k posledním domům u potoka. Dál se většinou mnoho lidí nepouští a vrací se zpátky k autu na parkovišti.
Část potoka je ještě pod ledem ale tu a tam vykují už i trsy sněženek a bledulí a je jich čím dál tím více.  V podhradí pod Okoří vždycky když tu jsme obdivujeme zrekonstruovaný dům před mostem přes potok. Kdoví co to bude, možná luxusní hotýlek nebo něčí velká rezidence. Park uvnitř i přes brzké jaro vypadá udržovaně a fasády září novotou. Dnes ale vše vypadá opuštěně. Cesta se kroutí kolem rekreačních domečků stále ven z Okoře. Potok vpravo dole pod cestou příjemně nahlas pobublává a valí se přes kořeny vysokých osik, dlouhé po zimě zažloutlé trsy trávy se ještě s jarem nestihly probrat ze spánku.
Čím jsme dále od hradu tím více bahna na cestě přibývá. Pár dnů před tím pršelo a jarní sluníčko ještě nestihlo všechny kaluže vysušit. Ještě se dá jít po trávě kolem polňačky. Poslední chatky a siluetu Dolského mlýna necháváme konečně za sebou a přicházíme k novému mostku přes Zákolanský potok. Loni se ještě dokončoval a nyní už je tento malý klenutý dřevěný mostek hotový. Hyena táhne k malému brodu pod mostkem a brodí se vodou. Nejspíše je jí horko (brr) a chtěla by se koupat což utínám v zárodku. S rousnicí dál nepůjdu.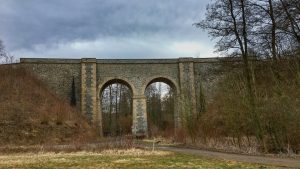 Za můstkem pokračujeme uježděnou cestou k Novému Mlýnu. Nově zrekonstruovaných několik stavení, původně to opravdu asi byl mlýn. Pískovcové sochy na zahradě zvou k nakouknutí přes plot a na zahradě probíhá čilý jarní ruch. Hyena, jak je jejím zvykem poslední dobou křižuje cestu z jedné strany na druhou a ne a ne si vybrat která strana je ta lepší. Co kdyby jí nějaká stopa unikla. Přeskakujeme kaluže na cestě a před námi se otevírá monumentální železniční viadukt vysoko nad našimi hlavami.  Vypadá jako by ho někdo dokončil také před několika málo dny.  Jeho vysoké sloupy nás nutí zvednou hlavu a obdivovat velký oblouk kdesi nahoře nad námi.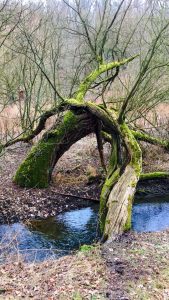 Zákolanský potok se stále vine kolem naší cesty a sleduje naše kroky. Meandruje na hranici lesa a klikatí se jako had po naší levé ruce. Jeho tenká linka se klikatí mezi habry a olšinami a tu a tam se rozlévá do nějaké té tůňky na louce. Kloužeme po polní cestě stále dál. Míjí nás několik cyklistů a vůbec jim to nezávidím. Prodírat se tím bahnem na cestě není žádný med. Míjíme ještě samotu v Podholí a les konečně končí. Před námi už jsou jenom zvlněné kopečky polí s několika remízky a skálami v dáli před námi. Odbočku do leva po zelené do Libochoviček míjíme bez povšimnutí.
Pár kroků a jsme na silnici z Kovár do Libochoviček. Vyklepáváme bahno z bot a asi 100 m musíme nyní jít po silnici.  Je to ale opravdu malý kousek a červená značka nás opět žene pryč ze sinice do lesa po pravé straně za viaduktem.  Hyena do teď byla na krátkém vodítku, jinak to ani nešlo. Stopovačka by byla obalená bahnem asi hned na Okoři takže jí nyní na louce pouštíme a házíme chvíli klacky. Ať se také pořádně proběhne, než půjdeme dále. Náš cíl a to hradiště na Budči je už kousek před námi. Lítá jak splašená a ze samé radosti zapomíná nosit klacky zpátky. Mrcha.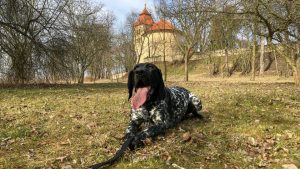 Lítání na louce jí baví asi 10 minut. Chvíli se přetahujeme naoko o klacek a na dalším rozcestí jí opět cvakám na vodítko. Přibývá cyklistů a lidí šlapajících stejně jako my nahoru do kopce k Budči.  Sluníčko na chvilku zašlo za mrak a to dnešní "skoroléto" se opět na chvilku mění na "skorozimu". Dopínáme bundy a šlapeme do kopce.  Pod rotundou děláme několik fotek. Hyena evidentně už trochu unavená ochotně v leže pózuje což je s podivem. Ani přemlouvat jí, aby byla chvilinečku v klidu tentokrát nemusíme. Prostě zázrak.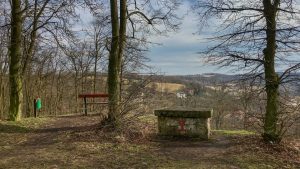 Lavička na vyhlídce nad Kováry je prázdná a tak na chvilku usedáme a dáváme horký čaj. Je tu moc pěkně a sluníčko se opět snaží seč může. Uděláme ještě pár kroků k základům další kaple co tu kdysi stála, ale dál už nepůjdeme. Polovinu výletu máme za sebou. Je škoda že se tu nedá udělat nějaký okruh a tak se stejnou cestou vracíme pomalu zpátky.
Co jsme vyšlapali do kopce je nyní z kopce a tak nám cesta na parkoviště zpět do Okoře ubíhá rychle. Bahna na cestě si už ani moc nevšímáme. Pod Okoří v pozdním odpoledni lidí opět přibylo a psů je tu možná víc jak lidí. K parkovišti je to už pouze co by kamenem dohodil. Na louce pod hradem "odprasujeme" boty od bahna a frčíme směr domov. První jarní výlet se vcelku vydařil a Hyena celou cestu domu prospí. Únava je trochu znát i na nás, ale příjemně.
Petr  – smečkočlen ?