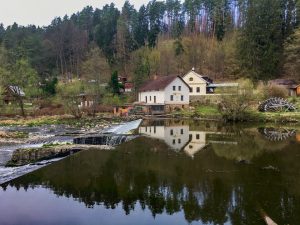 Jaro je v plném proudu, byla by obrovská škoda někam nevyrazit a nepokračovat v nastavené letošní linii jarních výletů.  Od začátku roku jsme nastavili laťku dost vysoko a není víkend abychom s Hyenou někam nepopojeli a nezdolali pár kilometrů. Posledně to byl Osek-Rýzmburk-Vilejšov a zpět. Jí to prospěje nejvíce neboť unavit ohaře procházkami kolem domu opravdu nelze neb těmto krátkým "domácím" procházkám chybí ten nutný drive, nasazení, svižnost, údernost a cvrkot, který lze provozovat pouze na našich dloooouuuhých výletech mimo teplo domova. Když my nachodíme 20 km Hyena nalítá 28 km. To je pak ku prospěchu jak jí, tak i nám ?.
Standardní pohled do mapy nic nového na první dobrou nenabídl a tak bloudíme prstem po mapě v oblastech, kam často nevyrážíme. Okolí Prahy je zmapované už dobře a naše oko spočine na Táboru. Nápad dobrý, tady jsme ještě nebyli a okruh se zde naplánovat taky dá. Tak super, našich vysoko nastavených 20 km/den splníme. Vyrážíme.
|
|
km
|
|
/km
|
+m -m (čisté: m)
|
stáhnout soubor GPX
Vracíme se trochu zpátky dolů z kopce k mostu. Po schodech sbíháme pod most přes Lužnici a dáváme se doleva po červené širokou rovnou cestou údolím kolem Lužnice. Sluníčko svítí, je krásně teplo a tak je až s podivem, že je tady naprosto liduprázdno a míjí nás pouze jedna skupinka cyklistů.  Hyena dostává konečně kýžené volno a vybíhá do prostoru. Musíme jí trochu korigovat neb břeh k řece je relativně vysoko a k vodě zatím nemůže. Klacky jsou ale mohutný magnet a tak na blízkost řeky rychle zapomíná.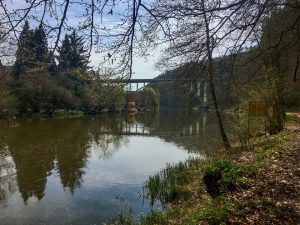 Cesta se krásně klikatí kolem vody a břeh konečně spadá přímo k vodě. Hyena radostně míří k vodě a skáče do ní. Je tu na kraji opravdu mělko takže se cáká jak ryba v louži. Házím klacek kousek od břehu ať se předvede. Neváhá a skáče za ním. S klackem v hubě vcelku rozmáchlou čubičkou směřuje ke břehu. Voda kolem ní cáká až na břeh, přelejvá se jí přes hřbet a hlavu, tlapy vyhazuje vysoko nad hladinu. Spíše to vypadá že šlape vodu a neplave! Hyenu to nijak neposunuje ke břehu. Že by přes zimu zapomněla plavat? To se mi nezdá. Bude to potřebovat ještě vypilovat. Hooodně vypilovat plavecký styl. Párkrát to ještě zopakujeme, ale je to pořád nějak stejné. No nic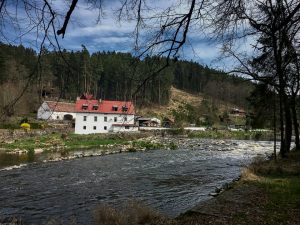 Na druhém břehu pozorujeme staré mlýny a také spoustu hospod. V létě tu musí být cvrkot. Naše strana je ale lidu-prostá a pustá. Míjíme také několik jezů, některé jsou větší a civilizované, jiné mi přijdou jako přírodní. Řeka dole bublá přes kameny a travou zarostlé kameny tvoří ve vodě pěkně zelené ostrůvky.  Proud je chvilku usedlý a líný a hladina řeky klidná aby po dalších několika metrech zdivočela v peřejích pod jezem. Jez Pokorný, Jez na papírně, Benešův mlýn, názvy se rychle střídají a stejně tak se mění krajina kolem řeky.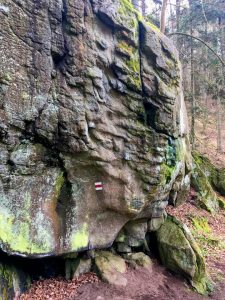 Široká cesta kolem řeky se mění a je čím dál tím více pěšinou mezi kameny než cestou. Zpočátku divočejší úzká cesta lemovaná skálami po pravé straně a stromy občas i spadlými, které nás nutili je přelézt či obejít se najednou rozestupuje do širšího údolíčka lemovaného spíše lužními loukami než lesem, aby nás přes Vlčím dolem opět pohltil divoký hvozd. Na loukách kvetou malé bílé květiny a tak děláme s Hyenou několik fotek. Modelka z ní ale asi nebude, moc dlouho nepostojí. Přes potok je zde malá s ocelovou rohoží, přes kterou se musí přejít na druhou stranu. Hyena se vzpírá, tenká oka rohože jí tlačí do tlap a tak odmítá dále pokračovat. Nu což, po malé hrázce na potoce přecházíme na druhou stranu a problematické místo obcházíme. Budeme rohože muset ještě někde potrénovat!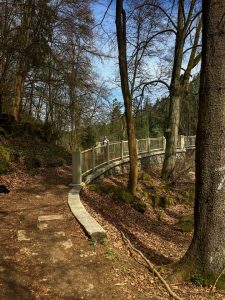 Přicházíme k Lávce u Harachovky. Zde se dá Lužnice přejít na druhou stranu. My ale pokračujme dále rovně kolem řeky po jejím levém břehu. Vpravo nad námi se opět tyčí skály. Mezi skálami je většinou prudký svah. Hyenu to ale nijak nevzrušuje a běhá stále nahoru a dolů a užívá si volnosti. Že má v tento okamžik už v tlapách skoro 5 km jí nijak nebrzdí v rozletu. Aby jí v závěru nechyběly síly ?. Míjíme Kvěchův mlýn a pomalu obcházíme ostroh řeky pod Kamennými poli naproti. Řeka tu dělá velký oblouk a stáčí se dále k Matoušovskému mlýnu.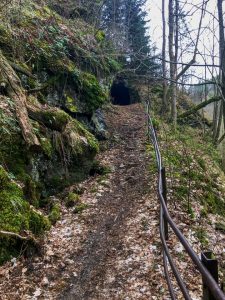 Jez pod mlýnem je i s náhonem a betonová ramena splavu dávají tušit více vody a prudký proud. Hyenu tedy dáváme opět na chvilku na vodítko a pokračujeme dále opět malým skalním kaňonem dále po červené. Naším dalším cílem je rozcestí na Bredě, což je odsud slabé 2 km. Za Bredou procházíme tunelem vysekaným ve skále. Něco přes 32 m muselo být ve dvacátých letech tohoto století proraženo, aby mohla červená turistická cesta pokračovat dále. Je tu příjemný chládek.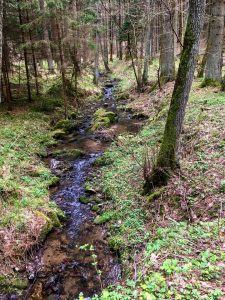 Civilizace na druhém břehu mizí jak mávnutím kouzelného proutku a všude nás vítá pouze les a skály. Pěšina ve stínu stromů je chvílemi blátivá a balancujeme co chvilku nad špinavými loužemi. Naštěstí Hyena pravidelně smývá bahno v řece jinak už by to byla špinavá blátivá koule.  Další meandr řeky a kolem zbytků polo rozbořených zdí už přicházíme na samotu v Příběnicích. Na svahu nad námi byl kdysi hrad, teď už tady dole nejsou znatelné ani jeho zbytky možná někde nahoře mezi stromy nad námi ještě něco zbylo. Penzion Příběnice hlásá cedule. Budova je nově opravená. Dokážu si zcela přesně představit co se skrývá za hláškou "tady lišky dávají dobrou noc". Je to penzion na konci světa. Klídek a pohodička na pocuchané nervy náplastička.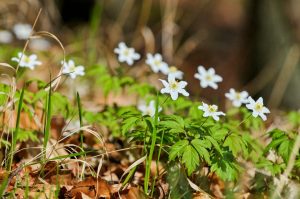 Cesta stoupá po modré nahoru do kopce. Jsme přesně v polovině naší dnešní cesty. Asfaltka se vine kolem hradního kopce stále nahoru.  Máme před sebou asi tak kilometr náročnějšího výstupu do kopce. To dáme. Za závorou na rozcestí Nad Příběnicemi dáváme konečně zaslouženou pauzu. Cesta se tu lomí ostře do leva a mizí kdesi v lese před námi. Dáváme pár sušenek a čaj. Hyena mapuje terén kolem a pak se už lehce unavená zaobírá destrukcí klády u cesty.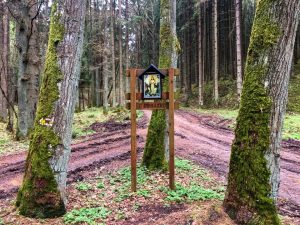 Žlutá cesta se nejdříve vlní lesem a po relativní rovince abychom následně spadli dolů k potoku. Na rozcestí U obrázku žlutá stoupá nahoru do kopce. Překročíme potok (Hyena jej přebrodí) a připravujme se na stoupání. Hyena nevím kde našla, má v tlamě uříznutý kus klády dlouhý asi 10 cm a stejně tolik v průměru a odmítá se ho vzdát. Když se jde čirou náhodou občerstvit a namočit do potoka vždycky se pro kládu těch několik desítek metrů vrací zpátky kde ji dočasně odložila. Asi oblíbená kláda. Říkáme si, že jí to dlouho nevydrží ale chyba lávky! Kláda s námi cestuje další minimálně 2 km až k vesnici Dražičky kde jí kládu násilím a dost hnusnou lstí beru. Odmítá se s tím ale smířit a mermomocí mě táhne zpátky ke kládě. Smolík. Ještě pár metrů a už by tlamu v křeči zavřela asi tak na podzim.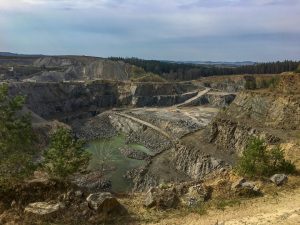 Za Dražičkami se cesta vine místními poli a kolem kamenolomu U Lhotky, odpolední slunce praží nemilosrdně do zad. Proběhneme vesničkou Hnojná Lhotka s pouze několika staveními a už nás žlutá táhne zpátky do lesa. Mokré boty špinavé od bahna z cesty kolem Lužnice už stačili jakž takž oschnout, aby tady nabrali další vrstvu bahna. Naštěstí cesta padá rychle dolů k potoku a následně nás opět táhne nahoru do kopce lesem. A tentokrát už je bez bahna, takže možná stihneme i oschnout a oklepat špínu.
Naším starým známým parkem Pintovka z dopoledne probíháme už vcelku rychle. Cestu si ještě trochu zkrátíme odbočkou na modrou a okrajem Tábora mezi vilkami sbíháme z kopce dolů na parkoviště k autu.  Teď nastává onen vtipný závěr avizovaný na začátku příběhu. Odhazujeme batohy do auta, zcivilizujeme vzhled (trošku) a spěcháme na ty kapří hranolky na které se těšíme celý výlet. S jazykem na vestě si chceme sednout na terásce venku. Ani nedosedáme a pingl (jiný než ráno) nám sděluje, ať nedosedáme, že budou už jako zavírat. Jak jako zavírat? Je pět minut po čtvrté hodině odpoledne!  Neděle, všichni jsou venku. Co to je proboha za restauraci, která v neděli odpoledne, kdy kolem korzuje spousta jídla a pití chtivých procházkářů, kolem jezdí spousta aut a na dětském hřišti hned vedle je hromada rodičů s dětmi otvírá v jedenáct a zavírá ve čtyři odpoledne? Nejdříve měli strach, že budeme okupovat parkoviště vedle a když konečně v brzkém odpoledni chceme usednout a udělat nějakou tu útratu tak bude zavřeno? No jo, tak nic. Jiný kraj, jiný mrav. V Táboře asi o víkendu do hospod nikdo nechodí. Možná by stálo popojet o pár kopřiv dále do civilizace a hned by se možná mnohým rozjasnilo, jak se podniká v pohostinství.
Výlet si ale nenecháme zkazit v závěru, to byla škoda. Najíme se tedy až v Praze. Denní normu min. 20 km jsme splnili, i lehce překročili, takže super výlet. Medaile určitě budou !!!! Jsme unaveni a Hyena v autě taky spokojeně prospí celou dlouhou cestu až do Prahy. Takže i tady je splněno ?. Alespoň na několik hodin ….
Petr – smečkočlen  😆