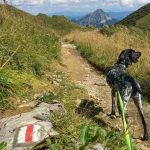 Na Slovensko vyrážíme moc rádi. Za prvé to není moc daleko a za druhé na Slovensku je vždy co objevovat nového. Pravda, do teď jsme vyráželi sami, bez psa a mohli jsme tedy dělat např. hřebenovky ve Vysokých nebo Belianských Tatrách nebo šplhat po hřebenech Nízkých Tater. Ale Slovensko to nejsou jenom vysoké hory, jsou to i kopce na Malé nebo Velké Fatře, Liptov nebo západní část Nízkých Tater, kde se dají se psem dělat také krásné a mnohdy také i náročné tůry po místních kopcích, hřebenech a hřebíncích či odpočinkové nenáročné výlety zelenými dolinami. Na Velký Kriváň padla volba první.
Když tak o tom přemýšlím, je to vlastně Hyenin první zahraniční trek, pominu-li těch pár kroků co udělala v Jizerských horách do Polska nebo trek na jaře v Krušných horách s malou zkratkou do Německa. Takže zahraniční premiéra ?.
|
|
km
|
|
/km
|
+m -m (čisté: m)
|
stáhnout soubor GPX
Tentokrát jsme se vypravili do oblasti Malino Brdo kousek od Ružoberoka s tím, že odtud jako ze základního tábora budeme postupně vyrážet na společné treky v blízkém i vzdáleném okolí. Měli jsme k dispozici prodloužený víkend, respektive skoro pět dnů od soboty do středy. Sobotní půlden jsme sice strávili cestováním, ale čert to vem, zbytek dne jsme se alespoň seznámili s okolím Májekovej chaty a vyšlápli si kopec na Malino Brdo. Uff. Na rozhýbání cestováním a stářím ztuhlých kostí vcelku výzva.
Na neděli byl pak plán jasný. Uděláme určitě nějaký celodenní výlet. OK, zkusme tedy Velký Kriváň. Rychle snídáme. Cesta autem z Ružomberka do Staré doliny je nějakých 50 km, takže slabá hodinka. Projíždíme Terchovou, vesnicí spojovanou s legendárním Jurou Jánošíkem, jehož sedmimetrová socha vrhá hrdý stín na malý kopeček u parkoviště na kraji vesnice. K soše proudí davy lidí, aby si udělali selfie s betonovým gerojem. My ale pokračujeme dále k lanovce.
Vesnicí rychle projíždíme. Na konci Vrátné už vidíme několik záchytných parkovišť u kabinkové lanovky nahoru blíže ke Kriváni. Parkujeme a suneme se k pokladnám pod lanovkou. Kabinka je jedinou možností, jak se rychle dostat nahoru neboť představa, že těch asi 1800 m s převýšením 740 m traverzujeme pěšky úzkou cestičkou nahoru nás dost vyděsila.
Hyena je už lehce nervózní, tuší zase nějakou zradu. Kabinka lanovky je pro ni opět tou bestií, co žere dole lidi ve velkém, aby je nahoře zase znechuceně vyplivla, neboť jí asi nechutnají. Nejspíše si vzpomněla na svou první cestu lanovkou na Černou horu v Krkonoších a odmítá dobrovolně do té obludy znovu nastoupit. Jsme ale připraveni, Hyenu beru do náručí a necháváme se kabinkou pozřít společně. To jí uklidňuje a spolu se zavřenými dveřmi se smiřuje s dalším sežráním.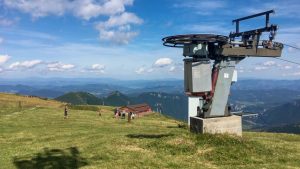 Na každém sloupu to lehce zadrncá, což Hyenu opět lehce vyděsí ale je to už v podstatě její třetí cesta kabinkou, takže by si mohla už pomalu zvykat. Netrvá to ale dlouho a úprkem vystupujeme všichni na horní stanici lanovky. Hyena spíše z kabinky hystericky vypadává, ale pevná zem pod nohama jí uklidňuje. Na rozcestí nad konečnou lanovky je spousta lidí.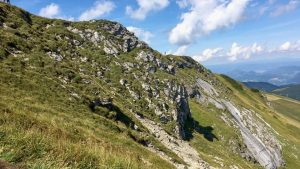 Vpravo se před námi tyčí Velký Kriváň (1709 m.n.m) a jako had se nahoru vine vyšlapaná cesta. Po levé straně jeho menší bratříček Chleb (1647 m.n.m) a jako třetí varianta na rozcestí je cesta dolů mezi kopci k Chatě Pod Chlebom. Zvažujeme naše možnosti. Jít dolů k chatě abychom všechno museli zase šlapat nahoru je nesmysl. Vydáváme se tedy směrem k Chlebu. Hřebenovka na začátek má přednost. Uděláme takový pěkný okruh Chleb – Hromové – sedlo pod Stenami – chata Pod Chlebom – Velký Kriváň – Pekelník – sedlo Pod Koniarkami – žlutou spojkou dolů k rozcestníku Chrapáky a konečně modrou po vrstevnici zpět k lanovce. Plán je tedy jasný, nebude to jistě víc jak 12 km.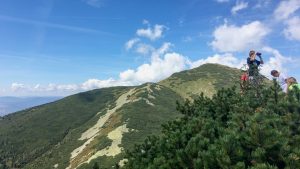 Cesta stoupá nahoru, ale převýšení kolem 100 m není tak hrozné jak by se zdálo. Hyena má spoustu sil a energie a táhne do kopce jako tank. Cvakám jí na pružné vodítko k pasu a tak mám svého osobního šerpu co mi pomáhá do kopce ?. Všechno jí zajímá. Kosodřevina tu u cesty, kameny támhle v dáli a co támhleta vyhlídka, tam se také musíme určitě podívat. Mám takový pocit, že můj šerpa je lehce sjetý neboť cestu křižujeme od jednoho okraje ke druhému. Pořád je ale kam koukat. Pod námi vlevo dole se vine Vrátná k lanovce, před sebou máme výhled na Chleb, Hromové a Poludňový grúň (1460 m.n.m) a na druhé straně vpravo zase na Úplaz (1450 m.n.m) a do Šútovskej doliny.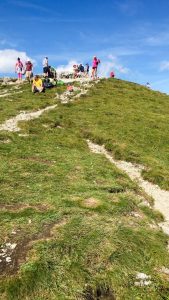 Vrcholek Chlebu je celkem malý, plochý a kamenitý. Je s podivem kolik lidí se sem dneska vyšplhalo. Cvakneme pár fotek a po malém hřebínku pokračujeme směrem na Hromové (1636 m.n.m). Tady je nepoměrně méně lidí než na Chlebu. Vrcholek kopce označuje pouze malá cedulka zapíchnutá vedle cestičky. Úzká cestička k vrcholu mi připomíná hřebenovku nad rakouským Raurisem. Malá, uzoučká a kamenitá, vyšlapaná do malého korýtka v travnatém svahu.
Dalo by se pokračovat dále po červené pořád po hřebenu směrem k jižnímu vrcholu Stěn, ale tím bychom narušili náš plánovaný okruh. Děláme tedy ostrou pravou a po žluté značce "slaňujeme" pomalu svahem dolů na rozcestí Kopiská. Kameny se střídají s kluzkou hlínou a tak to nejde moc rychle. Kosodřevinou a keři se prodereme dále, přeběhneme malé kamenné pole a dole pod námi je už vidět střecha Chaty pod Chlebom. Malá rozmáčená louka u chaty by se dala normálně přeběhnout, značka vede přímo rovně přes ní, ale po prvním kroku se moje nohy boří hluboko do vody na louce. Nedá se nic dělat, musím s Hyenou udělat malý oblouček okolo. Horská polňačka u chaty nás bezpečně dovádí dál.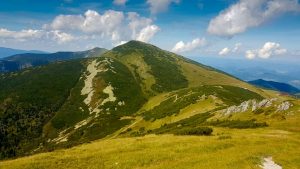 Vzhledem k tomu, že chata je relativně blízko od lanovky je tu vcelku dost lidí. Před chatou je asi 30 velkých stolů s lavicemi. Po chvilce se jeden uvolňuje, a tak si můžeme konečně sednout. Výborné místo pro načerpání sil pro další výstup. Vystojím malou frontu uvnitř chaty. Výborné studené pivko a baraní gulášek v kotlíku posilní na další cestu víc než dobře. Pod chatou je trubkou vyvedený pramen vody, který ústí do takové nevelké ocelové nádrže, asi tak 2x3m. Vedu Hyenu k nádrži ať se napije. Ta to ale bere z gruntu a do nádrže se vrhá po hlavě, což vyvolává u místních úsměv na tváři. Je tu asi metr vody, což na pár temp v ledové vodě bohatě stačí. Osvěženou a vytlemenou jí za postroj vytahuju zpátky na břeh.
Nu což, máme v nohách zatím asi 4,5 km, je potřeba pokračovat dále. Popadáme batohy, Hyenu a pokračujeme onou horskou polňačkou nahoru, směrem k rozcestí u Snilovského sedla, kde jsme dneska začínali. Tím uzavíráme první polovinu našeho dnešního treku. Cesta je sice do kopce nahoru ale je široká a rovná, netrvá tedy dlouho a jsme zpátky u rozcestí.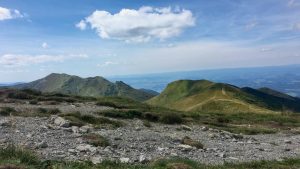 Zespoda cesta na Velký Kriváň vypadá drsně a náročně, ale je to pouhé zdání. Pomalu stoupáme nahoru. Je horko a proto to nejde tak rychle. Vodou z lahve a z vaku osvěžujeme Hyenu, musí mít také žízeň stejně jako my. Upocení a udýchaní shazujeme batohy do trávy nad rozcestím těsně pod vrcholem. Alespoň uděláme ještě nějaký snímek a rozhlédneme se okolo. Je tu krásně. Mraky kreslí svými stíny tmavé ostrovy, co utíkají po úbočích a hřebenech okolních kopců a sluníčko pro změnu vykresluje zářivě zelenou barvu trávy a kosodřeviny v kontrastu se šedivou a světlou barvou skal okolo.
Na hlavou slyšíme nějaký zvuk. Větroň nízkým přeletem těsně nad vrcholem Velkého Kriváně prosviští nad našimi hlavami a v lomené zákrutě to otáčí vlevo nad dolinu. Křídla se prohýbají jak se snaží opět nabrat výšku a snaží najít další stoupavý proud vzduchu nad kopci. Daří se to mu rychle, trvá to pouze pár vteřin a je opět o nějakých 100 m výše.
Velký Kriváň. Náš dnešní hlavní cíl. Pár posledních výškových metrů na vrchol zdoláváme vcelku rychle. Zespoda vypadal majestátně ale tady nahoře je to spíše takový placatý kopec s pár skalisky, kterých je okolo spousta.
Na kopci je opět spousta lidí a také několik psů. Vcelku fouká, bereme tedy mikiny. Výhled je tu luxusní, akorát se po skalnaté špičce kopce špatně pohybuje. Kameny vcelku kloužou. Všechny kopečky co jsme už dneska stihli pokořit jsou odtud krásně vidět. Slunce a mraky opět kreslí naši známou tmavou rychle běžící ostrovní mapu po okolní krajině. Ta najednou vypadá jako flekatý dalmatin (nebo Hyena). Ostatně ta odpočívá opodál ale nevypadá to, že by byla nějak zvlášť unavená, pořád má ještě sil na rozdávání. Ale neboj, máme před sebou ještě minimálně dalších 4,5 nebo 5 km.
Vracíme se zpátky. U rozcestí dole na hraně se dáváme doleva, stále po červené hřebenovce. Střídá se jedovatě zelená tráva s kameny a štěrkem, sem tam musíme přelézt i nějaký ten balvan. Cesta je chvílema pekelná, ale tak to má přece být směrem k Pekelníkovi (1609 m.n.m), prostě stylovka. Pekelník, to je už takový rozlezlejší kopeček nedaleko Velkého Kriváně. Svahy má asi nejzelenější co jsme dnes viděli. Za Pekelníkem padáme o nějakých 120 výškových metrů níže do sedla Bublen. Dalo by se pokračovat sice dále například na Koniarky po zelené nebo dále po červené ale jsme omezeni časem. Musíme stihnout poslední lanovku v 17 hodin, jinak bude strmý traverz po sjezdovce dolů. Pěšky. A to by teprve bylo peklo.
Čekají nás poslední asi 2 km cesty. Žlutá spojka od sedla padá strmě dolů k dalšímu rozcestí na modrou. Cesta klouže po drobném štěrku, co tu je. Hyenu musím držet nakrátko a brzdit jí, jinak bychom sáňkovali dolů oba. Po zadku. Je už lehce znát únava, už tolik netáhne a dá si říct. Poslední metry jsou opravdu značně kluzké. Modrá značka musí být někde vpravo těsně pod námi, ale nevidíme jí a cestu si tedy bohužel nezkrátíme. Musíme dojít až na rozcestí.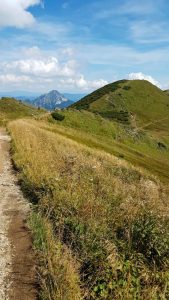 Modrá značka podle mapy by měla kopírovat víceméně vrstevnici, ale realita je bohužel jiná. Chvilku stoupáme strmě nahoru abychom po pár metrech opět spadli dolů. Cestička je úzká, že i Hyena má občas problém se protáhnout. Kolem cestičky je spousta malin a borůvek. Takže se mohutně osvěžujeme. Maliní je místy tak husté, že čekáme před každou zatáčkou, kdy nás vybafne nějaký medvěd. Medvěda nepotkáváme, ale dvě malé skupinky turistů mířící opačným směrem ano.
Poslední zbytek dnešního okruhu je už v závěru vcelku únavný. Tím že jdeme po hraně kopce někde v jeho polovině ani výhledy už nejsou takové. Ještě že tu jsou ty maliny. Vylézáme z kosodřeviny nad horní stanicí lanovky. Časově jsme na tom více jak v pohodě, tak využíváme že lanovka zrovna premává a řadíme se do fronty. Naše kabinka přijíždí a Hyena se rázem vzpamatovává z únavy.
"Zase ta bestie, nenastoupím a to ani náhodou aby jste si nemysleli".
Kabinka nás pomalu ale jistě míjí jak ve zpomaleném filmu, okolo stojící lidé pobaveně sledují náš veselý divadelní nástup. Hyena si sedá, pak lehá, drápy pevně zaklíněny do gumové rohože, hlavně ať nikdo po ní nechce nástup do té potvory. Nedá se nic dělat, popadám Hyenu do náručí a nastupujeme společně. Kabinka se nebezpečně zhoupne, když tam dovnitř společně vtrhneme. Ještě pár chvil a ujela by nám. Ty lanovky nám dávají zabrat. Je to Hyenina čtvrtá jízda, jestli dobře počítám. Snad se to časem zlepší.
Výstup dole z kabinky už je v pohodě. Žádné zbytečné divadlo ani poprask už nezpůsobujeme. Sláááva. K autu je to už kousek. Mačkám stopku na hodinkách, nakonec to bylo přes 14 km, nastoupáno 1697 výškových metrů, takže paráda, dnes splněno na výbornou. Až na ty lidi co jsme místy potkávali vcelku parádní výlet.
Petr – smečkočlen ?
P.S.: tady je pokračovaní naší slovenské anabáze na malý Salatín, den druhý nebo pohodový výlet Gaderskou dolinou