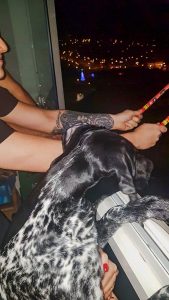 Letošního silvestra jsme vyhlíželi s obavami, neboť to měl být úplně první Hyenin silvestr a to hned po jejích prvních narozeninách. Ty sice měla již 28.12., ale slavili jsme je shodou okolností také až na silvestra. Po předchozích mnohaletých zkušenostech ještě s Akirou, kde jsme trávívali silvestra pravidelně v koupelně, pod umyvadlem nebo ve vaně a s nahlas puštěným rádiem neboť chudák silvestra vůbec nedávala jsme čekali něco podobného i teď. Byla už několik dní předem tak vystresovaná, že to jinak opravdu nešlo. Jenom malá petarda kdesi v dáli byla pro ni impulzem k úprku honem domů a nebýt pevné vodítko asi by ho přetrhla.
S touto vidinou jsme se blížícího silvestra vcelku obávali. Sice jsme měli už od vánoc takové drobné signály a podezření, že u našeho torpéda by to mohlo být lehce jinak neb exploze v dáli i blízko jí byly šumafuk a spíše objektem jejího zájmu než strachu před neznámým, ale nechtěli jsme nic nechat náhodě. V tomto duchu jsme začali na konec roku intenzívně připravovat, neboť přes to všechno jsme čekali nejhorší. Naše plány na venčení ten den byly do detailu připraveny a s posledním venčením jsme počítali až k brzkému ránu kdy bude již všude klid.
Jenže člověk míní a Hyena mění. Už ráno jsme pojali podezření, že ten hluk od výbuchů ji nějak přitahuje či co. Zatímco ostatní psi se lekali a škubali na vodítkách ta naše bestie jen hrdě otočila hlavu co kde zase děje a zdali by to něco nestálo za prozkoumání. Co na tom, že rány byly blízko že i člověk se lekl, když to nečekal. Vesele čmuchala dále hledaje klacíky na hraní. S čumákem vysoko zdviženým rekognoskovala kouř, který se linul po každém výbuchu na chodníku a chvíli to vypadalo, že poběží toho drzouna s rachejtlí trochu poskákat, aby dal ještě jednu.
Prostě zvláštní. Podezření na psa ohniváka se potvrdilo večer, kdy začala lítat jedna rachejtle za druhou a venku to chvílema vypadalo jak u Verdunu. Hyena lítala po celém bytě jak splašená. Chvilku stála v ložnici na posteli s tlapama opřenýma o parapet okna vyhlížeje, co se venku děje a každá rána, každé světlo co se rozcáklo na obloze jí mooc zajímalo. V následujících vteřinách, kdy pojala podezření, že se toho tady vlastně moc neděje a že je to v podstatě nuda se smykem přesunula do obýváku a dožadovala horentně se vstupu na balkon, aby lépe viděla. Koukáme na to všechno jak z jara a chvíli se smějeme a chvíli nám padá čelist.
Známe Ptáka ohniváka i Psa baskervilského, ale Hyeno-pyromana ještě ne. Ta mrcha nás zase převezla. Že se jí to bude líbit jsme opravdu ale opravdu nečekali. Flegmatička si vesele mrskala ocasem, tlemila se na nás a čekala co bude dál.
Vrchol všeho byl, když jsme těsně po odbytí půlnoci všichni vylezli na balkon že se in-natura podíváme na ohňostroj zblízka. A že to fakt blízko lítalo! Jedna petarda střídala druhou, ohnivé květy rostly na obloze jak obrovské padáky a jedna barva střídala druhou. Rachot strašlivej. Na každé křižovatce venku někdo stál a odpaloval ty poklady co měl nakoupené. Ale co to … co se dere k nám a strká do nás čumákem, aby na sebe upozornilo? Moc místa na balkoně nebylo a do toho hyenopes se cpe mezi nás. Když si vydobyla kus toho svého místa už stála na zadních, aby lépe viděla, co se tam děje. No vidět to někde na videu nebudeme věřit.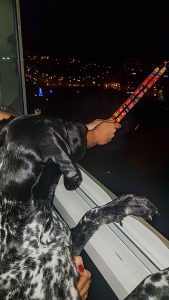 Flekatopes stojí na zadních rovnej jak dubové prkno s krkem vytaženým jak žirafa a načuhuje dolů přes zábradlí co pak se to tam venku děje. Fíííí … prásk, další rachejtle prosviští kolem a exploduje na nebi. Hyena do nás strká čumákem a asi chce abychom ji vysadili výš aby jí nic z toho neuteklo. Ta bestie! Ok, necháme se přemluvit a bereme to vemeno do náručí, aby lépe viděla. Je nadšená a mrská ocasem, jak kdyby objevila zakopanou lišku v dárkovém balení. To naše čuně je těžké jak čuně, udržíme jí v náručí jen pár minut. To nadšení z ní přímo tryská, "paraáda! Všechno jsem viděla … eeeště …" Smějeme se a pouštíme jí zpátky na zem. Ohňostroj pokračuje dále, ale rachejtlí je čím dál tím méně.
Hyena pobíhá ještě nějakou chvíli po bytě, jestli to na druhé straně není lepší (není), tak se vrací zpět a chce opět na balkon. Smůla, už jsme všechno viděli, co bys ještě chtěla. Něco vystřelit? Ty mrcho … tak dobrá, někde máme ještě z loňska takové ty římské svíce s malými světlicemi, co lítají jedna za druhou a všechno se drží v ruce. Zapalujeme na balkoně první. Hyena opět na zadních a sleduje co se bude dít. Světlice prskají a lítají jak bzučící včely. Hlavu si může ukroutit, aby každou viděla.
" ….kam asi lítají …. a proč hned zhasnou? … nedají se chytit? "
Ani po odpálení poslední třetí od ní nemáme pokoj. Poslední světýlko zhaslo. Násilím stahujeme Hyeno-pyromana z balkonu a zavíráme dveře. Hyena je evidentně nespokojená, vydržela by tam stát asi tak do rána.
Tak tohle byla pecka! Tohle jsme opravdu nečekali, spíše jsme byli připraveni na ustrašenou kopu chlupů někde v koupelně a ono tohle. Někteří lovečtí psi se musí složitě připravovat a trénovat klid po výstřelu, aby obstáli a hyena to dává na první dobrou a ještě jí to baví! U zkoušek by obdržela hrdinka asi jedničku s hvězdičkou a bez tréningu.
Nu což, příští rok to budeme muset více rozpálit na silvestra, aby měla Hyena to pořádné čóro. Ani z rozbalování dárků pod stromečkem neměla snad takovou radost jako z ohňostroje, bestie ….
Petr  – smečkočlen  🙂