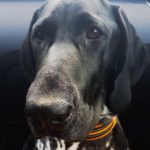 Hyeně je 8 měsíců. Není už to rozverné štěně, co tráví celý svůj dlouhý den objevováním nových důležitých věcí a zkoušením, co ty věci (a my) snesou a vydrží, ale je to poloviční dospělec. No dobře, skoro poloviční dospělec. Je to vidět i na psech co potkáváme na procházkách. Už Hyenu neberou jako ten malý uzlík, co je o něco větší než jezevčík a co sotva plete nohama a není pro ně žádným ohrožením, ale je to už velký pes (psina). Cítím ten malý respekt, když se potkávají. Už tak vehementně nevrtí ocasem, když na ni narazí, nejsou v klidu když je Hyena očuchává. Berou ji jako velkého psa. Velký pes je již riziko. Plíživý záškodník – puberta.
Psi, co jsme dříve potkávali už nejsou tak kamarádští jak dřív (i když Hyena si pořád najivně myslí že ano). Jsou samozřejmě i vyjímky, kde naopak hyena konečně dorostla do velikosti, kdy ji berou jako rovnocenného parťáka, ale těch moc není.
To, že pubertovatí vidíme i na změně chování. Dříve to bylo takové tele co si nechalo všechno líbit, divoká koza co nic neřešila, lítala jako splašená a všechno bylo hra. Lítá jak splašená dál (když může), ale už si snaží prosadit to svoje. Prostě klacek v tlamě je můj klacek a já ho pustím až to uznám za vhodné. Vím, že se zvířatům nemají přisuzovat lidské vlastnosti, ale to co poslední dobou předvádí nelze nevnímat jinak, než jako lidský truc.
"Nehrajete si se mnou? Fajn … jdu a udělám louži a aby to bylo fááákt vidět tak přímo u jejich nohou… ať vidí, že se nudím. Co na tom, že jsem byla před hodinou venku. Ať si to užijou miláčci ! … Necháte mě doma 2 hodiny samotnou? No prima, prošmejdím byt, najdu nějaké věci co by se mohli hodit a trošku si s nima pohraju! Co na tom, že mám všude po bytě roztahaných svých 50 hraček. Nezájem, s těmi si budu hrát až přijdou všichni domů. …. Koberec ! Paráda, sice jsem za louži na koberec už hooodně krát dostala, ale co …. Taková louže na koberec v 8 měsících je přece super skvělá coool věc! Ne, ven opravdu nepotřebuju …. Proč taky? "
Začíná mám holka klackovatět. Musíme holt trošku přitvrdit. Čekali jsme to, ale ne tak brzo. Jsou dny, kdy se chová vzorově. Žádný divočiny, sedá si ve výtahu sama, čeká u misky se žrádlem, drží se u nohy a nezlobí. Najednou ale kolečka přeskočí a celý den je pak bestiální ohaří divočina se vším všudy, kdy nefunguje vůbec nic. Ani elementární záležitosti. Abych pořád jenom nehanil, zatím těch normálních dnů je stále o něco více než těch pološílených. Jasně, ohař je ohař … každému někdy rupne "v bedně" a chová se jak utržený ze řetězu … víme za ty roky svoje, že, ale nějak jsme už za ty léta odvykli.
Je to jak s dětma. Kdo vydrží a ustojí to i s vidinou nějakých ztrát ten ve finále vyhraje. Budeme přísnější, ale nemůžeme to přehnat. Přitvrdíme s výchovou a musíme více pilovat věci co nám nejdou i za cenu, že mrcha vezme čáru nebo někoho v návalu šílenství poskáče. Slovy klasika "pořád se něco děje" a také velice příznačné " furt ve střehu". A my poslední dobou jsme v permanentním střehu.
Petr – smečkočlen  🙂