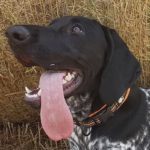 Horko je zabiják.  Když je horko nechce se nikomu nic, natož psům.  Sice v neděli už nebyl takový pařák jako v sobotu (uff ještě se mi kouří z hlavy když si na sobotu vzpomenu, ještě že jsme byli u vody  … bez Hyeny 😆 ), ale i tak. A protože zlobivosti je nutno v zárodku předcházet a to nejlépe chvilkou drilu vyrazili jsme na Dívčí hrady.  Takový malý výletík na rozhýbanou. Tady to už známe, dokonce Hyena to tu už zná. Jako malé štěně tu už byla a mooc se jí tu líbilo. Jak ten čas letí a přitom to není tak dávno. Pár týdnů a co to udělá. To se tehdy ještě nechala v náruči poponést když bylo potřeba zdolat třeba schody nebo prudký kopec. Dneska ? Při jejích skoro 21 kilech už to není ani trochu dobrý nápad.
Dívčí hrady a kopec Děvín je moc pěkný kousek zeleně nad Zlíchovem, mezi Radlicemi a Hlubočepy. Pražáci asi vědí o čem je řeč. Ono ostatně celá tahle oblast Hlubočep, Radlic a Prokopského údolí je vcelku fajn na jakýkoli výlet a se psem obzvlášť. Jen vychytat ten správný okamžik, kdy tu není moc lidí. Z Děvína je také zajímavý netradiční výhled na Prahu, respektive na Podolí, na Pankrác, na Braník , na Žluté lázně a v podstatě i na celé centrum Prahy.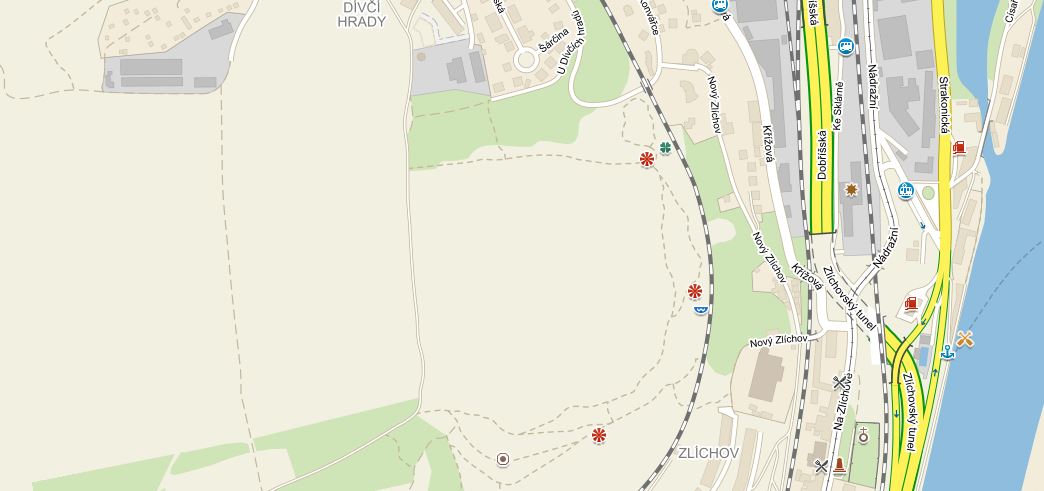 Nahoře na Děvíně sice není ani potok ani žádná louže, ale dole v Hlubočepích je malé jezírko a vlastně celá alternativní cesta Prokopským údolím vede kolem potoka.  Možností na osvěžení je tedy dost.
Vyrazili jsme v neděli po obědě nabaleni a zásobeni pamlsky, vodou v láhvi když bude žízeň, házecím míčem a frisby v očekávání, že to všechno se bude mooc hodit ve snaze Hyenu unavit a přinutit k nějaké smysluplné činnosti. Auto jsme nechali pod vodárenskou věží na Děvíně což je kousíček od přístupové cesty.  Pak už stačilo projít krátkou cestou s lesem po levé ruce a polem po pravé ruce a už se otvírá veliká louka mezi lesem, hradištěm Děvín a Dívčími hrady.
Nádhera. Louka byla čerstvě posečená a navíc … zcela prázdná, žádný cyklista ani pěšák v dohledu, což bylo naprosto skvělé! Posekaná tráva byla sbalena v obrovských válcích povalujících se po celé louce. Takže bude i schovávačka. Super, původně to v plánu nebylo. I v létě, když proudí na Děvín davy procházkářů je tato louka většinou prázdná nebo skoro pustá, na vyběhání a nějaký ten dril tedy optimální místo. Hyenu jsme vypustili ať chvilku běhá a rekognoskuje terén plný děr po myších. To je její mooc oblíbená činnost, obzvláště strkání čenichu co nejdál do nory … co kdyby tam nějaká myš byla.
Nad loukou kroužilo snad šest nebo sedm poštolek. Tolik dravců na tak malém prostoru společně lovících jsem snad ještě neviděl. Možná 3-4 ptačí rodiny. Mladí dováděli ve vzduchu a staří je strategicky pozorovali posedávajíc na válcích ze slámy. I hyena pokřikující ptáky zaregistrovala, ale nějak jí na rozdíl od hejna holubů vzadu na louce nezajímali. Přeci jenom pták ve vzduchu je pták ve vzduchu. Jo to takhle na zemi, to je jiný kafe (ehm tedy žrádlo). Proběhnout se hejnem holubů a mít radost jak se pěkně vyplašili, to je fakt parádní zábava.
Hyena běhala po louce a s podivem pořád si nás hlídala až nás to překvapilo. Přeci jenom, je to po několika dnech co má konečně hodně volnosti na běhání. Schválně jsme měnili směr chůze, schovávali se za balíky slámy a dávali pozor, jestli i Hyena dává pozor. Dávala, mrcha flekatá. Až to bylo s podivem, že se pořád vracela k nám a hlídala směr, kam půjdeme. Párkrát jsme ji nechali i běžet dále než nám bylo příjemno. Pak šup honem za balík slámy. Schválně co to udělá. Hyena celá říčná s čumákem u země se řítila v dáli vstříc nekonečným myším dírám. Ale co to, kde jsou všichni? Myš ne myš, musím je najít! Takticky jsme ji nechali přeběhnout. Tvrdě na brzdy a … tady jsou, mě neutečou!  Se dívám i když se nedívám!   🙂 . Našla nás potvora … odměňujeme snahu pamlskem.
Pěkně nechat odběhnout, zašmátrat v pytlíku s odměnami a přivolat. Ze začátku se vůbec nedaří. Pak se to ale přeci jenom láme. Ne vždycky se sice daří na poprvé, ale většinou přibíhá. Jsme překvapeni. Cvičně sedni, lehni, zůstaň a opět změna pozice.  Zkoušíme i bleskovku … nechat odběhnout na 5-10m a ihned přivolat, sednout, odložit, popojít 5 m, přivolat, sednout, odměnit, odložit a tak pořád dokola.  Alespoň 3x se to musí podařit. Tohle jí docela jde.  Na rozdíl od přivolání z větší dálky, to je zatím někdy problém. To je většinou úúúúplně hluchá Hyena hyenovitá! Pro zpestření se chvilku honíme kolem balíků se slámou. Na jeden vylezu, Hyena se pokouší šplhat za mnou.
Vytahuju frisby, to by ji mohlo chvilku bavit. Žlutej blázinec jí fascinuje jen chvilku.  Když je ve vzduchu je to fajn, pak ale dopadne a to už tak zajímavé není. Přesvědčit jí, aby ho přinesla je nadlidský úkol, který se nedaří. No nic, frisby uklízíme a vyndavám balon s popruhem.  Jo to je jiná liga! Balón lítá daleko, po dopadu pěkně odskakuje. Hyena peláší po louce jak šílená, občas je zaskočena, když se míč odrazí jinam než čekala. Lapá míč a pěkně ho přináší. Chce se o něj přetahovat. Neee, pěkně pustit se musí, žádné přetahování. Pěkně si sedá, ale pořád to není ono. Musíme jí nějak přesvědčit, že sednout si musí sama a balon automaticky pustit. Doma ji to jde, tady to má ještě hoodně velké rezervy. Uvidíme, ještě potrénujeme.
Co takhle hledání míčku? To by jí taky mohlo bavit. Hyenu zabavíme za balíkem slámy a míček schovávám pod trs sena co se válí opodál. A teď se ukaž ! Hyena zpočátku neví co po ní chceme, ale pak jí to docvakne. Aha, míček není, kampak se poděl? Čumák u země a simuluje hledání. Pravda, musíme jí pohybem ruky lehce navigovat kde má zhruba asi plus mínus hledat protože tuhle hru jsme venku zatím ještě pořádně nehráli. Ale zadaří se. Míček je na světě. Hurá! Opakujeme ještě asi 2x, pak to Hyenu už přestává bavit.  Přeci jenom, myší díry jsou myší díry.
Promrskáme ještě párkrát přivolání, sedni lehni a hyena je už evidentně příkladně unavená.  Pěkně nám to dneska uteklo,  jen co je pravda. Stín u balíku slámy je aktuálně nová bouda. Nu což, pěkné odpoledne to dneska bylo. I se lecos zadařilo. Rozvážným krokem míříme k autu.  Tak zas někdy.
Petr  – smečkočlen 🙂