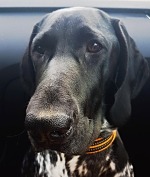 Hyena se tady už o sobě rozpovídala dostatečně, ale něco by to pořád ještě chtělo a to něco je vysvětlení proč to vlastně všechno děláme. Proč zrovna web o psech (o jednom … německém ohaři, vlastně jedné … ohařce) s infantilním pojetím a dětským přístupem k webovému deníčku. Proč zrovna německý ohař a ne pudl nebo dalmatin. Co nás vede k tomu se tady rozvášňovat a rozepisovat, vkládat fotky, vzpomínat na všechny věci co se nám kdy staly. Cesty a příběhy z nich, proč někoho obtěžujeme našimi radostmi, ale i starostmi. Na co řešíme neúspěchy a zklamání a k tomu všemu ještě chceme po vás, aby jste uzmuli trochu svého drahocenného času a věnovali ho čtení těchto neumělých řádek?  Je to prosté … je to láska ke zvířatům, ke psům a nejenom k nim.  Je to radost už z jejich prosté existence mezi námi lidmi v našich lidských smečkách, je to nadšení když pro nás bez únavně pracují,  radost když s námi blbnou,  je to jejich bezbřehá láska a zvířecí teplo které nám předávají když je nám zle a pocit sounáležitosti když je nám dobře. Jsou ti správní parťáci do nepohody co neremcají nad dlouhou cestou do kopce a lijákem a blbnou s námi dále i když jsou vyčerpaní a unavení z cesty. Zvířata jsou tím stmelujícím prvkem v dnešní nelehké době, co nám dává zapomenout na každodenní starosti a trochu nám ten náš život i ulehčují.  A ať chceme nebo nechceme, dokážou ale i často naše bytí převrátit zcela naruby a to i několikrát za den. A to je dobře.
Počátek všeho
Vždycky jsme měli rádi psy ale naše původní dříve 3 členná (lidská) smečka žádného psa nikdy neobsahovala.  Důvodů bylo mnoho … ať už nedostatek prostoru (malý byt), nedostatek času, práce, malé dítě v rodině … vždy se nějaké "ne" našlo. Trvalo to dlouho, ale pak se to najednou z ničeho nic zlomilo. Jeden pes se v blízkém okolí širšího příbuzenstva objevil.  Protože jsme se setkávali všichni často na chalupě a štěně labradora se stalo nedílnou součástí celé naší širší rodiny, bylo pouze otázkou času kdy dozraje i u nás ten správný okamžik kdy jsme řekli … a teď … teď je to ono … teď už to půjde.  A bylo.  Rozhodnutí padlo.
FINITO definitývo .
Ale jakého psa vlastně chceme? Toť otázka. Nakonec jsme se shodli, že nějaké aktivní plemeno, které by nám sekundovalo při našich výpravách po vlastech českých, dalo s tlapou v nozdře treky na kole a obecně zapadalo do celkového konceptu "akční smečka" (jak troufalé vyjádření).
Zrzavá anabáze
Úplnou a neplánovanou náhodou jsme se setkali s krásným psem kterého jsme před tím nikdy neviděli a dokonce o něm ani nikdy neslyšeli. Když nám řekli název plemene tak jsme se jen škodolibě pousmáli. To si z nás jistě dělají legraci. Magyar vizsla !  Kdo to kdy slyšel, aby se plemeno jmenovalo maďarská vižla ! Ale bylo to tak. Těchto psů tehdy v republice nebylo mnoho. Netrvalo dlouho (pár bezesných nocí a fůra googlování) a jeden (jedna) se stala novým členem naší smečky. Psal se rok 2001. Byl to i rok, kdy jsme nekonečně a definitivně zamilovali do loveckých psů respektive ohařů.  Všech. Maďarská ohařka, které jsme dali jméno Akira, se stala na dlouhou dobu právoplatným členem naší smečky se všemi právy (povinnosti neměla skoro žádné :- ). Naším miláčkem, parťákem na všech dobrodružných výpravách, cestách  a výletech, zrzavým tornádem i přítulným vižlopsem, který nás těšil kdykoli to bylo možné i nemožné. Bohužel nemoci si nevybírají ani u psů. Opustila nás klidně a naším rozhodnutím těsně před Vánoci 2016 ve skoro 15 letech.  Budiž jí psí nebe lehké.
Černobílé pokračování
Byli jsme opět před rozhodnutím jak dál.  Čekat a trápit se jsme nechtěli. Co bylo jasné, že chceme opět psa. Opět fenu. Padaly sice takové návrhy jako francouzský buldoček apod., ale ty byly s pádnými argumenty rozprášeny v již v zárodku a další "lovečák" nenechal na sebe dlouho čekat. Nechtěli jsme opět vižlína, i když to byla také jedna z možných variant. Nejspíš bychom pod tím zrzavopsem pořád viděli miláčka Akiru a to jsme nechtěli. Ohař je jasný, ale jaký ohař? …
Německý ohař !!!
… ohař …. němec ….. vrrrr, slyšíte to německé eeerrr (Ja vohl! Meine liebe ! ). Prostě ohař je ohař, to je bez debaty a je jedno jestli maďarský nebo německý ohař. Zapátrali jsme a našli.  Štěňata se narodila shodou okolností v prosinci 2016 a k odběru byla v polovině února 2017. Takže bylo rozhodnuto.  Bude to německý ohař. Krásné a ušlechtilé plemeno, trochu divoké, někdy lehce svéhlavé, hodně inteligentní a krásně flekato-skvrnité. Je to jasné, teď už jen vybrat ten nejlepší černo-bílý uzlík.  Fotky štěňat jsme měli nastudované do posledního chlupu. Mírně nás zarazila barva těch malých uzlíků, skoro celá bílá (???).  Kde jsou ty krásné fleky? Německý ohař to je přece změt fleků. Přitom matka je tmavo-flekatá krasavice, otec krásně tmavý  …. hrůza … to je skoro jak dalmatin a ne německý ohař !!! Naštěstí nám ta hrůza nevydržela  moc dlouho neb jsme s útěchou zjistili, že se ještě hoooodně přebarví a rodiče v tmavo-flekatosti brzo doženou (uf).  
Na štěňata jsme se byli podívat ještě mnohokrát i za cenu najetých 250 km při jedné cestě tam a zpátky. Byli jsme sice trochu za exoty, neb na lovecké psy se přece nejezdí dívat někam předem a navíc takovou dálku. (Lovecké psy si berou přece pouze a jenom myslivci na práci a je přece jedno jestli jsou bílí, růžoví nebo flekatí. Pes jako pes a pracovat se naučí, tak co). Nám to stejně ale nedalo. Za prvé abychom viděli jak  štěňata rostou a za druhé abychom se trochu sobecky ubezpečili, že náš výběr byl správný. Teď už víme že byl (Hyeně to ale neříkejte).
O cestě domů se Hyena již rozepsala dostatečně. Hyena tak rozšířila naší smečku o dalšího člena. Pořádného člena. A protože každý ze smečky by měl mít právo se zapojit, je možné, že někdy budu psát příběhy já o Hyeně a někdy zase Hyena, někdy já za Hyenu. Ona taky Hyena je někdy hooodně lenivá. Ostatně jako občas každý z nás.
Petr  – smečkočlen 🙂