Letos jsme se do výletů s Hyenou opravdu opřeli a hned od začátku roku nasadili vysoké tempo. Není pomalu víkend, abychom někam necestovali a Hyenu se tak marnou to snahou pokoušeli jakkoli unavit.   V lednu jsme zvládli jak krátký výlet do Českého ráje, tak i nostalgickou poznávačku bývalých Svatojánských proudů a také započali letošní sérii treků Českým středohořím. Posledně to byla Raná a nádherný slunečný zimní den a tedy proč nepokračovat dále a v únoru se mezi kopce vrátit. Byť vybrat ten správný a nejlepší je vzhledem k jejich vysokému počtu téměř neřešitelný úkol. Volba padla tentokrát na okolí Jenčice a Boreče a také nádhernou zřícenu Košťálova na stejnojmenném vrchu.
|
|
km
|
|
/km
|
+m -m (čisté: m)
|
stáhnout soubor GPX
Sobotní ráno v Praze bylo slunečné, což nás přivedlo na naivní myšlenku … když v Praze svítí bude svítit i všude jinde. Pobalili jsme potřebné propiety, naložili sebe a Hyenu do auta a vyrazili na severo-východ směr Lovosice. Nepočítám-li všudy přítomnou tmu v pražských tunelech tak se slunce opravdu snažilo seč mohlo a vše vypadalo exkluzivně. Cesta Prahou pěkně odsýpala a to až ke Klecanům kde nás zaskočila … mlha.
Co mlha … to byla smetanově bílá stěna ve které nebylo nic vidět a možná by se nedala ani krájet, když by na to přišlo. Nebyla vidět ani auta před námi, ani krajina kolem nás a co bylo horší, čím dále jsme byli od Prahy tím byla mlha hustější a hustější, že jsme se prali celou cestu s neodbytnou myšlenkou, že to snad budeme muset otočit neb bude vidět absolutně p.dlajs a tedy i výlet bude stát za starou plesnivou bačkoru.
Naše nadšení pomalu ale jistě opadalo a naděje, byť umírá poslední, byla čím dál tím menší a menší. Minuli jsme Odolenou Vodu, Veltrusy i Roudnici nad Labem a nálada byla stále na bodě nula. "No to zas bude výlet" , "Co budeme dělat?. To snad bude lepší se podívat do Litoměřic než stoupat někam na kopec v mlze." Krásný den jako by byl rázem byl zapomenut. Výlet s Hyenou po městě byť moc hezkém, se mi moc nezamlouval.  No co, je brzké dopoledne, zkusíme dojet do cíle a uvidíme. Třeba se mlha rozpustí.
Jak jsme řekli tak jsme udělali. Ani u Lovosic nebyla však ale situace o moc lepší, ani u Třebenic a dokonce ani v Jenčicích, kde jsme konečně zastavili u kapličky jak je naším dobrým zvykem. Ale což, jednou už jsme tady tak to nahoru přeci jenom zkusíme.  Ospalá zimní vesnice ještě dřímala a nebýt pár hlasitých psů za ploty stavení tak tu byl nádherný klid. Klid takový, že i ta pitomá mlha byla slyšet jak se nám vysmívá 🙂  Mrcha.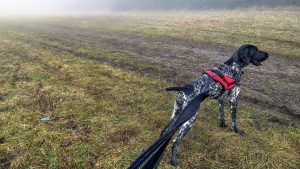 Vesničkou jsme proběhli rychle a cesta polním úvozem mezi trnkovými keři byla čím dál tím drsnější a blátivější, boty zabahněnější a nálada temnější. Louku s dřevěným přístřeškem a několika ohništi jako pozůstatek nějaké myslivecké slavnosti jsme rychle nechali za námi. Mlha jako by najednou za těch pár výškových metrů byla světlejší či co, možná nad ní svítí slunce … svitla nám přeci jenom naděje. Cesta se vinula mezi loukami a lesy čím dál tím výše. Polňačka se střídala s lesní pěšinou, louže s bahnem a občas se nám podařilo i jít kousek po trávě.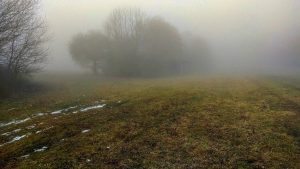 Natěšená Hyena lomcovala s vodítkem, ale nedalo se nic dělat. Jsme uprostřed hárajícího období a tak to musí na vodítku bohužel vydržet.  Pěšina skončila a napojila se na starou lesní asfaltku. Najednou jako by temný svět kolem zahalený doteď do mlhy pookřál a rozsvítil se. Mezi větvemi stromů prosvítaly paprsky zimního sluce a cesta se najednou nezdála být tak marnou jako před pár minutami. Mohutné stromy kolem začali hrát stíny a slunce se začalo mohutně snažit.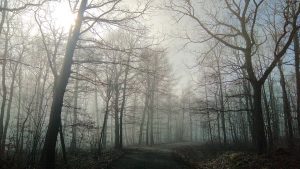 Pár kroků po asfaltce do kopce a nad námi byla už jenom jasně modrá jedovatá zimní obloha bez jediného mráčku.  Celý svět se najednou změnil. Jako mávnutím proutku a mlha byla pryč.  Těch 300 m k rozcestí pod Košťálovem jsme zdolali v návalu euforie velice rychle. U cesty se ještě válely zbytky sněhu, který napadl před týdnem, ale hned o pár kroků vedle už rozkvétaly první květiny. Krásný bílý sníh jsme barbarsky znečistili bahnem z našich bot. Nu což, stejně roztaje.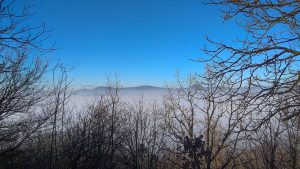 U altánku za rozcestím se dáváme do leva. Lesní pěšina tu stoupá prudce do kopce a je samý kámen a kořen. Tu a tam ještě sklouzneme po starém ledu na pěšině, ale najednou se lesní cesta otevírá do první nádherné vyhlídky. Mezi stromy hledíme dolů do údolí a vychutnáváme tu nádheru s pusou otevřenou. Jsme těsně nad hranicí mlhy, která zůstala daleko kdesi dole pod námi v údolí a z té bílé šlehačkové pěny najednou jako ostrovy na nekonečném mléčném moři vystupují nádherné kopečky.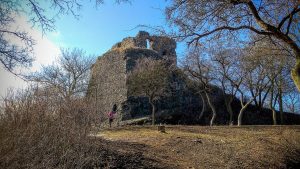 Tu kulatý, támhle zase špičatý a kolem jako obrovský sněhobílý oceán se rozprostírá mlžná deka. Kocháme se, ale to ještě netušíme, co nás bude čekat o pár metrů výše na zřícenině hradu Košťálov, který už mezi stromy lehce probleskuje a jako velký magnet nás táhne k sobě nahoru. Poslední smyčka lesní pěšiny a jsme u hradu.
Jako mohutný vykloktaný zub tu ční nad námi v celé své kráse.  Nedá mi to, ale ještě uhýbám od hradu vlevo na malý skalnatý ostroh a kochám se tou nádherou. Mlha se přelévá v obrovských vlnách údolími pod námi, jenom vršky stromů a občas nějaký vyšší kopeček vystupují jako maják z mlžné pěny. Z oceánu mlhy jako ztracený ostrov vystupuje Házmburk s dvěma věžičkami. Nedá se splést, široko daleko nic není. Kilometry a kilometry mlhy. Jinak nic. Je to jako přízrak vyrůstající z nekonečné nicoty.
Slunce nemilosrdně praží do mlhy. Snažím se udělat nějaké fotky ale spíše se mi nedaří než daří. Slunce je opravdu ostré. Vyšplháme s Hyenou po kamenitém svahu k hradu. Kdysi to musel být opravdu nádherný hrad s neskutečným výhledem do okolní kopcovité krajiny. Nyní ale zbývá pouze pár smutných stěn, které jako drápy smutně trčí do okolní krajiny. Pár zbývajících prázdných slepých oken ve zbytcích zubatých stěn  jako by říkalo " podívej se poutníče, podívej se kam chceš, všude pod námi je krásně" .
Vylezeme na hradbu severozápadní stěny odkud je nádherný panoramatický pohled na všechny světové strany. Jsme vysoko a tak pohled dolů je monumentální.  Po pravé straně vystupuje pyramida Ostrého a za ním vysoký trn Milešovky. Více vpravo pak oblý vrchol Lovoše. Když jedeme pohledem vlevo vidíme vrchol Lipské a Pákovy hory, hned vedle pak Hradišťanský vrchol s hradištěm, v dáli pak Blešno, Kamýk, Vraník a v neposlední řadě zcela osamocený ostrov Házmburku v nekonečné mlze pod námi.
Opravdu popsat slovy tu nádheru nelze. Ani fotografie nedokážou dost dobře přenést tu magickou atmosféru, která se dole rozprostírala pod námi a táhla se do nekonečných dálek až kamsi za Most, Litvínov a k německým hranicím. Ještě se pár minut kocháme a musíme pokračovat dále. Starou známou pěšinou kloužeme dolů k rozcestí.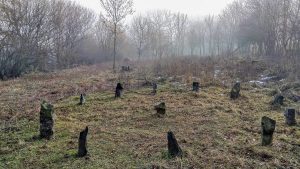 Zde se dáváme doleva a asfaltkou pokračujeme dále. I ta ale končí, respektive my z ní uhýbáme po žluté značce doprava na lesní za bahněnou pěšinu. Nedá se nic dělat, náš směr je nyní Boreč. Kolem Holého vrchu a Sutomského vrchu po pár desítkách minut konečně vystupujeme z lesa na malou mýtinu nad Borečí. Někdo tu zřídil malý menhirový kruh. Těžko říci co bylo záměrem, ale vypadá to magicky. Za mýtinou začíná Boreč.
Než uhneme u křížku doprava do vesnice ještě si na trávě čistíme zablácené boty. Kolikrát to bylo v dnešním dni. Myslím, že to není dnes určitě naposledy. Vesnicí proběhneme vcelku rychle. Na konci míjíme několik ohrad pro koně či kozy a pomalu opět stoupáme do kopce kolem Jezerky. Konečně zablácená cesta končí a my jsme opět na asfaltce.
Cesta nás pomalu ale jistě vede zpět. Za chvíli jsme na rozcestí, kde jsme před nějakými dvěma hodinami obdivovali slunce prosvítající větvemi stromů a radovali se, že mlha zůstala pod námi. Stejnou cestou dolů přes blátivé louky se nám ale nechce jít. Jdeme tedy dále po červené značce úzkou lesní pěšinou.
Myšlenka je taková, že někde určitě uhneme doleva a k vesnici se dostaneme jinudy. Člověk ale míní a skutečnost je vždycky jiná. Dle mapy tu měla být cesta nebo pěšina, ale je tu jenom husté trnové houští a ohradník. Dál cesta nevede.  Hyena vyplaší v křoví zajíce, který se rychle přesmykne kolem nás a mizí v dáli. Ještě že byla na vodítku, to by jistě bylo velké čóro.
Vracíme se kousek zpátky a po velké louce kde jsme narazili při cestě nahoru na starý známý myslivecký přístřešek a pomalu klouzáme mokrou cstou k vesnici. Bahno na cestě ještě více rozmrzlo a tak boty spíše připomínají hroudu bahna než obuv. Na kraji vesnice v trávě boty očistíme.  Proběhneme kolem kapličky a nasedáme do auta.
Dnešní výlet jak byl od počátku rozporuplný se nakonec výtečně povedl. Hlavně první třetina a magický pohled od Košťálova budeme vstřebávat ještě dlouho poté.  Už teď přemýšlíme, který kopec to bude příště. Tak arrivederci středohoří ….., myslím že brzo tu budeme zpátky.
Petr – smečkočlen 🙂