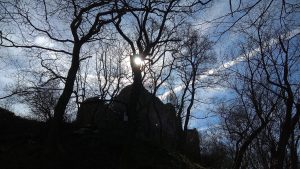 Letošní jaro je takové všelijaké. Jeden den je 20°C a skoro léto, aby další den opět sněžilo nebo pršelo a v noci namrzala auta, následně uteče několik dnů a vše se opakuje znovu jak přes kopírák.  Tento víkend jsme to ale vychytali na výbornou a naše milé České středohoří jsme poctili naší návštěvou opět, tentokráte již po třetí. Naše série jarních výletů s Hyenou tak pokračuje úspěšně dále.  Vzpomeňme náš slunečný ale mrazivý den na Rané nebo poslední mlžný a poté slunečný výlet na Košťálov a kolem Boreče.
|
|
km
|
|
/km
|
+m -m (čisté: m)
|
stáhnout soubor GPX
Tento námi zatím zcela neprobádaný kus světa na severozápadě Čech nás přitahuje jako magnet. Když doma řekneme, že pojedeme na výlet vždy se prst na mapě poslední dobou pravidelně zastaví někde v okolí Litoměřic nebo Lovosic. Určitě to není už jenom náhoda. Tuto krásnou krajinu na severozápadě od Prahy jsme z nějakého důvodu vždy opomíjeli. To teď ale napravíme.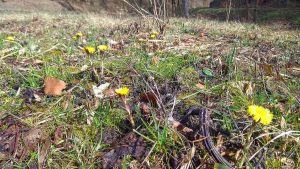 Jaro je v plném proudu a tak rychle balíme. Sluníčko mohutně hřeje jako by zapomnělo, že je teprve březen a ne květen. Směr je jasný, po D8 frčíme jak o závod směr Litoměřice. Ani se pořádně nestačíme pokochat výhledem na Říp po pravé straně a už musíme chtě nechtě přeostřit na člověkem ukousnutý vršek Radobýlu. Škoda že na cesta na něj je tak krátká. Mineme Lovosice a cíl cesty se vynořuje po naší pravé straně. Lovoš.
Lovoš, bájný to kopec. Vrchol leží v nadmořské výšce sice jen 570 m.n.m., ale čarokrásnému panoramatickému výhledu z vrcholu to na kráse nijak neubírá. Celý kopec je z nefelitu což připomíná takový pórovitý čedič. Vrchol má dva kužely Velký a Malý Lovoš. Jméno Lovoš je zřejmě staroslovanské, odvozené od kmene Lovosů či Lovošů, kteří měli zdejší kraj obývat. Toliko teorie.
Vyrazit se dá už z parkoviště na Bílince, ale my míříme ještě dále. Auto necháváme u viaduktu pod zříceninou Oparno. Ostatně ta bude naším prvním cílem na naší dnešní cestě. Hyena je sice nedočkavá jak je jejím dobrým zvykem, ale civilizované vystupování z auta nyní pilně trénujeme. Páč vypadnout z vozu, po hlavě nejlépe s rozběhem a vyrváním všeho co je na zadních sedačkách je přesně to, co nyní eliminujeme. Pěkně počkat na odpoutání, nechat otevřít dveře, sednout počkat a na "můžeš" způsobně z auta jako psí dáma vystoupit, to je to oč tu nyní běží. Ale daří se chvála bohu ?.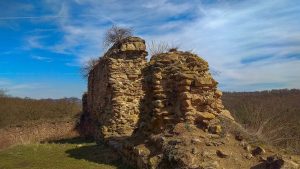 Zelená značka nás vede přes potok kolem železniční trati nahoru do kopce. Hyeno-tahoun se žene nahoru seč mu síly stačí ale jeho nadšení přibržďujeme. Přeci jenom, čeká nás ještě dlouhá cesta. Než se nadějeme, jsme u zříceniny. Z celé její krásy zbývají pouze obvodové zdi a zachovalá malá část hradního paláce. Od zříceniny je krásný výhled dolů do údolí Milešovského potoka a po okolních kopečcích. V okolí je také několik pozůstatků pravěkých lomů. Lidem se tu prostě líbilo už hodně dávno. Stejně jako nám nyní.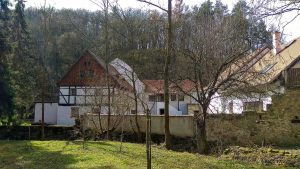 Zelená nás táhne úzkou pěšinou lemovanou starými stromy dál do Opárenského údolí. Sbíháme dolů z kopce k našemu prvnímu dnešnímu mlýnu. Nebýt tu turistická cesta tak bych si takto představoval starý mlýn z dávných časů. Opárenský mlýn je ale citlivě zrekonstruovaný a opravený, takže žádný středověk jak by se mohlo zdát. Nicméně jako by na nás dýchla historie. Zděný dům správce, hrázděné stavení provozu, mlýnice se stodolou, kolem velká zahrada. Skoro čekám, že od zahrady vyrazí jezdci na koních. K mlýnu vede kamenný náhon zakončený jezírkem. Za jezírkem je velká louka, kterou náhon obkružuje pod hradbou starých stromů, co se shýbají nad hladinou a na konci se dá voda překonat přes novou dřevěnou lávku. Malebnost tohoto místa ještě podtrhuje kamenný viadukt s tunelem za jezírkem kudy vede příjezdová cesta k mlýnu. Opravdu magické místo. Kombinace mlýna, potoka, jezírka a viaduktu není úplně běžná.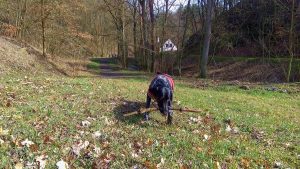 Hyena dostává volno a může běhat na louce za mlýnem. Házíme klacky což jí baví. Louka je plná prvních jarních květin a u mostku tahá naše koza z vody obrovskou mokrou kládu. Necháme ji trochu vyblbnout a cestou kolem mlýna tentokráte po modré pokračujme dále. Louka najednou končí a my se noříme do lesa kolem potoka. Potok pomalu plyne línými meandry, pár kroků a jsme u dalšího viaduktu. S Hyenou procházíme tunelem skrz. A s námi polovina potoka, co jí zůstala na chlupech. Potok u viaduktu zmapovala celý během pár minut.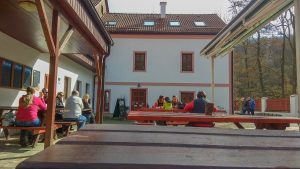 Než se rozkoukáme jsme u dalšího mlýna na potoce. Tentokrát je to Černý mlýn nyní předělaný na hospodu a penzion. Přibržďujeme na zahrádce venku a studené pivko přišlo náramně k duhu.  Klídek a pohodička je všude přítomná i přes to, že je zde spousta lidí stejně jako my na jarním výletu. Parkoviště před mlýnem je skoro plné, u ohrady, kde je spousta koz postávají děti a krmí kozy listím. Našeho lovečáka však kozy absolutně nezajímají, s drsnou ignorancí nás táhne pryč. "Nějaké kozy, co si myslíte? Že mě zajímají? Ani náhodou. Jo takhle kdyby běhaly a já za nima, to by bylo čóro …. Ale tupé kozy co jen žerou, čumí a jinak nic, nezájem". No Hyena jak vyšitá. Být to zajíci nebo srnky co rádi soutěží v běhu, to by stálo za přemýšlení. Ale kozy …. ?
Cesta nás táhne údolíčkem dále. U kempu Jordán za plotem pochoduje malá koza s kůzletem. Kůzle je nejspíše čerstvě narozené a tak ho nohy ještě moc nenesou. Potácí se jak malý opilec a co chvilku klečí na předních aby následně pokus o vyskočení opět skončil na zemi v pokleku. Kouzelné. Hyenu to ale opět nezajímá, jak jinak. No nic.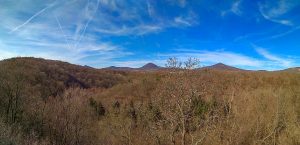 Opouštíme zelenou a šplháme po žluté směrem k našemu dnešnímu cíli Lovoši. Cesta se líně vine přes kameny a kořeny starým bukovým lesem. Kameny střídají na jednom místě staré kamenné schody, prý císařské. Cesta není nikdy dostatečně do kopce, aby nemohla být ještě do většího kopce. Staré známé cestovatelské pořekadlo naplňujeme do puntíku. Posledních 100m k rozcestí pod Lovošem šplháme opravdu z posledních sil.
Stará štěrková cesta nás vede až k přístřešku pod svahem Lovoše. Rozdýcháváme ztracené plíce a pomalu s Hyenou stoupáme civilizovaně a spořádaně nahoru. Lidí je tu čím dál tím více, ale přeci jenom větší davy míří spíše již dolů než nahoru. Cesta už není tak příkrá ani hrbolatá a ubíhá rychle. Lovoš máme za chvilku obkroužený a netrvá dlouho a z lesíka vystupujeme u chaty na Lovoši. Je tu malý bufet, kde je možno si dát pivo ale my stoupáme ještě o několik kroků výše na terásku nad chatou kde se nám otvírá kolem dokola nádherný výhled.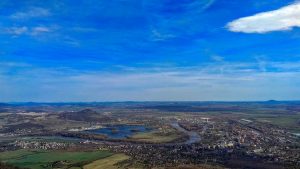 Pod námi jsou Lovosice s Žernoseckým jezerem, vidíme vinice pod Michalovcemi, za nimi přes Radobýl vidíme domy Litoměřic, o kousek dál vlevo je vidět až k Portě Bohemice, vstupní to bráně do Čech a dále je vidět k Moravanům a Dolním Zálezlům, ještě více vlevo pak ční jak čertovy rohy vysoké kužele hromové hory Milešovky a  Kletečné a celý náš panoramatický výhled pak uzavírá náš starý známý vrchol Košťálova se zříceninou kde jsme byli před několika dny a také v dáli staré známě věže Házmburku. Celé České středohoří je tu jako na dlani. Dokonce vidíme až zasněžené Krkonoše a troch vlevo i vrchol Ještědu v Jizerkách. Škoda že nedokážeme identifikovat i Ranou, náš první zdejší výlet.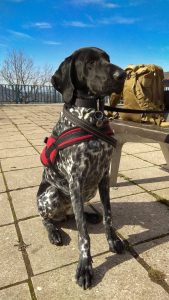 S Hyenou usedáme na lavičku a chvilku relaxujeme. Sluníčko příjemně hřeje, jsme v závětří, takže ani moc nefouká. Je znát, že je už také trochu unavená, je hodná a poslušně sedí u nás. Skoro to snad není ani náš pes. Odměňujme jí několika sušenkami, paradoxně ani neloudí. Popijeme tradiční horký čas z termosky, uděláme pár fotek a pomalu slaňujeme dolů. Bylo tu krásně.
Než se nadějeme jsme zpátky u rozcestníku pod Lovošem, ostrá levá a po relativně příjemné cestě klesáme dolů. Vědět to dříve asi bychom cestu na Lovoš zvolili opačně, než jsme šli. Přeci jenom ten výstup po žluté nahoru bychom si ušetřili. No nic. Snad příště. Poslední altánek nad vesnicí a kolem ohrad a pastvin krajem lesa padáme dolů k vesnici. První domy Oparna a poslední metry k autu již šlapeme po rovné asfaltce přes vesnici. Pár krok a vítá nás starý známý viadukt u Černého mlýna kde jsme před několika hodinami začínali.
Opět moc pěkný výlet to byl. Možná stálo jít ještě kousek údolím Milešovského potoka dále až do Malých Žernosek, což by nám cestu jistě o trochu prodloužilo, nicméně museli bychom se pak vracet zpátky na odbočku na žlutou. Takže nelitujeme. Příjemně unaveni usedáme do auta a vyrážíme zpět ku Praze. Vyhřáti jarním sluníčkem i přes malou únavu jsme vyrelaxováni do příjemného unavena.
Petr – smečkočlen ?