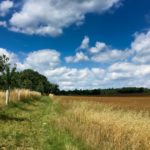 Předpověď počasí na víkend byla excelentní, takže co budeme dělat, zaznělo v pátek. No vymyslíme nějaké pěkné treky, to je jasné. Fajn myšlenka, někam kde jsme dlouho nebyli. Rekognoskací mapy jsme došli k názoru, že jsme už všude kolem Prahy byli, někde za poslední 2 měsíce i několikrát … takže někam dále? Jasně, Kokořínsko tam je fajn a dneska tam bude i stín. A co je pro utahání Hyeny nejdůležitější milé děti … no přece pohyb, to dá rozum.
Narychlo balíme věci sebou, pamlsky pro Hyenu, pití, pláštěnky a tatranku a vyrážíme směr Mělník. Do Kokořínského dolu je to hoďka cesty, takže tam budeme cobydup. Kolem Prahy se staví o sto šest, co jsme jeli tímto směrem naposledy tak se spoustu věcí změnilo. I když … Neratovice jsou pořád šedivé oprýskané Neratovice, tady se doba nějak tak zastavila. Vesnice za Neratovicemi jsou pořád ty ošklivé změti neudržovaných starých domků a v podstatě pouze pár vesniček za Březíněvsí je novějších. Do Mělnika cesta ubíhá a není se pomalu na co dívat. Teprve za Mělníkem se krajina mění. Pár kilometrů za Mělníkem vjíždíme do kouzelné krajiny rybníků a skal a silnice se líně vine Kokořínským dolem jako epileptický had. Potkáváme pár cyklistů i pěších a je vidět, že prázdniny jsou v plném proudu. V Harasově roste u rybníka nejspíše nová dřevěná hospoda. Tak to bude fajn i u rybníka kde je přírodní koupaliště je rušno. Škoda, že stará hospoda v zatáčce před rybníkem je ruina před spadnutím. V duchu se vidím, jak všichni s Hyenou sedíme na terásce u jednoho oroseného, slunečník nad námi a čučíme přes silnici na rybník a přemýšlíme o …. o ničem, jen tak příjemně lelkujeme.  No nic, jedeme dále.
|
|
km
|
|
/km
|
+m -m (čisté: m)
|
stáhnout soubor GPX
Za odbočkou na Kaninu míjíme další rybník. Tentokrát je zcela pustý, nikdo tu není. Kolem začínají vykukovat jak naschvál kusy skal. A že jich tu kolem je.  Odbočka k hradu je zavřená, nejspíš se opravuje silnice. Nám to ale nevadí míříme stále dále hlouběji do Kokořínského dolu. U potoka s poetickým názvem Pšovka (???) necháváme na parkovišti ve staré aleji auto. K turistickým cestám je to přes silnici už jenom skok. Pár dní před tím pršelo, takže přeskakujme pár velkých kaluží na začátku lesa, operativně bráním Hyeně v raketovém přeletu a průletu kalužemi a bahnem což miluje a vstupujeme do lesa. Cesta se tu dělí na dvě, obě modré. Ta doleva je přímou cestou na Pokličky což jsou takové zvláštní skály, co vypadají jak veliké barevné houby a velkými klobouky co se vytahují nad okolní stromy. Touto cestou ale nepůjdeme, tou se pak budeme vracet zpět. Za prvé je to docela krpál do kopce, navíc je zde úsek asi 80 m kde jsou schody, a to by Hyeně nedělalo dobře, schody ještě nesmí.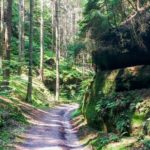 Dáváme se tedy doprava. Modrá značka mizí relativně po rovině malým úzkým údolíčkem dál do lesa. Okolo jsou samé skály a z lesa voní houby. Potkáváme pár zbloudilých chodců, co nás míjí z druhého směru, jinak je les zcela pustý. Hyena probíhá kdejakým korytem, co tu zbylo po dešti … to miluje, načuhuje pod stromky u cesty a pak jak je jejím dobrým zvykem vytahuje z lesa klády, že by se za ně nemusel stydět ani Véna kulturista. Že ta věc, co vyrvala z pralesa napravo má asi 10 kg jí fakt nerajcuje. Mává s kládou uprostřed úzké cestičky a my jen tak tak chráníme vlastní nohy před újmou. Starý trik s výměnou za menší, asi tak 5 kg klacík tentokrát nefunguje, no což, alespoň jí to bestii vyčerpá. Nevyčerpá, to už víme. Je schopná vláčet kládu několik kilometrů sebou, jazyk na vestě, vestu na zemi. Věřím, že kdybych střelili jelena tak ho z lesa vyvleká až k autu.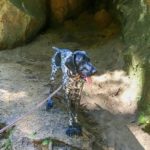 Asi po kilometru míjíme odbočku doprava do studené Náckovy rokle. Dle cedule se tu daří bylinkám. V rokli je prý celé léto asi 13 °C což by se nyní dooost hodilo.  My ale stoupáme po zelené do kopce kolem malých skalek dále.
Další rozcestí je už křížení se žlutou na rozcestí u Faraóna, po které budeme pokračovat dále neboť zelená a pak modrá se vrací doleva zpátky na parkoviště. Hyena táhne do kopce jak nadupaná lanovka. Evidentně má dost sil na rozdávání, což jí doufám brzo přejde J, cesty je před námi ještě dost. Les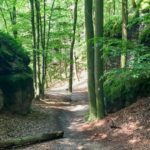 končí a my pokračujeme dále po žluté Cinibulkově cestě mezi poli. Na poli řádí traktor a stříká lněné pole. Běžci, co nás míjejí v protisměru se baví tím, že mají kliku … postřik je o pár centimetrů minul. A nás taky. Klika. Krajina se směrem k Mšenu najednou otevírá. Pole se vlní v dopoledním větříku, nově vysázená alej kolem cesty sice zatím moc stínu nedává, ale jednou to jistě bude příjemná záležitost, těch pár laviček kolem cesty bude skvělý relax.
Děláme ještě malé esíčko kolem pár domků na konci pole a už přes kamenný most padáme dolů vysekanou cestou ve skále do Mšena ke koupališti. Hyena jazyk až na zem, přeci jenom cesta posledních pár stovek metrů, byť pěknou polní cestou byla úplně bez stínu. Dobrá, dáme pauzu. Vytahuji láhev s vodou a dělím se s Hyenou. Hltá z dlaní jako by týden nepila, půl petky je vcukuletu fuč. Budu muset do batohu přihodit nějakou skládací misku, říkám si.  Balíme a pokračujeme dále.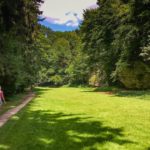 Točíme to doleva dále po modré. Jsme v polovině cesty. Ve skalách jsou tu šikovně vytesaná dvě parkoviště a také dětské hřiště v příjemném stínu. Jo tady se to dětem bude prima hrát. Za hřištěm se otevírá veliká zelená louka z jedné strany ostře ohraničená skalami a z druhé lesem. I v lese vlevo je plno skal. Moc pěkné a příjemné místo. Svěží zelená tráva kontrastuje se šedými skálami a temně zelenou stěnou lesa po levé ruce. Pustil bych hyenu ať se trochu proběhne, ale za námi jde plno lidí s malými dětmi a registruji i pár psů. No nic. Prý je tato cesta stará a hodně známá už od roku 1925. Nedivím se, je to moc pěkné místo.
Na info tabulích kolem je ke každému místu a zastávce na cestě i pár starých fotografií. Dámy s velkými klobouky a starými kočárky u dřevěných altánů korzují po štěrkové cestě mezi skalami, pánové se slamáky a hůlkami jim zdatně sekundují.  Míjíme zastávku se skalním domem, respektive jeskyní, další zastavení je aréna nebo taky lesní divadlo, dále hřiště, co už 70 let není hřištěm, altánek ve tvaru muchomůrky. Dle fotek tu byl i dřevěný altán s ptačími budkami a naproti byly i vinice. Dříve to musela být velice oblíbena cesta.
Rozcestí Na rovinách nás opět tlačí více a více doleva směrem zpátky stále po modré k parkovišti. Hyena je už trochu (ale opravdu jenom trochu) vyčerpanější. Už tolik netáhne a občas se jí daří i jít způsobně u nohy. Ale ty louže … ty louže jsou velké lákadlo.  Bráníme škodám na černobílých skvrnách a pomalu se suneme ke Švédskému valu. Když jsem zde byli poprvé, tenkrát jsme ale šli z druhé strany, říkal jsem si co to asi bude. Teď už to vím bezpečně, pár kamenů na několika malých kopečcích rozesetých hlouběji v lese. Tenkrát jsme byli zklamáni. Nově zde přibyla jakási dřevěná stěna a panák se švédskou přilbou jako lákadlo pro děti.  U poutače je malé sezení s lavičkami a stolem.
Dáváme chvilku pauzu. Hyena dostává pár pamlsků jako odměnu za to, že je pod stolem hodná a nezlobí. Cesta se kroutí lesem po příjemné široké lesní cestě, Hyena vyklusává kolem nás. Těch pár posledních kilometrů je už vcelku po rovině a z kopce, takže prima cesta. Kdysi tu musela být frekventovaná formanská cesta. "lesňačka" se kroutí lesem, způsobně zasekaná do skály a široká tak akorát pro jeden povoz.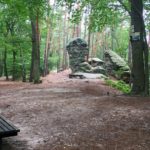 Jako bych ho slyšel. Po 50 m skalní cesta končí a před námi je pěkný shluk skal. Obří hlava a Žába tomu říkají. Ať dělám, co dělám, žábu v tom nevidím ani náhodou. U skalek je několik laviček. Chvilku se zastavujeme a děláme pár fotek. Je tu fakt hezky.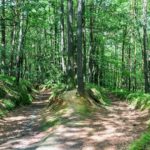 Pěkná a široká lesní cesta se příjemně vine lesem. Některá zákoutí evokují krajinu a stezku jak z Pána prstenů. Lesní úvozová cesta uprostřed krásného lesa. Někde jako by cesta chtěla poutníka svést hlouběji do lesa, jinde se cesty rozdvojují a nabízejí volbu kam jít. Jsme na nějakém cca 9 km naší cesty. Hyena toho má už vcelku dost. Dnes moc nezlobila (až na začátek cesty). Nespěcháme. Přicházíme k Pokličkám, tedy úplnému závěru našeho dnešního treku. Chvilku se rozhlížíme, děláme poslední fotky. Teď nás čeká poslední a možná nejnáročnější část cesty. Záměrně jsme těch posledních cca 150 m nechali na závěr. Čeká nás asi 100 m vcelku prudkých schodů. Co se dá dělat,
Hyena po schodech ještě nemůže. Popadám Hyenu a slaňujeme schody dolů. Dřevěné schodiště není příliš prudké a tak nám to jde vcelku svižně. Jen se Hyena trochu pronese, přeci jenom 22 kg je 22 kg. Ale zvládáme to a posledních asi 50 m pod schody už vyklusává s námi po svých. Jsme v cíli. Dnešní den se povedl. Tak zas příště
Petr – smečkočlen 🙂