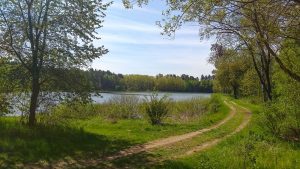 Květnová sobota jak malovaná. Alespoň podle předpovědi minimálně celé dopoledne. Byla by škoda zůstat doma a nic nepodniknout. Problém vymyslet trasu, která by byla okruhem tentokrát s podivem nemáme, moc pěkný, asi 20 km okruh jsme našli kousek za Rakovníkem. Náš dnešní cíl to jsou rybníky kolem Jesenice u Rakovníka, staré opuštěné lomy na žulu nad Ostrovcem, louky a pláně za Krty a dále přes Stebno na Ovčí vrch, zřícenina Petršpurku, Špičník, skály u Spáleného vrchu a zpět do Jesenice. Naplánováno máme skvěle a je tedy čas vyrazit..
Cesta po dálnici až do Nového Strašecí uběhne jak voda, projedeme Řevničov i Krušovice, abychom se opět trochu zamotali na objížďkách kolem Kolešovic a Oráčova. To už je taková naše tradice. Nicméně i toto jsme překonali a po chvilce zastavujeme na parkovišti na hrázi Velkého rybníka v Jesenici. Široko daleko je to asi jediná možnost kde odhodit auto a začít výlet.
|
|
km
|
|
/km
|
+m -m (čisté: m)
|
stáhnout soubor GPX
Parkoviště není nijak velké, vejde se sem s přimhouřenýma očima asi 20 aut. Jsme tu dnes ale teprve druzí, takže vybíráme nejlepší flek. Hyena vyskakuje z auta a netrpělivě vyhlíží, až pobereme batožinu a konečně vyrazíme. Chodníček od hráze po pár metrech pokračuje asfaltkou do centra rekreační oblasti na Rybárně. Kolem je spousta chatek a také hotel Jesenice.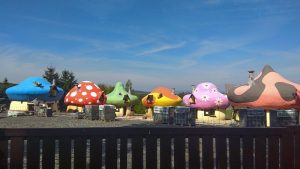 Vycházíme z lesa před hotelem a najednou nevěřícně mžouráme na louku pod námi. Pod hotelem dokončují malou vesničku, která jako by vypadla z nějakého kresleného seriálu pro děti. Domečky s barevnými houbovitými střechami se najednou hemží všude kolem. Tu jedna muchomůrková, támhle dole u vody zase modrá s motýlem a hned vedle žlutá s hlemýžděm.  Čekáme, kdy z domů vyskáčou šmoulové a poběží dolů k vodě. Nikdo ale z domků nevybíhá, jenom pár dělníků dál nevzrušeně pracuje na chodníčku mezi domky. Vcelku nečekané setkání tady v civilizaci za městem. Cvakneme pár fotek na rozloučenou a kolem hotelu se suneme dál k lesu.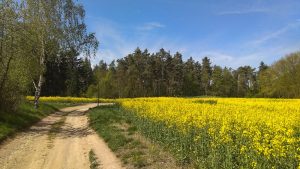 Chatovou oblast u rybníka necháváme záhy za námi, přeběhneme malou louku a krásnou lesňačkou šlapeme vstříc lesu. Okolí vypadá bezpečně tak tedy Hyena dostává volno. Lesní úseky s řídkým borovým lesem se střídají s loukami kolem cesty, má tedy spoustu prostoru běhat kolem nás. A taky toho využívá.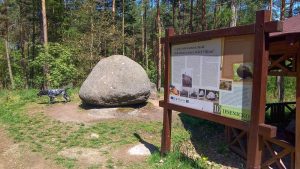 Opět se na chvilku zanoříme do lesa a přicházíme k altánku. Za altánkem na nás vykoukne velký balvan. Je to viklan. A opravdu, stačí se do něj lehce opřít a je znát, že se trochu hýbe. Balvan má asi 6 tun a leží zde již velice dlouho. Sice ho párkrát poškodili vandalové, dokonce si dali tu práci, že ho úplně odsunuli z jeho kamenného podstavce, což je při jeho váze s podivem. Kdo by si dával takovou práci, aby tak těžký balvan poškodil? Nejspíš nějaký blázen. Hyena běhá kolem balvanu a pak se schovává do stínu pod altánkem.
Moc se nezdržujeme. Hyena je stále na volno, zatím se nás drží jako klíště. Nic ale netrvá dlouho, každá radost musí někdy po zásluze skončit. Hlavně ta naše. U cesty se objevuje husté mlází s mladými smrky a Hyena jako by tušila že ji v duchu chválíme jak je hodná bere kramle a mizí v houští. Hmm, takže paráda, to si to holka zase pokazila. A přitom se to vyvíjelo tak slibně dneska.
Voláme a hulákáme na ni jak na lesy. Pár minut se ale nic neděje. Přes houští není nic vidět ani slyšet. Pomalu přemýšlím, jak budu muset za ní a moc se mi do toho nechce. Volání po chvilce vyměníme za pískání a na to dáma slyší. Ona ostatně slyší jen to, co zrovna slyšet chce. Jak jinak. Zapraskání větví a kdopak se to k nám od zatáčky řítí, no naše milá hodná Hyena celá říčná a rozjařená od toho velkého úniku. Chceme jí vynadat, ale nakonec to neuděláme. Jsme rádi že přišla sama a že jí únik netrval moc dlouho. Nicméně volnost končí děvče, to je bez debat. Cvakám ji na vodítko.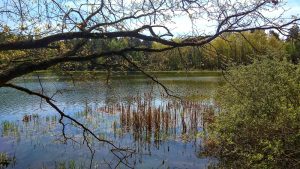 Z lesa vycházíme asi po 250 m u pěkného rybníka. U břehu se vlní v poledním větříku rákosí a sluníčko na hladině hází dovádivá prasátka, staré vrby na břehu se naklánějí svými větvemi nad hladinu. Na druhé straně je až k nám slyšet kvákání žab a vlevo u břehu plave párek potápek. Copak se támhle vlní u břehu. Mladá užovka rychle pospíchá do vody a ztrácí se záhy v rákosí. Na hady máme na našich výletech štěstí. Hyenu namočíme, hodíme jí pár klacků a po hrázi šlapeme k dalšímu rybníku se zajímavým jménem Kofiler. Za rybníkem se tyčí pár skal, které se odráží na jeho hladině a přes husté rákosí ani není možný přístup k vodě.
Krajem lesa míjíme vcelku nový přístřešek pro turisty u cesty a noříme se stále hlouběji do lesa. Modrá značka nás táhne vpravo, dáváme po ní. 300 metrů a jsme u starých lomů. Podle všeho jich tu bude více, ale my teď stojíme dle cedule u Prostředního lomu. Lámala se tu žula a vyráběly se z ní dlažební kostky. Teď jsou již lomy dlouho pusté a náletové břízy je mohutně pohlcují čím dál tím více. Pár let a budou to pouze zarostlé jámy kde si v lese na které si nikdo už ani nevzpomene. Za Prostředním lomem kamenná strž pomalu přechází  až ke Krtským skalám, ale my dolů nejdeme. Držíme se stále modré.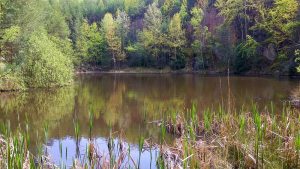 Opět odbočka, tentokrát vpravo. Krátká cestička nás mezi skalami dovede k jezírku. To je zatopený bývalý Horní lom. Voda vypadá vcelku čistě, skály u hladiny lehce po úzké pěšince obejdeme, abychom se mohli podívat na jezírko i z druhé strany. Jezírko je malé asi 50 m dlouhé a okolní skály se v něm pěkně zrcadlí. Hyena se opět namáčí ale plavat jí nedovolíme. Stejnou cestou se vracíme na hlavní cestu.
Les končí a tím i cesta kolem starých lomů. Vycházíme v Krtech a přes železniční trať míříme k hlavní silnici. Na návsi je kostel sv.Vojtěcha, místní úřad a několik pomníčků. Kostelík vypadá vcelku malebně, ale my u bývalého statku zahýbáme ostře vpravo a náves nám rychle mizí za kamennými zdmi statku.
Opouštíme opět civilizaci. Stará cesta mezi poli a loukami se zdá být nekonečnou. Sluníčko začíná pálit a nepomáhají ani větve stromů, co se nad námi lítostivě naklánějí. Střídají se pásy polí a luk, co chvíli šedohnědá barva polí střídá zelenou nějaké lučiny. Krajina kolem nás se otevírá a tím, že jsme lehce na kopečku je tu i pěkný výhled do okolí. Za námi daleko za obzorem zůstávají Krty, po levé ruce koukáme k hladině rybníku Blatno a po pravé ruce přes nízké remízky vykukuje už vesnice Stebno. Náš další cíl.
Na rozcestí Nouze zastavujeme a nikoli z nouze, ale jen tak, chvilinku v trávě odpočíváme.
Překračujeme bahnitý potok u Proškova mlýna a do mírného kopečka prašnou suchou cestou dupeme ke Stebnu. Trochu nám už vyschlo v krku, snad bude ve vesnici otevřená nějaká hospoda. Hyena už také stihla oschnout a s vyplazeným jazykem dává jasně najevo, že bychom mohli už konečně někde zastavit, nejlépe u vody a dát jí volno na koupačku.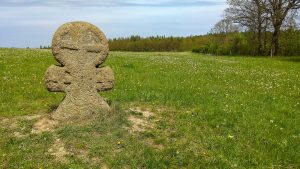 Vesnicí rychle probíháme, hospoda žádná, občerstvení jak by smet. Co jsme komu udělali, že máme takovou smůlu na vesnice. Buď v nich žádná hospoda není nebo je zavřená. Pod kopcem Baba za vesnicí je alespoň opět rybník, kde se může Hyena svlažit. Opuštěná asfaltka nás nutí stoupat do kopce kolem Baby. Za zatáčkou míjíme v poli smírčí kříž, kde se na chvilku zastavujeme. Bohužel, informace o místě žádná. Jak se dalo čekat, tam kde nemají ve vesnici hospodu jsou většinou skoupí i na informace. O smírčím kříži a jeho příběhu se tak nedozvídáme absolutně nic. Škoda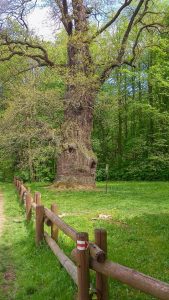 Alejí vysokých stromů docházíme k památnému dubu pod Petršpurkem. Strom je hodně starý, odhadované stáří je asi 340 let. Mohutný kmen stromu je vidět už zdáli a unavené poutníky jistě potěší i altánek kousek od dubu. Strom je majestátný, široký kmen je vidět už zdaleka a hodně pamatuje. Ale život se sním také nemazlil. Na boku má velkou trhlinu, která je navíc i ohořelá, dokonce velký kus kůry chybí. Ten kdyby mohl vyprávět.
Noříme se do džungle pod Ovčím vrchem. Cestička je čí dál tím užší, vlevo i vpravo jsou divoce rozházené obrovské žulové balvany, jako by je nějaká obrovská ruka ledabyle rozsypala bez ladu a skladu po krajině. Divokost místa dotváří i staré stromy, které milostivě objímají ztracené balvany v lese, jako by je chtěly chránit. Po chvilce hromada balvanů u cesty vytváří dokonce jeskyni. Přibrzdíme a vstupujeme se dovnitř. Jeskyně je krátká a průchozí, po několika metrech se prudce lomí vlevo a my vycházíme ven kousek od vstupu.
Pár kroků šplhání do kopce, naštěstí Hyena mohutně pomáhá tahat. Tady se to její tahání nesmírně hodí. Na kopci je kaple a opět altánek. Tahle karajina je obecně na altánky bohatá. Kaple je nově opravená a volně přístupná. Za kaplí je zbytek kruhové zdi, původně snad věže hradu Petršpurk. Nyní je to spíše taková terasovitá vyhlídka směrem k Petrohradu. U altánku na chvilku usedáme na lavice a pojíme něco z našich skromných zásob.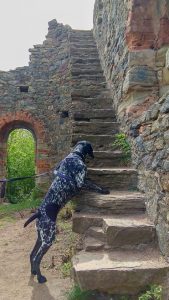 Za altánkem se dá po pár metrech šplhání vylézt na zbytky hradu, nyní však pouze tři zdi s dvěma okny a kamennými schůdky vedoucími kamsi nahoru. Hyenu k její nelibosti nechávám dole a po schůdkách stoupám do výšin. Nahoře je pouze malá plošina, asi tak 1x1m ale úchvatný výhled po okolí. Támhle kdesi v dálce jsme před chvílí šlapali polní cestou nad Stebnem a támhle je vidět i Velký rybník v Jesenici kde máme auto.
Od zříceniny sebíháme kamenným chodníkem dolů po kraji lesa. Cesta není moc příjemná a musím Hyenu přemlouvat a brzdit, aby mne nestrhla dolů. Jdeme kolem jakési ohrady statku, kde se pasou krávy až k cestě do Petrohradu. My ale uhýbáme z cesty doprava. Lesní cesta míří do útrob lesa a tu a tam se mezi stromy vynoří nějaká socha.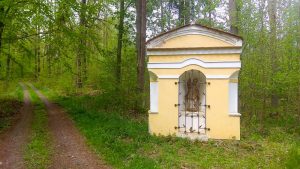 Míjíme kapličku na rozcestí, pár stovek metrů a  vycházíme z lesa na louku. Pod námi je spousta luk a také Přírodní rezervace Luční potok. Přes louky už vidíme první domy Jesenice a tak se náš dnešní okruh pomalu uzavírá. Opouštíme žlutou značku po které jsme do teď šli a napojujeme se na cyklostezku.
I když, cyklostezka je možná příliš silné slovo. Je to prostě taková vyšlapaná bahnitá cesta mezi loukami a úvozem prudce padající dolů do údolí, aby po pár metrech opět stoupala nahoru k lesu, povrch uježděný traktorem s hlubokými výmoly. Na kole bych tu opravdu jet asi nechtěl. Ani nahoru ani dolů. No nic.
Míjíme první domy Jesenice abychom ospalou vilovou čtvrtí rychle proběhli k silnici. Za každým plotem nás hlasitým štěkotem vítá u každého domu nějaký pes a za chvíli štěká snad celá vesnice. Jeden začne a dalších deset se přidá. Přidáváme do kroku a po chvilce vycházíme na hlavní silnici. V Jesenici není nic, co by stálo za zastavení. Obchody jsou zavřené, staré dlouho neopravované domy smutně stojí kolem cesty. Co tu kdysi evidentně bývalo za obchody je dávno pryč, jen zbytky nápisů na domech dávají tušit co tu vlastně bylo. Rozpadající se tašky na střechách, vytlučená okna a opadané omítky. Zmar a bída. Dveře, které nikdo už léta neotevřel a zarostlé zahrady za domy.
Jediným světlým bodem je zde otevřená cukrárna. Neodoláme a zastavujeme. Zákusek je výborný a frappé jak by smet. Osvěženi ukrajujeme poslední metry našeho dnešního výletu. Přeběhneme trať, proběhneme kolem benzínové pumpy, mineme jak jinak než zavřenou hospodu a v dáli už vidíme naše parkoviště.
Tracker na hodinkách se dnes zastavil na hodnotě 20,05 km. To je slušné. Až na chybějící občerstvení po cestě to byl opět vcelku pěkný a úspěšný výlet.
Kam příště už máme také vybráno. Jenom kousek odtud za Krušovicemi je opět pěkný okruh mezi Krušovicemi, Líšany a Lužnou, staré železniční muzeum a další lákadla. Takže brzy!
Petr –  smečkočlen 🙂